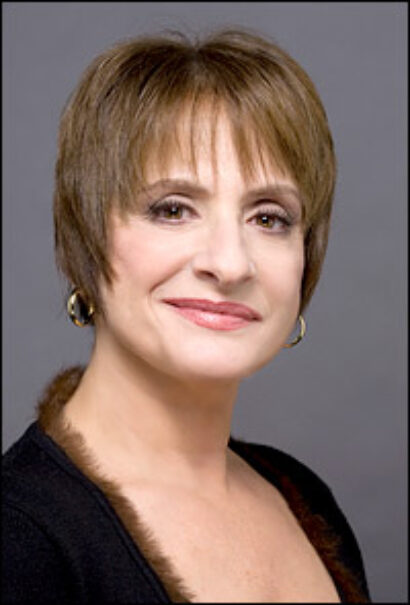 PATTI LuPONE
Although a Patti LuPone performance and a passionate audience seem to go hand in hand, the two-time Tony Award winner admits she didn't realize her recent, final performance in the acclaimed, Tony-nominated revival of Gypsy "would be as wildly enthusiastic as it was."
"Basically," a good-humored, candid LuPone explained earlier this week, "I was like a lion tamer trying to control the audience. I felt that once we got onstage, it was about making sure we didn't lose control of the play and that we had to play it as if it was a Tuesday night in the middle of the run as opposed to a Sunday matinee on the closing of a successful production. We had been extremely well-rehearsed by Arthur [Laurents] and loved by Arthur. As a result, all of that love goes into the piece and becomes respect and ownership of the piece, so we were able to hold onto the production of the play, [although] it was pretty difficult. But it was unbelievable."
LuPone says the entire Gypsy experience — arguably her most successful performance to date, one that won the actress a Tony Award, a Drama Desk Award, an Outer Critics Circle Award and the Drama League's Distinguished Performance Award — was a magical one "because of this company and the crew and the orchestra and the ushers. Everybody in the building liked each other! I've never seen a crew and a company interact and hang out with each other. I've never seen ushers more vigilant. And, I've never seen a company more harmonious. We also had great kids. We had unbelievable children in this show. Even the ones that were replacements were as nice and as disciplined and as loving as the kids that they replaced."
Although ending the award-winning experience was "heart-wrenching," LuPone says playing the role of Rose, the stage mother of all stage mothers whose children became actress June Havoc and the late stripper Gypsy Rose Lee, was extremely demanding. "[Co-star] Boyd [Gaines] and I would come offstage in the middle of the Grantziger scene and just look at each other and say, 'I'm going to die.' We thought if we actually ran through March, as we were supposed to, we would have had to take a vacation, and neither one of us wanted to take a vacation. We loved our understudies, but we didn't want to play with our understudies. It's almost harder to play with [someone's] understudy because you don't know what they're going to do, and they don't really know what you're doing because they've been rehearsing with the understudy. Boyd and I, being among the senior members of the company, were gasping like a fish out of water," LuPone laughs.



photo by Joan Marcus
From the power of their performances, however, no one attending the closing performance could have guessed that either LuPone or Gaines had been at all affected by their roles. In fact, their work was thrilling; LuPone's "Rose's Turn" was especially powerful, vocally and emotionally, and it was met by an eruption of applause and a standing ovation that lasted minutes. "I felt like a rock star," LuPone laughs, when asked what was going through her mind as the sold-out crowd would simply not stop applauding following the breakdown-in-song that is "Rose's Turn." "There's no other way to put it. At that point there were so many cameras going off, I felt like, 'This is what Bruce Springsteen must feel like! This is what Janis Joplin felt like!,'" she laughs. "It was life imitating art imitating life in 'Rose's Turn.' Patti getting the applause, Rose getting the applause. It was wild! It was Rose taking the bows, it was Patti taking the bows. It was Patti going crazy, it was Rose going crazy. You know what I mean? It was truly a celebration of that number, and I felt like a rock star. All of a sudden, at the end of it, the cameras started, and they went from the orchestra up to the mezzanine and the balcony. It was wild. I wish I could have gotten a picture of that. I think my husband turned around and was like, 'Holy sh**!' It's something that doesn't happen in the theatre, and it was a moment I'll never forget." It was another camera going off, however, that seemed to capture the attention of bloggers and newspaper and entertainment writers nationwide. On the day preceding the closing, LuPone now-famously stopped the show during "Rose's Turn" to admonish an audience member who, despite a notice in the program and announcements made over the theatre's loudspeaker, took photos of LuPone
during
her performance of that Stephen Sondheim-Jule Styne classic. "That [reaction]," LuPone explains, "was a year-long, lifelong battle with people that have total disregard for their fellow audience members. . . . [and] I don't want to diminish the effect that it could have on the actor onstage, whoever [the actor may be]."
LuPone says another camera-related incident that stands out in her mind occurred three decades ago when she and Mandy Patinkin were co-starring in the original Broadway production of Andrew Lloyd Webber and Tim Rice's Evita. "They were flash cameras [then]; they weren't digital. That's one of the reasons why I believe [taking pictures] became illegal. Not only is it my image — you are not allowed to take my image from me without my permission — that's number one. But number two, it was very dangerous when there were flash bulbs going off. I remember Mandy, in Evita, going down the stage. A guy with a big old camera [was sitting in the front row], and Mandy went, 'C'mon, take my picture! C'mon, take my picture!' During the show! The thing it does is it breaks the theatrical moment. It breaks the theatricality of the [moment] for everybody, for the audience especially. And how can you have a theatrical experience if you are trying to chronicle it?
"So my objections are, 'Don't take my image without my permission.' This is theatre. It is being performed for the audience, for them, in the moment. That needs to be respected. And it is illegal. It used to be for the danger — I think that's pretty much why all of it started. But it is also our image, and it is an illegal control of our image."
LuPone says she is also bothered by theatregoers who place their programs on the edge of the stage. "It's as if you've bought a seat and an end table," she laughs. "Oh, my gosh, I've kicked them off the stage! I've kicked them off at Sweeney, I've kicked them off at Gypsy, I kicked them off for Master Class. They think, because they're in the first row, they can put their programs down on the lip of the stage. They're not thinking of the people that are in the mezzanine and the people that are in the balcony. How can you have a theatrical experience when you're looking at a Playbill, lit up, on the stage?"
And, of course, texting and cell phones remain a problem for all attending the theatre. "I remember some woman actually answered the phone [during the performance] and said [loudly], 'What? What are you talking about?' She got up and continued her conversation as she went out of the row and then up the aisle and out the door," LuPone says with disbelief. "The thing that helped — because we had many, many, many less phone calls during Gypsy than I experienced before — there was a pretty long message at the top of the show. And I think there was enormous respect for the production. I think people have sort of cottoned to who I am at this point, and they know I'm not going to tolerate it. And it's not about — okay, I'll say it's also about me, [but] it's about the audience. It pisses me off if I'm in an audience and I hear a phone going off. . . . That is what is lacking: public manners and that respect for the person sitting to your right, to your left, in front and behind you. That should be an experience that is shared communally with respect for your neighbors."



photo by Aubrey Reuben
Among "the neighbors" at the final performance of
Gypsy
were two of its creators, librettist Laurents, who directed the production to Tony-nominated effect, and lyricist Stephen Sondheim. "It was historic [to have them in attendance]," LuPone says. "As you do, you wonder whether all productions will be remembered… Any production you've been a part of, you wonder, 'Will this one go down? Will this one be remembered?' Will the
Evita
, the production with Mandy, be remembered? You can't help but think, 'Was the work good enough that it is going to be remembered?' It's a natural reaction in theatre. . . . And you really don't have anything to compare it to except for people's word of mouth, from memory. So the fact that there's documentation, that there are pictures of Arthur and me [and Sondheim] onstage at the end of the show. We all know that that will never happen again. I mean they'll be onstage together for
West Side Story
, but for
Gypsy
that won't happen again." When asked whether she misses the Broadway schedule, LuPone explains, "You lose the discipline, and that's the thing I've been fighting. I'm a sloth. I'm never ready for show business when it happens. I've said that all my life. All of a sudden I've got a job and I've gained 20 pounds and I'm like, 'Oh, *&**! I'm not ready for show business.' You lose the discipline of eight shows a week, and that's one of the things I love about a long run, the discipline of it. You know where you're going to be at eight o'clock. Everything revolves around that schedule. So everything I need to do is geared around eight o'clock. If I have to work out, if I have to take a singing lesson, if I have to go to the doctor, if I have to get a massage — all of that stuff is geared around an eight o'clock show. It's a rigid schedule. I love that. And right now, quite frankly, I'm still that disciplined. After all of these years, I have finally learned not to let it go. I'm going back on the road with Mandy, so I knew I wouldn't let it go, but I still have the ability to not get out of bed and just gain 20 pounds after a show closes!"



photo by Van Williams
LuPone and Patinkin will begin their tour of
An Evening with Patti LuPone and Mandy Patinkin
March 7 at the Staller Center for the Arts in Stony Brook, NY. The two-act concert will then play venues in Delaware, Florida, New Jersey, Missouri, Michigan, Arizona, Kentucky, Ohio, Wisconsin, California and more within the next few months. About the genesis of
An Evening
, LuPone says, "There was a booker in Richardson, Texas — they were opening a brand-new performing arts center — who called my agent at ICM Artists and said, 'I got Mandy, how about Patti?' and then called Mandy's agent and said, 'I have Patti, how about Mandy?' And he put us together after 25 years. So I got a call from Mandy, who said, 'I don't want to just do, You sing a song and I sing a song, and then we do a duet.' I was doing
Noises Off
at the time, and I said, 'Mandy I can't partake in the development of this.' He said, 'I'll do it. I want to do it.' I said, 'Great, do it.' And we did it, and then we didn't do it for five years. And then all of a sudden it happened again. I guess the idea of Mandy and me being onstage together again is generating enough excitement that we're getting booked all over the place." The concert, which was conceived by Patinkin and musical director-pianist Paul Ford, also features direction by Patinkin and choreography by Ann Reinking. LuPone says she loves working with Patinkin: "Mandy was my ballast in
Evita
. Mandy kept me together. I went through a really, really, really rough time in
Evita
, and Mandy was my support, my shoulder, my hug, my ballast. I adore him, and so I adore working with him onstage. He's dangerous onstage, and I love the fact that he's dangerous, and yet we're safe in each other's arms."



photo by Brigitte Lacombe
LuPone also spoke about two other projects: the recent arrival of her new CD "Patti LuPone at Les Mouches" (Ghostlight Records) and her upcoming guest appearance on the Emmy-winning series "30 Rock" (March 5 on NBC). About the former — which was recorded during LuPone's Tony-winning
Evita
run — she says, "It was really nostalgic [to revisit that experience]. That was a kind of great time for me. I don't know how I did [the concert] after
Evita
. I listen to it, and I still had a voice! I don't get it. It was a pretty wild time. I think it's a riot. It's a lot of fun, [and] I think I should do it [again]!" About "30 Rock," the Olivier Award winner says, "They just called [and asked if I would be on the show], and I went, 'You bet!' I'm playing an Italian woman, the mother of Judah Friedlander. I'm working with Judah and Alec [Baldwin] in one scene, and it's a pretty funny scene… I've known Alec for years, so it was great to finally work with him. And Judah is wonderful. It was a terrific environment. It appears to be a very copasetic environment." LuPone fans will also be excited to learn that the dynamic performer is also at work on her memoirs, which will be published by Harmony Books, a Random House imprint. LuPone, who is co-writing the book with Digby Diehl, says, "I am seriously anal about stuff. I have I don't know how many scrapbooks of my career starting from Juilliard. And then I have personal scrapbooks of photos of family when
they
were young. We went through them all. . . . The manuscript has to be turned in August 1. [Diehl is] starting to write [after having] taped all of my conversations." LuPone says the first chapter, titled
The Baker's Wife
, will concern her time spent in that ill-fated musical, which was produced by the late David Merrick and featured a score by Stephen Schwartz.
"[
The Baker's Wife
] has a gorgeous score, and it has a great script, but something was not gelling and it only got worse [as we went along]," LuPone recalls. "It was tragic. I remember seeing [co-star] Keene Curtis crying on the phone, in a phone booth, to [then-Merrick assistant] Helen Nickerson, 'Get me out of my contract!' . . . We closed two days shy of our Broadway opening. The three-sheets were up, the lights were lit on the marquee, and we all were going, 'No, we can't go to New York!' [Laughs.] And we closed. They put the closing notice up a half an hour before half-hour on a matinee day." LuPone and company were playing the Kennedy Center at the time, where "we set a house record for the least-attended show in Kennedy Center history! We had 25 people in the Opera House, which seats 2,700."
And, it was during the Kennedy Center run when Merrick removed the show's best-known song, "Meadowlark," from the production. "Well, Merrick didn't like it," LuPone says, "didn't like where it was placed, didn't like how long it was. And then it became a battle between who had power: Stephen [Schwartz] and Motown or David Merrick? Everything was ill-conceived. It just didn't gel. . . . [But] 'Meadowlark' is a great song, and it's become a signature song." Regarding that belty ballad, LuPone adds, "I just want to go on record that I have never claimed 'Meadowlark' was written for me. I know it wasn't. I replaced Carole [Demas], who originated the role and the song. So I never have claimed that 'Meadowlark' was written for me."
Baker's Wife won't be the only theatrical experience LuPone explores in her upcoming autobiography. Expect stories from her days at Juilliard through her Tony-winning triumph in Gypsy. Has LuPone determined a title for the autobiography? "No, but I've always wanted my book to be called 'My Grandmother Was a Bootlegger'!" And, what about a return to Broadway? "Well," LuPone says coyly, "I have a friend [aka David Mamet] who is writing a play and will direct it. I'll let you guess who that friend is. Somebody that I work with frequently. He's not finished with the play, but it's very interesting.
"That would be a way I would like come back to Broadway."
[For Patti LuPone tour dates, visit pattilupone.net.]



photo by Aubrey Reuben
DIVA TIDBITS
Some of Broadway's top stars will take part in The Dramatists Guild Fund's annual benefit gala April 20. Entitled
Star Turns: Great Writers Thank Their Lucky Stars!
, the evening at the Hudson Theatre will be directed by
Dan Foster
and hosted by
Julie Halston
. The one-night-only event will feature the talents of
Bernadette Peters, Brian Stokes Mitchell, Jefferson Mays, Idina Menzel, Nathan Lane, Christine Ebersole, David Hyde Pierce, LaChanze, Lin-Manuel Miranda, Jane Alexander, B.D. Wong, Karen Olivo
and
Alan Alda
. The stars will be introduced by the writers whose work they will be performing. The evening will begin with cocktails at 7 PM followed by dinner at 7:30 PM and the show at 8:30 PM. The Hudson Theatre is located within the Millennium Hotel, 145 West 44th Street. Tickets are priced $1,000 per person. For more information call The Center for Creative Resources at (212) 864-7827 or visit www.dgfund.org. Initial casting has been announced for the City Center Encores! production of
Finian's Rainbow
, which will play the famed Manhattan venue March 26-29. The cast of the final Encores! production of the season will be headed by
Jim Norton
(Finian),
Kate Baldwin
(Sharon) and
Cheyenne Jackson
(Woody). The production will be directed and choreographed by
Warren Carlyle
with music direction by
Rob Berman
. Show times are March 26 at 8 PM, March 27 at 8 PM, March 28 at 2 and 8 PM and March 29 at 6:30 PM. For tickets, priced $25-$95, call (212) 581-1212 or visit www.nycitycenter.org. City Center is located in Manhattan on West 55th Street between 6th and 7th Avenues.
A host of Broadway artists will take part in a concert series presented by The American Musicals Project, the "creative educational curriculum that promotes the study of history and English through musical theatre to seventh and eighth grade students." The concerts, produced by Pamela Hunt, will be held at the New-York Historical Society. Show time for each concert is 7 PM. The series will kick off March 9 with Loesser Is More, The Music of Frank Loesser, which will be hosted by Howard Kissel and will feature Sally Wilfert, Jim Weaver, Rachel DeBenedet and Aaron Ramey. Ted Kociolek will be the evening's musical director. Tony Yazbeck, Mike McGowan and Mark Jacoby will take part in Songs for Men Only on March 16. Pulitzer-winning lyricist Sheldon Harnick will introduce the evening, which will feature such tunes as "Standing on the Corner," "You Gotta Have Heart," "Little Tin Box" and "Politics and Poker." James Brennan will direct the concert with music direction by Matt Castle. On March 23 Emmy Award winner Polly Bergen will host a tribute to women songwriters. The evening, simply titled Broadway's Women, will feature the work of Mary Rodgers (Once Upon a Mattress), Lucy Simon (The Secret Garden), Kay Swift (Fine and Dandy), Dorothy Fields (Sweet Charity) and Betty Comden (On the Town). Annette Jolles directs and Sariva Goetz music directs a cast that includes Lynne Wintersteller, Jessica Burrows and Vanessa Lemonides. The season will conclude April 6 with a gala benefit celebrating the making of Guys and Dolls, the classic musical now enjoying a revival at Broadway's Nederlander Theatre. Pamela Hunt will direct Karen Mason, Michael McGrath, Jeff McCarthy and Garrett Long, who will all offer tunes from the Frank Loesser musical. The evening's special guest will be Loesser's widow, Jo Sullivan Loesser. Evans Haile will be the musical director for the gala. New-York Historical Society is located in Manhattan at 170 Central Park West (at 77th Street). For tickets call (212) 873-3400, ext. 305. For more information visit www.nyhistory.org or www.americanmusicalsproject.org.
Rondi Reed, who won a Tony Award for her performance in August: Osage County, will join the Broadway company of Wicked in March. Beginning March 17, Reed will portray Madame Morrible, the role created on Broadway by Billy Elliot's Carole Shelley. Reed previously played the role in the Chicago production of Wicked. The acclaimed actress will join a cast that includes Nicole Parker as Elphaba, Alli Mauzey as Glinda, P.J. Benjamin as The Wizard, Kevin Kern as Fiyero, Alex Brightman as Boq, Cristy Candler as Nessarose and Timothy Britten Parker as Dr. Dillamond. The Gershwin Theatre is located in Manhattan at 222 West 51st Street. For more information visit www.wickedthemusical.com.
Casting has been announced for the March editions of Broadway Jukebox, the new Sunday-night musical revue created by critic-writer-producer Scott Siegel. March 1 will feature Cheryl Freeman, Annie Golden and Michael Winther; Julie Murney, Kerry O'Malley and Brad Oscar will perform March 8; Norm Lewis and two other artists to be announced will be part of the March 15 Jukebox; and Aaron Lazar and Emily Skinner will belt out show tunes March 22. The 6:30 PM evenings feature direction by Scott Coulter and musical direction by Tedd Firth. Siegel hosts. Jukebox is billed as "the brand new musical revue where the audience picks the songs!" Birdland is located in Manhattan at 315 West 44th Street. There is a $25-$35 music charge; for reservations call (212) 581-3080.
Tony Award winner Sutton Foster, currently starring in Shrek the Musical at the Broadway Theatre, will perform at Feinstein's at Loews Regency in April. Following an acclaimed, sold-out concert for Lincoln Center's American Songbook series, the Tony-winning actress will play the intimate Feinstein's April 6 and 20 at 8:30 PM. Foster will offer tunes from her debut solo recording, "Wish," which just arrived on the Ghostlight Records label. (Foster will also be honored with a Sardi's caricature March 3.) Feinstein's at Loews Regency is located at 540 Park Avenue at 61st Street in New York City. There is a $40 cover, with special $60 premium seats available, in addition to a $25 food and beverage minimum. For ticket reservations call (212) 339-4095 or visit feinsteinsatloewsregency.com and TicketWeb.com.
And, finally, the one-and-only
Betty Buckley
, who is currently performing
Broadway By Request
— directed by
Richard Jay-Alexander
and featuring
Seth Rudetsky
— through March 7 at Feinstein's at Loews Regency, will offer a song interpretation workshop in spring 2009 in Fort Worth, TX. Presented by Imagination Celebration, the six-session Song Interpretation and Communication Workshop with the Tony-winning actress will kick off March 12. Classes, which last four or five hours, begin at 6:30 PM. Buckley, press notes state, will "share her singing and acting techniques in her master class designed for both dedicated students and advanced professional performers." An accompanist will be provided. Auditors who participate in all aspects of the class except the individual singing are also welcome. The classes will be held at the Fort Worth Community Arts Center in the Museum District at 1300 Gendy Street, Fort Worth, TX. Prospective participants should call (940) 300-4944 or email
[email protected]
for further details and to arrange an interview. For more information visit www.bettybuckley.com or www.icfw.org. Well, that's all for now. Happy diva-watching! E-mail questions or comments to
[email protected]