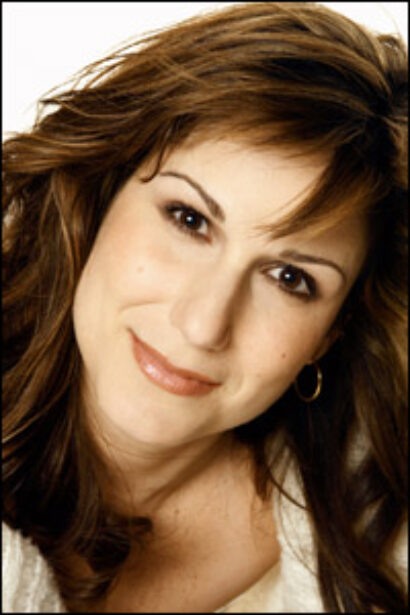 STEPHANIE J. BLOCK
Stephanie J. Block offers one of the most vocally exciting moments of the theatre season that just came to a close when she stands centerstage at the Marquis Theatre and emotionally belts out with staggering power Dolly Parton's "Get Out and Stay Out" in the new musical 9 to 5, which is based on the hit film of the same name. Block portrays the timid, new-to-the-workplace Judy Bernly — the role created on screen by Jane Fonda, who, coincidentally, was back on Broadway this past season for the first time in over four decades — opposite the Violet Newstead of Emmy winner Allison Janney and the Doralee Rhodes of Megan Hilty. It's an especially busy time for the dynamic singing actress, whose debut solo recording, "This Place I Know," is currently available on iTunes and will arrive in stores June 2 on the PS Classics label. The single CD features Block performing 13 tracks, accompanied in some form (either vocally or instrumentally) by the composers who wrote those tunes. In fact, the Grammy-winning Parton joins Block for an especially touching rendition of "I Will Always Love You." Last week I had the pleasure of chatting with the 2009 Drama Desk nominee, whose Broadway credits also include Wicked, The Pirate Queen and The Boy From Oz; that interview follows.
Question: How and when did you originally get involved with 9 to 5?
Stephanie J. Block: Originally, it was back in June of 2007. I knew that the workshops were going on. I had a lot of interest. At the time I was doing Wicked. [Wicked and 9 to 5 director] Joe Mantello called my agent and said, "We'd love to see Stephanie for the role of Judy," which I thought was pretty awesome considering that . . . sometimes you get pigeonholed. At that point I really just played these fiery, strong, passionate women, so for Joe to kind of look outside of that box and say, "You know what? I see vulnerability and humor in her. Let's bring her in and see what she can do with the material." That was a pretty great opportunity and one that doesn't happen all the time with actors and actresses. We're kind of always having to prove and re-prove ourselves over and over again, and this one was invitation-based, which I thought was nice. The audition went swimmingly, and literally everybody was there, including Dolly Parton. At the end of the audition I got this great big hug from Dolly, and I walked out of there thinking, "You know what? Even if I don't get the job, today was pretty great!" [Laughs.]
Question: Was that audition for a workshop?
Block: It was. It was for their third — I don't know whether they call them readings or workshops anymore, to be honest. It was for the last reading/workshop. It took place, I believe, later that month or in July of 2007.
Question: And then you had the out-of-town tryout.
Block: Yeah. We had a couple of months off, and we had the out-of-town tryout, a couple of months off, and then back to New York.
Question: How much did the show change from the out-of-town tryout to Broadway?
Block: Quite a bit actually. We were able to cut off about ten minutes from the first act. There were six songs, I believe, that no longer exist. Dolly used three songs to tell the same story as we were doing in six songs. She consolidated — that's the word I'm looking for! My character grew a little bit. I think they wanted to show just a little bit more humor for Judy. I seem to be crying a lot more. [Laughs.] In the first three scenes little Judy Bernly is just crying for a good part of it. Question: Had you been a fan of the film?
Block: Mmm hmm. I can actually remember my mom watching the film and laughing hysterically. I think I was six or seven at the time when it came out. I didn't quite know why she was laughing, but I sure loved to see her laugh that way. As a grown woman, I've seen it at least a handful of times. I do know that when I got the part, I wanted to watch the film and Jane's performance just the once to get an idea, a sense, an homage, and then put that away. We wanted to start a little bit from scratch to create this character and, rather than play Jane Fonda, I wanted to make sure that I was being true to Judy Bernly and servicing the musical that we were putting on now.
photo by Joan Marcus
Question:
How would you describe Judy?
Block:
She's fragile. She's a little out of place. She's frantic, to say the least. And, she's searching. This is a lady that's just trying to find her place now that her husband has left her, so she's kind of starting from scratch.
Question: Do you have a favorite moment in the show for her? Is there anything you look forward to?
Block: Plenty of moments. First of all, the pot-smoking scene is such a joy, and the three of us laugh every night, and it's different every night. That scene is something that I truly, truly look forward to because all bets are off once you're "high." I think you can do whatever you can do, and it's allowed and accepted, so that's always so fun. There is a tender moment in Act One, and I am at the copy machine. I am trying not to cry and keep a stiff upper lip. I then begin to sing a song called "I Just Might." This is Judy's turning point. She is going to move on, keep trying and not give up. And then in Act Two, the song "Get Out and Stay Out," is really a wonderful highlight for my character.
Question: The three of you have such great chemistry onstage.
Block: Andrew, we love each other. We love each other. Gosh, it's so wonderful.
Question: I was wondering if that continues offstage as well.
Block: Yeah, it does. I think anytime three women are allowed to do what we are allowed to do onstage — all the shenanigans, the pot smoking, the gun slinging, tying up a man. I think it's just bound to become joyous, and from there you're going to form a friendship. Those two women — I have such respect and I just really, really love them.
Question: You had mentioned Jane Fonda before. Has she been to see the show? Have you gotten a chance to talk to her?
Block: She has, yes. The entire [film] cast — Jane, Lily [Tomlin], Dolly and Dabney Coleman — were there for our opening night in Los Angeles. We were pretty nervous, to say the least, but we thought, "Let's just be honest and tell the story." They came back afterwards. Everybody gave us the thumbs up, and Jane kind of bee-lined to me and she held my hand, and she looked right at me and she said, "You kept all the best bits" . . . [and] she used the words "our role." Once I heard "our role" I was like, "Okay, I did something right." That had really important meaning for me. And, she was so open and engaging and honest and lovely that that really allowed us to continue creating our own sense as actors. Of course, you can't pull too far away from the material that already exists. These women are pretty much archetypes. It's in the material. Judy will always be timid and fragile and vulnerable and wonderful, but I really loved that she let us do what we needed to do. And, Dolly did the same thing with Megan. Megan would always go to her and say, "Do you have any advice?" and she'd say, "Nope, just keep on doin' what you're doin', because it's right." So they've been really gracious and lovely, but that was a blessing. I also feel a little extra blessing knowing, that after 46 years, Jane is just a couple streets up from us. That makes me so happy, knowing she's on Broadway with us.
photo by Joan Marcus
Question:
You mentioned Dolly, too. What has it been like working with her?
Block:
Everybody should have a Dolly Parton in their life! First of all, she sets the tone. Whatever room she walks into, the energy level becomes — even if it was the most positive atmosphere to begin with, she raises it up even higher. There's also a professionalism that, as soon as she walks into the room, everybody wants to make Dolly proud. I think that is quite a statement on her behalf — just her presence makes people want to try harder, work harder and be better. It was really, really amazing to have her there throughout that final workshop that we worked on, to being there through most of the rehearsal period. She was there every day for our entire preview period. I'm talking, from the ten-out-of-twelve, she would come in maybe a half-hour or an hour after we arrived, and she wouldn't leave until we left. She was there in the wings every night for previews, giving the entire cast high-fives as we walked offstage. That's kind of the beauty of her. Then there's, of course, the musicianship and the brilliant businesswoman. She really is everything you hoped her to be. She does not disappoint on any level.
Question: She also joins you on your new CD. How did that come about?
Block: That came about because the concept of my CD was, if I asked a composer to borrow his or her music, I wanted them to be on the track with me. So I went to Stephen Schwartz, Stephen Flaherty, Andrew Lippa, Marvin Hamlisch, Claude-Michel Schönberg. All of them at first went, "Oh great, we'd love you to record a song." And then I said, "Here's the catch. You have to either sing with me, play the guitar, play the piano, whatever." After every session that I would record, somebody would say, "Have you asked Dolly?" And, I hadn't at that point. I'll be honest. It wasn't because she wasn't one of the first to come to my mind. She and I and most of us in the cast of 9 to 5 had developed this really wonderful friendship with her, and I just didn't want her to think that I was asking more of her or wanting more of her, which I'm sure tens upon thousands do. But after being asked so many times and leaving the recording sessions saying, "I've gotta do it," I sat down for several hours and tried to compose what I thought was the perfect e-mail. A couple days later, after reading 17 rough drafts, I sent it out. The very next morning she wrote back and said, "I would be thrilled. I will do or sing anything you want, but this is the song that came to my head. Perhaps you've heard of it. It was the theme on 'The Bodyguard.' Whitney Houston has recorded it, I've recorded it. It's called 'I Will Always Love You,' and I think we would sound beautiful on it." My goal then was to work with her and Stephen Oremus and make a completely different arrangement.
Question: What was your reaction when you got that e-mail from her?
Block: I looked at my husband, I shrugged my shoulders and not one word came out of my mouth. I truly couldn't believe it. I wrote her back immediately and said, "I'm honored, I'm weeping." But the true emotion came when we were in the recording studio. Working day in and day out with this tremendous woman — she walks into my little recording session for my debut album, and she spent a good two or two-and-a-half hours over the soundboard making up new harmonies, hearing what I had laid down as a reference track. She goes, "This is very different. Let me try this." I wept. From the moment she stepped in until the moment we stopped recording, I was crying the entire time. I just couldn't believe that this music powerhouse and truly worldwide icon was taking her time and her talent and literally giving them to me. I just found it to be so generous and wonderful and overwhelming.
Question: Are there other things that stand out about recording with the other composers?
Block: Everything was special in the sense that I think composers interpret their music differently. You can have the best musical director, the best arranger, the best accompanist, but when a composer plays his or her own music it's really quite something. So I always felt extremely special that I was doing a dream of mine, which was being in New York City, having composers that have touched my life, give of their time and their music, and kind of trusting me. I felt like there was a trust saying, "Yes, not only can you have my song, but I would love to be on this track with you." And ten out of the thirteen tracks on the album have never been recorded, so these were really beautiful songs that these composers thought, "Stephanie would sound great on it, and I would love her to be the voice to actually put it out there in the world." That's a great responsibility, and I felt deeply, deeply touched that they trust me with their music.
Question: Getting back to 9 to 5. I know that it didn't get a Best Musical Tony nomination, but do you know whether you will get a chance to perform on the Tonys?
Block: We've heard multiple rumors, but nothing as of yet. We don't know what's going on, and nothing's been solidified. So, we will see. I would love to! I mean, who doesn't want to perform on the Tonys?
photo by Joan Marcus
Question:
How have audiences been responding on Broadway? The night I went they were so enthusiastic.
Block:
We're very lucky. I've been on both sides of the spectrum with huge hits like
Wicked
and other unmentioned, mentioned plays where you don't get the same response as one gets with
Wicked
. [Laughs.] I gotta be honest. There was not a dip in the response from our audience. After the reviews came out or after the Tony nominations come out, sometimes you'll feel a slight dip in the way the audience will respond. And, we've been very lucky. That hasn't happened. I don't think it's luck, I'll be honest. I'm probably taking some liberties saying that. There's great joy and great humor, and it's from a beloved movie with wonderful music from Dolly Parton and what I think are some tremendous performances happening up there onstage. The audience, I think, feel exactly what you mentioned early in the interview — the camaraderie that the three of us have for each other, and it's contagious. Audiences are so responsive and so into it, and it really is a spontaneous laughter and a spontaneous huge overwhelming applause at the end of the show. We feel great. That's giving us what we need every single night, letting us know that the audience is leaving happier than when they walked into the theatre, and I think that's very important in these days.
Question: Will you be doing any concert work to promote the CD?
Block: I will. Thanks for asking. We're going to be doing Barnes & Noble probably in July. Also, we'll be doing a Birdland concert, hopefully with some of the composers joining me on the piano, on July 13.
Question: So, you're busy!
Block: I'm busy, and I like it that way. These last couple weeks have been a little overwhelming because 9 to 5 did open so late in the season that everything was compounded with ten-out-of-twelve and press and photo shoots. So it has been go, go, go, go, go, but I usually prefer busy rather than easygoing! [Laughs.]
[9 to 5: The Musical plays the Marquis Theatre, 1535 Broadway; for tickets call (877) 250-2929 or visit www.9to5TheMusical.com or Ticketmaster.com.]
photo by Aubrey Reuben
DIVA TIDBITS
Due to scheduling changes,
Barbara Cook
has canceled her June 2 concert with the New York Philharmonic at Avery Fisher Hall. The Tony-winning theatre veteran, however, will still perform at the famed Manhattan venue May 30. The 8 PM evening will be conducted by Cook's music director,
Lee Musiker
.Cook previously played three sold-out evenings during the Philharmonic's 2007-08 season to celebrate her 80th birthday. Cook will perform several of the songs that she recently sang in her show,
Here's to Life
, at Feinstein's at the Regency, including "Hallelujah, I Love Him So," "I've Got You Under My Skin" and "What a Wonderful World" as well as "It Might As Well Be Spring" and "Send in the Clowns." Tickets, priced $35-$175, are available online at nyphil.org or by calling (212) 875-5656.
A special Tony Awards-themed edition of Jamie deRoy & Friends, the MAC Award-winning variety show, will be presented June 2 at the Metropolitan Room in Manhattan. The 7 PM performance at the New York venue will feature songs from a host of Tony Award-winning musicals. Currently scheduled to lend their talents to the evening are Loni Ackerman, Dee Hoty, Robert Klein, Michael Longoria, Karen Mason, Kerry O'Malley, Chip Zien and Tony Award-winning lyricist David Zippel. Barry Kleinbort will direct the evening with musical direction by Ian Herman. The Metropolitan Room is located in Manhattan at 34 West 22nd Street. There is a $30 cover charge and a two-drink minimum; call (212) 206-0440 for reservations.
Two-time Emmy Award nominee and celebrated TV personality Samantha Harris ("The Insider," "Dancing with the Stars") will make her Broadway debut this summer in the Tony Award-winning revival of Chicago. Harris will play a six-week run as Roxie Hart beginning July 7. She will continue in the role of the merry murderess through Aug. 16. Harris will also star as Roxie in the Greenville, SC, engagement of the Chicago national tour, which runs Aug. 18-23 at the Peace Center. Visit www.ChicagoTheMusical.com for more information.
Kristina — the new musical from ABBA songwriters Björn Ulvaeus and Benny Andersson (with English lyrics by Herbert Kretzmer) — will be presented in concert this fall at Carnegie Hall. Kristina: A Concert Event at Carnegie Hall is scheduled for Sept. 23 and 24. Show time both nights is 8 PM. Casting will be announced at a later time. Universal Music's Decca Records will record both evenings and will release a CD at a future date. Tickets for the fall concerts will go on sale May 31 at noon by visiting the Carnegie Hall Box Office (57th Street and Seventh Avenue), by calling (212) 247-7800 or by logging on to www.carnegiehall.org. For more information visit www.KristinaTheMusical.com.
The songs of up-n-coming composer Bobby Cronin will be recorded live at the Laurie Beechman Theatre Aug. 3 for an upcoming CD. Show times at the New York venue are 7 and 9:30 PM. Currently scheduled to be featured on the 14-track CD are Caissie Levy (Hair, Wicked), Marcus Paul James (In The Heights, Rent), Natalie Weiss (Wicked), Jared Gertner (Spelling Bee), Katie Thompson (Giant), Jenny Dinoia (Wicked), Ben Cameron (Aida, Wicked), Kate Pazakis (Jerry Springer), Anne Gallagher (Wicked), Jenn Furman (Wicked) and Brian Gallagher (European tour of The Who's Tommy). The Laurie Beechman Theatre is located at 407 West 42nd Street at the corner of Ninth Avenue. For reservations call (212) 695-6909.
Well, that's all for now. Happy diva-watching! E-mail questions or comments to [email protected]