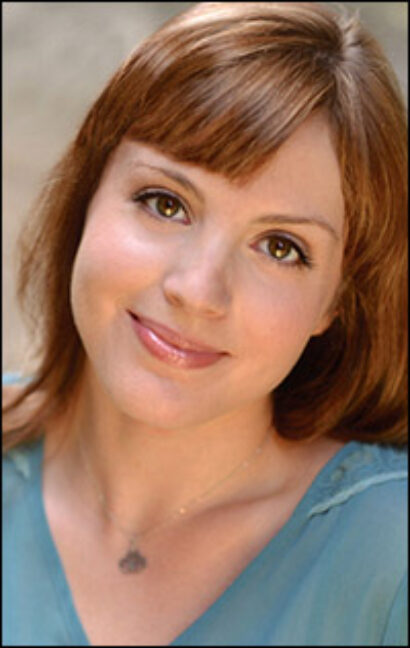 Mary Michael Patterson
The Phantom of the Opera, Andrew Lloyd Webber's international hit musical that celebrated a record-breaking 25 years on Broadway in January, recently welcomed its newest Christine Daae — Mary Michael Patterson — the soprano who becomes the obsession of the title character, now played by Hugh Panaro. Patterson plays the demanding role six times a week, while Marni Raab, a long-time Christine, performs Wednesday matinees and Thursday evenings at The Majestic Theatre. University of Michigan graduate Patterson was most recently seen as Marianne Dashwood in the world premiere of Sense and Sensibility: The Musical at the Denver Center Theatre. The singing actress, who made her Broadway debut in the recent, Tony-winning revival of Anything Goes, was also part of the Carnegie Hall staging of The Sound of Music, and her regional credits include White Christmas, Singin' in the Rain, 42nd Street, Hairspray and West Side Story, among others. I recently had the pleasure of chatting with Patterson, who spoke about her leading role in Broadway's longest-running production; that interview follows.
Question: Since we've never spoken before, can you tell me where you were born and raised?
Michael Mary Patterson: I was born in a little town west of Fort Worth and grew up there. It's called Aledo.
Question: When did you start performing?
Patterson: I started performing very young. My first show was called The Night Before Christmas; it was a play at Casa Mańana Playhouse. I played Lamb Chop. [Laughs.] I was five years old, and I sort of just kept doing it ever since then.
Question: When you were growing up, were there any particular singers or actors that you admired?
Patterson: Yes, definitely. I very much admired Rebecca Luker. I saw her do Music Man when I came to visit New York when I was young. I used to listen to Audra McDonald all of the time, and I was also really crazy about all of the old movie musicals, Fred Astaire, Ginger Rogers.
Question: Was there a particular moment or production when performing changed from a hobby to when you knew it was going to be your career?
Patterson I don't remember a particular moment, but I know when I was in high school I did all of the musicals and was in the theatre club. I remember thinking, "I want to do this in college," so I think the moment that I decided to audition for musical theatre programs I knew that that was the step that meant I was going to do it professionally. So, I guess, in high school. Question: What was your first professional production?
Patterson: I did a summer at Pittsburgh Civic Light Opera after my sophomore year at the University of Michigan, and I got my Equity Card doing that. I did three shows: Mame, West Side Story and Annie Get Your Gun.
Question: After you got your Equity Card, did you finish college or did you leave to pursue your career?
Patterson: No, I finished. I went back to school and I did summer stock every year, basically, between years at school. But I always went back and ended up graduating and moving to New York.
Photo by Joan Marcus
Question
: How did your first Broadway show come about?
Patterson
: I was living in New York and had an agent and was auditioning very regularly, and I'd been seen for
Anything Goes
the first go-round, and it didn't work out. I think they were looking for a second female swing and I went back in, and that didn't work out. So I had been in and out of that room a lot. And then they were looking for a new Hope Harcourt cover, and I went back in that third go-round, and it finally ended up working out, which was awesome. I no longer had to wait tables, which I was thrilled about. [Laughs.]
Question: Do you remember your first night on Broadway and how that lived up to expectations or was different from what you expected?
Patterson: Yes. It was kind of crazy because through a series of circumstances at the Sondheim at the time, I had been in rehearsal for about a week and wasn't supposed to go on until the end of that week. Then something happened, and we were down a person — we were short a person, and so they called me and [said], "You're going to go on tonight." It was just for my own track, not for Hope, and I was still like, "Oh my God, it's happening tonight!" So there was a lot of the show that I was just trying to be in the right place at the right time. [Laughs.] I don't remember – it was kind of like a dream, but I still remember looking across the stage and seeing Sutton Foster and starting to cry because she was someone I looked up to as a child and suddenly I was on stage with her. So it was definitely a dream come true in every way.
Question: How did you originally get involved with Phantom?
Patterson: I was doing Sense and Sensibility in Denver, and a friend of mine that was in the show, we were talking, and she said, "Have you ever been seen for Phantom?" And I said, "No, I never have." I always wanted to but it never sort of worked out. And she said, "I really think you should be seen. I know they're going to be looking for someone this summer." And, she had done the show before, and she's lovely and said, "I think it would be a really good fit for you." So I said ok, and I called my agent, and said, "Hey, maybe this is something we could make work when I get back from Denver." So I think it was the day I got back I had my first audition, and then I had a callback, and then I got the job! It was all very fast. I'd never been seen before, but it felt like a good fit on both sides, and everything just worked out really nicely.
Question When did you join the company?
Patterson: I started rehearsal at the beginning of July, and I did my first show at the end of July.
Question What are the challenges of joining a show that's been running for 25 years?
Patterson: It's crazy. There's so much history in that building with those people. It's at the same time really exciting and fun and thrilling and also terrifying. There are so many amazing women that have done it before me, and I feel the pressure of wanting to live up to it and wanting to do it justice. But what's particularly difficult about Christine is that her track is very isolating. When she's on stage, she's usually on stage with the Phantom or Raoul, and then when she leaves stage to change clothes, that's when everyone else comes on. So I don't get to see a lot of people, so I'm still kind of getting to know people slowly when we see each other in rehearsal or see each other leaving the show. So it's a different experience, because I'm used to either being in a room with more people or having a track that's a little bit more shared and seeing someone and having that connection. This is much more, I'm on stage and doing the show, and then I leave and I change clothes, and I see very few people other than the Phantom and Raoul.
Photo by Jennifer M. Koskinen
Question
: What's it like going from being in the chorus or a smaller role to being one of the leads of a Broadway show?
Patterson
: It's crazy. I pinch myself every day. [Laughs.] A friend of mine just sent me a picture and a text message that he was walking by the Majestic – he's in
Matilda
– and he took a picture of the marquee and said, "Look, it's your name. Is it weird?" And I think every day it's so strange, and I'm not certain that it's me it's happening to, but it's amazing. I feel like when the opportunity presents itself, you just step into it and do what you need to do to make it happen and do the best you can, and that's sort of what I have to do. I just show up and do what I know how to do and hope that it's good enough and what works for the show. I just think also that it's a different set of skills and muscles than
Anything Goes
, too, because I'm not tap dancing, it's not this bubbly light musical. It's a littler darker and there's a lot more singing, but it's great! It's great to be able to do both, and it's thrilling to be in such a piece of history and see how excited the audience is every night to see it, and most of them have seen it before… I hear a lot of, "Oh, I saw this 25 years ago with Sarah Brightman, or I saw it 15 years ago…." It's so bizarre and so exciting at the same time.
Question: Do you have a favorite moment in the show for Christine? Is there something you look forward to every night?
Patterson: I really love the whole Don Juan sequence, "Point of No Return." It's so fun to play and do the opera within the opera and have that moment of, yes, it's Christine, but she's playing a character, and there are so many things happening, and the tension is so high… That's really when the show makes a big change, and you can feel the energy every night and anticipation of that moment.
photo by Joan Marcus
Question
: With Christine, it's one of the rare Broadway roles where you do six shows a week rather than eight. What's that schedule like?
Patterson
: This is actually my first week doing it. I was doing the alternate for the last three weeks, and I just switched over to principal Christine. I'm just getting to know it, but it's really nice. I think it's brilliant, and more shows should do it if they can. [Laughs.] Just having those two shows off makes such a difference in terms of energy and feeling fresh. The role is so demanding – not only vocally, but physically – so much of the show is me being thrown to the ground and wearing giant dresses. So I think it's really smart, and I'm so, so grateful for it because it means I have that extra time to take care of myself and to go back and be 100 percent for the show.
Question Now that you're in the show, what are your thoughts about why it's had such longevity?
Patterson: I think about that a lot. I think one of the reasons is it's such an escape. Going to this period, this Victorian heightened sense, it's very stylized, and it's not like anybody's day-to-day life now. So I think when people go see Phantom, it's the ultimate escape. It's so romantic. It's the most romantic story ever. And, you see people get so invested in that love triangle and watching Christine choose. I think it's a way for people to truly escape and go to the theatre and not feel like they're thinking about anything that's happening in 2013, which is good, and I think that's why it's lasted for so long. And, also, the music is brilliant and gorgeous, and the kind of singing that's done in Phantom is not done a lot on Broadway anymore, and it's also a nostalgia that people have for that kind of singing and that kind of music… You see the struggle the Phantom has, this man, and I think everybody has a part of themselves that they feel they're ashamed of or scared of, so you relate to him, to all three of them really, more than you think you would. That's why I think people can come back and come back because they see a piece of themselves in it, and at this point it's a part of their history. Families come and say, "I saw it 15 tears ago, and now I'm bringing my daughter or my grandchildren." So now it's become this sort of staple, and people know that when they come back to it — they're reliving something that was very special to them when they were younger.
Question: Are you able to work on any other projects while you're doing this or just focusing on Phantom?
Patterson: Right now I'm just focusing on the show because I've so recently joined. But I'm going to do a concert in December, and once I feel a little more settled I would love to explore concert work because it's a little bit less of a time commitment and I can do both. [For more information visit phantombroadway.com.]
Well, that's all for now. Happy diva-watching! E-mail questions or comments to [email protected]