FOLLIES
The showstoppers start early in the Kennedy Center for the Performing Arts' current production of the landmark Stephen Sondheim-James Goldman musical Follies, which forces characters and audiences alike to confront their feelings about the roads taken and those unexplored. The musical highlights kick into high gear with Linda Lavin's bluesy, no-holds-barred rendition of "Broadway Baby" and continue through the second act's "Loveland" sequence, but more about those showstoppers later.
Fans of the 1971 musical are an especially devoted group, and in the audience for the musical's official opening on May 21 at the Kennedy Center were several who were lucky enough to have seen the original, now-legendary production. This writer's previous Follies outings include the Paper Mill Playhouse production, the Roundabout Theatre Company's Broadway revival and the recent City Center Encores! mounting. But it was the Kennedy Center staging for which I was most excited, as the cast boasts no less than three performers — Bernadette Peters, Elaine Paige and Florence Lacey — whose work I have passionately enjoyed for decades.
And, it was this Kennedy Center production that ripped at my heart most, due to the emotionally raw performance of Peters, whose work builds from a hauntingly moving "In Buddy's Eyes" through a soaring "Too Many Mornings" and climaxes in what may be the definitive version of the torchy "Losing My Mind." In less than three hours Peters' Sally experiences the gamut of human emotions: She is coy, flirtatious and simultaneously self-conscious when she first encounters Ben, in a state of self-denial mingled with despair as she sings of "Buddy's Eyes," blissfully but blindly happy as she recalls "Too Many Mornings," heartbroken when she realizes the love of her life has let her down once again, and completely shattered by the end of the Follies reunion. In fact, I will long remember Peters' anguished expression as she prepares to leave the dilapidated theatre at night's end.
Jan Maxwell

photo by Joan Marcus
Jan Maxwell, in a rare musical outing, is also offering a breathtaking performance as Phyllis Stone. Each wisecrack scores a laugh, yet she is never better than in a scorching "Could I Leave You?" that displays the anger and disillusionment that have been building in Phyllis for years. Her onstage husband, Ron Raines, possesses a rich, rangy baritone that he uses with dramatic effect in an especially touching "The Road You Didn't Take." And, two-time Tony nominee Danny Burstein is a perfectly cast Buddy, who triumphs with both "The Right Girl" and a spectacular "Buddy's Blues."
There are many other memorable moments on display in this Follies, which features direction by Signature Theatre artistic director Eric Schaeffer and choreography by Warren Carlyle. When Peters and Raines cross the stage and begin singing "Too Many Mornings" to the younger versions of their former lovers, the effect is extremely moving. Watching the four leads berate their younger selves prior to the "Loveland" sequence is even more startling. And, as for those aforementioned showstoppers, they include "Who's That Woman," led by the full-voiced Terri White and featuring the female leads (Peters, Maxwell, Paige, Lacey, Susan Watson, Colleen Fitzpatrick) re-creating a tap number from their Follies days to sensational effect; "Too Many Mornings," the melodic duet between Raines and Peters that allows the latter to display a rich, powerful soprano; and the survival anthem "I'm Still Here." Olivier winner Paige performs that confessional tale in an ebullient fashion; her Carlotta has not only "run the gamut from A to Z," but she is fiercely proud of her accomplishments, none greater than the fact that she is "still here." Paige's voice remains a potent instrument, and when it fully opens to reveal her throbbing vibrato, the effect is, simply, thrilling.
Admittedly, the pace in the first act could be improved, but this is a Follies that must be seen — it runs through June 19 in DC. Be forewarned, however, the musical's themes and the emotions triggered by this stellar company will stay with you for days afterwards.
[Tickets starting at $45 are available at the Kennedy Center box office or by calling Instant Charge at (202) 467-4600. Patrons living outside the Washington metropolitan area may dial toll-free at (800) 444-1324 or visit www.kennedy-center.org.]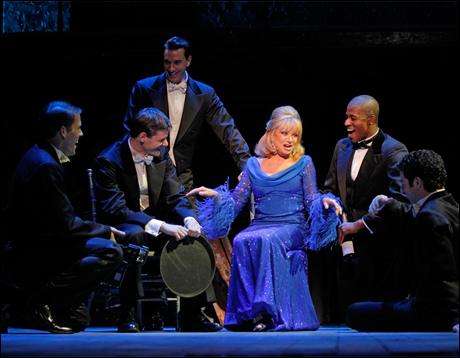 photo by Joan Marcus
photo by Joan Marcus
DONNA MURPHY
The multitalented singing actress Donna Murphy, who received her fifth Tony nomination May 3 for her performance in the new musical The People in the Picture, said she received that bit of good news via her iPhone.
"I had kissed my daughter as she left for school, for kindergarten, and Mommy went back to sleep, Daddy brought her to school, and then I did hear the phone making all kinds of sounds in the next room, and I was sort of in a semi-dream state," Murphy told me that May 3 morning. "Finally, I got up about 9:15, and the first message I listened to was from Todd Haimes, from the Roundabout, our artistic director, who left me a really beautiful message, and my phone had a lot of texts and e-mails.
"That was how I found out, and there's a part of me that feels a little embarrassed that I've never been awake any time that I've been doing a show that has been eligible to be nominated...I've always been grabbing every bit of sleep I could," Murphy added with a laugh, "and maybe there's that sense that if it happens, I'll find out. I don't want to really be waiting for the yay or the nay, and I've never had expectations. It's not a good way to go through life. It's nice to have goals, but not expectations, I think."
Murphy, who plays an American grandmother remembering her days in European Yiddish theatre, explained that "this is a role that's very different from anything I've ever done, and a show that I think is ... a daring show to try to do at this moment in time when most people, certainly in the musical world, probably would think they would prefer to see something that's light and fun and entertaining, which we all need, God knows. I think this show has those elements, but it's also telling a really beautiful story, and a really complicated story, and I really feel blessed to have the opportunity to play this character. It's a role that I read and I went, 'Wow, I don't know if I can do that!' That's always a big hook for me," Murphy laughed. "'I don't know if I could do that. Oh crap, I'm probably going to try!' So I'm honored to have been acknowledged for it and be in the company of some really radiant women, both in this category and fantastic artists throughout, who are represented on Broadway this season."
photo by Joseph Marzullo/WENN
Although Murphy won Tony Awards for her performances in Passion and The King and I, she admitted, "It's funny because you think, 'I've done this before, so I should just be totally cool about it.' And there are parts of it that I'm very relaxed and enjoying the moment, and there are other things that I suddenly get all nervous and silly about. I think when it's connected to something, for me, part of a childhood dream — the hoping that I would be able to make a life in the theatre and be an actress — it's [more meaningful]. And, it's still happening. They haven't officially thrown me out yet," she laughed. "A few have tried. And I continue to be fortunate and have the opportunity to play really interesting characters, who sometimes get to sing — that's kind of amazing, you know. And be a part of these celebratory times — it's quite an honor, and I do have these moments where I can be really tired and be like, 'Oh God. I don't have anything to wear tomorrow. Crap, I've got to go find something,' and then it's kind of a pinch-me moment where I go, 'It's happening. It's happening again, and it's real,' and I can kind of flash-back to being five, six, seven-years-old and watching the Tonys at home, and being with my family, and dreaming, and hoping — not necessarily winning a Tony Award, but being an actress. It's still quite special." Produced by Roundabout Theatre Company, in association with Tracy Aron, People in the Picture has libretto and lyrics by Iris Rainer Dart (the novelist of "Beaches") and music by Mike Stoller (Smokey Joe's Café) and Artie Butler (who wrote the pop standard "Here's to Life"). Performances continue through June 19.
[Tickets ($37-$122) are available by calling Roundabout Ticket Services at (212) 719-1300, going online at www.roundabouttheatre.org or at the Studio 54 Box Office (254 West 54th Street).]
Well, that's all for now. Happy diva-watching! E-mail questions or comments to agans@playbill.com.
View highlights from the show: