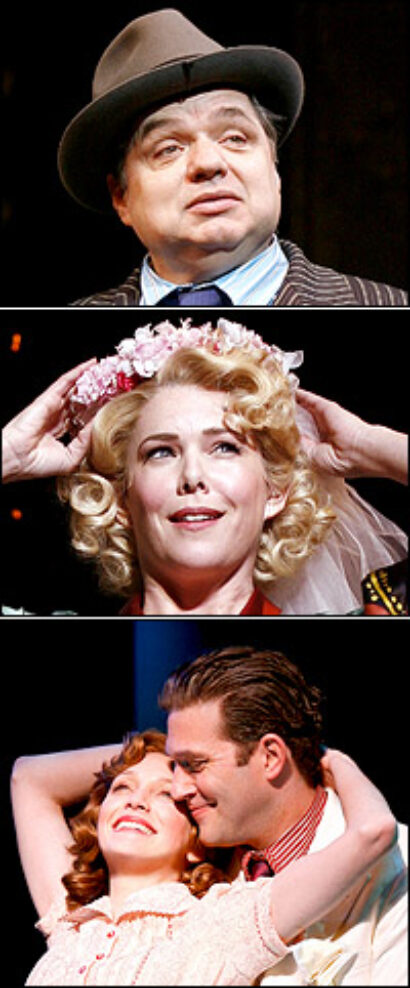 The cast is headed by Oliver Platt (as Nathan Detroit), Lauren Graham (as Miss Adelaide), Craig Bierko (as Sky Masterson) and Kate Jennings Grant (Sarah Brown). Des McAnuff directs the classic Tony-winning 1950 musical comedy based on characters created by Damon Runyon.
The foursome is joined onstage by Titus Burgess (The Little Mermaid) as Nicely Nicely Johnson, Glenn Fleshler (Spring Awakening) as Big Jule, Adam Lefevre (Our Country's Good) as Lt. Brannigan, Jim Ortlieb (Farnsworth Invention) as Arvide, Steve Rosen (Spamalot) as Benny Southstreet and Mary Testa (Xanadu) as General Cartwright.
The ensemble comprises Nick Adams, Andrea Chamberlain, Raymond Del Barrio, Melissa Fagan, Kearran Giovanni, James Harkness, Lorin Latarro, Benjamin Magnuson, Joseph Medeiros, Spencer Moses, Rhea Patterson, Graham Rowat, William Ryall, Jessica Rush, Marcos Santana, Jennifer Savelli, John Selya, Brian Shepard, Ron Todorowski, Jim Walton and Brooke Wendle.
About singing the classic Loesser score co-star Kate Jennings Grant recently told Playbill.com, "It's like stepping on a magical ski slope and not needing to use poles. You ride the score. It answers all your questions and does all the work for you and transports you emotionally to the next place in the story."
Director McAnuff is a Tony Award winner known for staging The Who's Tommy and Jersey Boys. Sergio Trujillo (All Shook Up, Jersey Boys, Memphis) choreographs. Guys and Dolls has music and lyrics by Frank Loesser. The classic score includes "Fugue for Tinhorns," "A Bushel and a Peck," "If I Were a Bell," "Adelaide's Lament," "I'll Know," "Guys and Dolls," "More I Cannot Wish You," "Luck Be A Lady" and "Sit Down, You're Rockin' the Boat."
Many consider it to be one of the perfect musical comedies for its lean storytelling and its character- and plot-rich songs. The libretto is by Jo Swerling and Abe Burrows. It's based on "The Idyll of Miss Sarah Brown" and "Blood Pressure," two short stories by Runyon, but also borrows characters and plot elements from other Runyon stories, including "Pick the Winner."
The design team comprises scenic designer Robert Brill, costume designer Paul Tazewell, lighting designer Howell Binkley and sound designer Steve Canyon Kennedy. Also on the creative team are music director Ted Sperling (who also handles vocal arrangements and incidental music), orchestrator Bruce Coughlin, dance arranger James Lynn Abbott. Jeffrey Klitz is the conductor. Video design is by Dustin O'Neill. Hair and wig design is by Charles LaPointe. Production stage manager is Frank Hartenstein.
The musical comedy was first produced on Broadway at the 46th Street Theatre, opening on Nov. 24, 1950. It was directed by George S. Kaufman and starred Robert Alda, Sam Levene, Isabel Bigley and Vivian Blaine. The musical played 1,201 performances, winning five 1951 Tony Awards including Best Musical.
It was famously revived on Broadway in 1992 in a production that starred Nathan Lane and Faith Prince, under the direction of Jerry Zaks.
Producers are Howard Panter for Ambassador Theatre Group, Tulchin/Bartner, Bill Kenwright, Northwater Entertainment, Darren Bagert, Tom Gregory with The Nederlander Organization, David Mirvisch, Michael Jenkins/Dallas Summer Musicals, Independent Presenters Network, Olympus Theatricals, Sonia Friedman Productions.
Tickets can be purchased by calling (212) 307-4100 or by visiting www.Ticketmaster.com. The Nederlander Theatre is located at 208 West 41st Street in Manhattan.