* It's old news as this point, but she coined the phrase in this article's title, so it bears repeating: When Julie Andrews' performance in (the Broadway stage musical adaptation of her hit film) Victor/Victoria received the production's sole 1996 Tony Award nomination, she made a public statement declining the nomination to "stand instead with the egregiously overlooked" company. This was unheard of — can you even decline a nomination? What does that mean? Would it at least sway Tony voters? When Donna Murphy eventually won that year (for the revival of The King And I), you had to wonder if she had Andrews to thank. Of course, nobody likes a sore loser, but something like this coming from Julie Andrews carries a great deal of weight. Was there, in fact, something nefarious behind Victor/Victoria's exclusion?
The sad irony is that, much of the time, the opposite is true. It's so difficult to mount a show on Broadway that precious few productions open each year, and with such a small pool of potentially eligible Tony nominees, it sometimes seems like everyone gets a nomination, just for showing up—like trophies in kids soccer. Still, there are the years when one category or another is bursting at the seams with viable candidates, and some people get shut out. And, sometimes those people deserved to be nominated, perhaps more than some of the actual nominees. 
Click through to read my selections for the Top Ten Performances Egregiously Overlooked for A Tony Nomination (in Musicals).



Photo by Joan Marcus
Rachel Bay Jones, Pippin
(2013)
It seems hardly a week goes by when I'm not harping on Rachel Bay Jones' exclusion from the 2013 Tony nominations. It just happens to come up a lot! Here is a first-rate Broadway musical leading lady performance, full of warmth and specificity, right in front of our eyes, and she is not being lauded. It will be Broadway's loss if Jones moves on from Pippin to film and television work.



Photo by Michal Daniel
Veanne Cox, Caroline, Or Change
(2004)
There is a large contingency of theatre lovers who feel Tonya Pinkins was robbed of her (second) Tony Award for her now-legendary performance as Caroline in Caroline, or Change. At least Pinkins was nominated! Cox had an extremely unshowy role that could easily be unsympathetic in another actor's hands. Not so with Veanne Cox, one of the great stage talents of our time, who was impressively able to serve a supporting function in a show with intelligence and grace.



Photo by Paul Kolnik
Jackie Hoffman, Hairspray
(2003)
If it seems ridiculous to include Jackie Hoffman on this list for her multiple roles—some might say "bit parts"—in Hairspray, then, pardon me, but you didn't see Jackie Hoffman in Hairspray. Hoffman, in the character track known as "Female Authority Figure," oozed stage authority, galvanizing the theatre with enormous comedic presence every second she was on. The Tony nominators should have recognized Hoffman's triumph. We need stars like Jackie Hoffman on Broadway, and we have to arm them with the accoutrements of stardom, e.g. a Tony nomination. 



Photo by Joan Marcus
Mandy Gonzalez, In The Heights
(2008)
Speaking of stars lacking in their deserved garlands, Mandy Gonzalez has been something of a workman Broadway diva for over a decade, since her stunning debut in the larger-than-larger-than-life flop pop opera, Dance of The Vampires. She followed it up paying her dues with impressive replacement work in Aida and Wicked, and her stellar leading lady performance in In the Heights should have been her turn. This gifted and beautiful flower should not be allowed to wilt in the shadows.



Photo by Bob Marshak
John Cameron Mitchell, The Secret Garden
(1991)
I have to wonder what would happen if I had a time machine and could rewrite history, like in "Back to the Future." If John Cameron Mitchell had been nominated for brilliant Dickon in The Secret Garden, maybe he would have been less frustrated in his acting career, and maybe he wouldn't have created Hedwig And The Angry Inch—one of the best theatre pieces I have ever seen. Still, shame on the Tony nominators for ignoring this. John Cameron Mitchell was positively enchanting, and his thrilling "Wick" stopped the show.
Lea DeLaria, On The Town (1999)
As is often the case with shows that open and close early in the Broadway season, Lea DeLaria's lack of a Tony nomination for On The Town can perhaps be chalked up to the short-term memory of the powers that be, along with maybe a leaning to support shows still running. DeLaria's Hildy, however, deserved to be remembered. Indeed, her old-school brass combined with modern sass were electrifying, and when she sang "I Can Cook Too," there was no doubt a major Broadway star was on stage.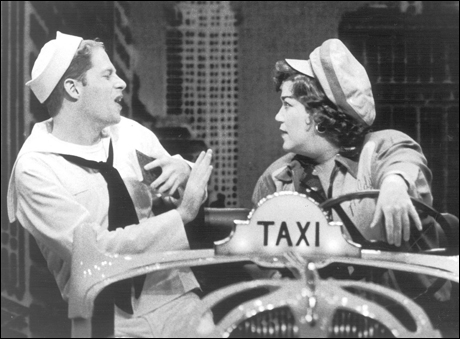 photo by Michal Daniel



Photo by Joan Marcus
Aaron Tveit, Next to Normal
(2009)
It's hard to say what percentage of Aaron Tveit's scintillating turn in Next To Normal was acting and singing skill and what percentage was charisma and good looks. It hardly matters—Tveit excelled in all areas—and this synergy was essential to his effectiveness in the role of Gabe, "Superboy," a bereft and broken mother's fantasy of her deceased son. Tveit's angelic pop prince voice poured out as he seductively stalked the stage, making us sympathetic to Diana's inability to let go, and therefore relatable in her strife. It was, without question—and even without a nomination—a star-making performance, and it deserved to be recognized.



Photo by Carol Rosegg
Ann Harada, Avenue Q
(2004)
Watching Ann Harada as Christmas Eve in Avenue Q, it was abundantly clear this was a major Broadway talent. Harada's multi-layered slapstick-supported-by-heart performance was a cornerstone of the success of Avenue Q, and her singing ignited a rare kind of visceral excitement that is all-too rare in today's Broadway of microphones and "mix" voices. She should have been nominated. The next time she's in a potentially nominatable role, I'm going to launch an internet campaign on her behalf. Power to the people!



Photo by Joan Marcus
Sherie Rene Scott, Aida (2000)
This one actually took me by great surprise. It wouldn't have even occurred to me that Sherie Rene Scott could possibly not have been nominated for Aida. Her performance was so fabulously diva-licious and she became such a widely recognized, instantly established Broadway star thereafter. If I hadn't been researching the Tony nominees of the era in general, I would have just assumed Scott's Amneris—the highlight of the show—had been nominated and left her off the list. Really, Tony nominators? Really?! Hindsight is 20/20, and it's certainly crystal clear now this was a mistake.
Chip Zien, Falsettos
(1992)
I have a theory about why Chip Zien wasn't nominated for Falsettos. I think his wonderfully warm, witty and wry performance as Mendel in 1990's Off-Broadway Falsettoland (which represents Act Two of Falsettos) was still so fresh in the nominators' minds, that they didn't feel they were seeing anything new—kind of like how superstar Alan Cumming is playing the Emcee in a revival of the same revival of Cabaret again, or how the exquisite Lonette McKee was Tony ineligible playing Julie in her second Broadway revival of Show Boat… It's actually a compliment to the lasting power of Zien's performance. That doesn't make it fair, though! Chip, Broadway owes you one!