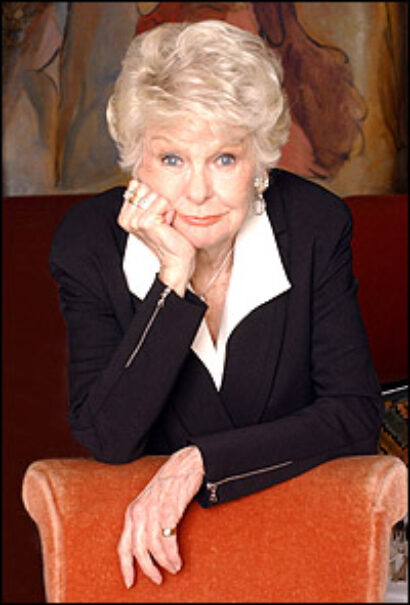 Hunter Ryan Herdlicka, who co-starred with Ms. Stritch in the Broadway revival of A Little Night Music, confirmed the news to Playbill.com. The actress, according to Herdlicka, died peacefully in her sleep. Stritch's best friend Julie Keyes, who resides in Michigan, told Herdlicka of her passing July 17.
Ms. Stritch came to fame on the Broadway stage when women were still called dames and everyone imbibed socially. She was comfortable with both the moniker and the habit. On stage, she could be counted on for solid performances, but also a knowing, biting sarcasm, a wicked sense of comic timing, and a certain swagger. Off stage, she was known for giving any man a run for his money, whether at drinking, swearing, or speaking her mind.
For someone with such a larger-than-life reputation, she was known for a surprisingly short list of roles. But those roles were the stuff of Broadway legend. In 1952, she performed the comic mock-strip "Zip!" as Melba Snyder in Pal Joey. She was waitress Grace Hoylard opposite Kim Stanley in William Inge's Bus Stop. She played cruise director Mimi Paragon, lamenting "Why Do the Wrong People Travel?" in Noel Coward's 1961 musical Sail Away.
And, most famously, she was the truth-telling, gimlet-eyed, middle-aged seductress Joanne in Stephen Sondheim's 1970 musical Company. Her bitter, hilarious, roaring rendition of the furiously regretful song "The Ladies who Lunch" in that show remains one of the most iconic musical moments in Broadway history, and the stage performance for which she is perhaps best remembered.
Ms. Stritch recounted her memories of these productions and more in her confessional one-woman show Elaine Stritch: At Liberty. The entertainment, directed by George C. Wolfe with a book by John Lahr, began life Off-Broadway at the Public Theater in 2001. A year later, it moved to Broadway for a limited run, winning a Tony Award for Best Special Theatrical Event. She had previously been nominated for a Tony Award for Bus Stop, Sail Away, Company and the 1996 revival of Edward Albee's A Delicate Balance.  
photo by Michal Daniel
In
At Liberty
, Ms. Stritch appeared in what became her trademark costume in later years: black tights and a billowing white, button-down shirt, untucked. She spoke of her long struggle with alcoholism, her strict Catholic upbringing, her romances with Marlon Brando,
Ben Gazzara
and
Gig Young
, her short-lived marriage to John Bay, who died of 1982; and her professional experiences with Harold Prince, Noel Coward and Kim Stanley. She later toured the country with the show, and performed it in London at the Old Vic. The piece was filmed as a TV documentary in 2002.
Elaine Stritch was born Feb. 2, 1925, in Detroit, MI, into a rich and devout Catholic family. Her uncle was the U.S. Roman Catholic Archbishop, Samuel Cardinal Stritch. She was convent-educated, but proved an incorrigible clown, performing for her parents' friends. After moving to New York, intent on an acting career, she attended the Dramatic Workshop of New York City's New School, working under German director Erwin Piscator of the Berliner Ensemble. She played Feste, the court jester, in a production of As You Like it. One of her fellow students was Brando, who, during a date at his apartment, greeted her in his pajamas. She fled.
She made her Broadway debut in 1944 in a comedy of brief duration called Loco. In her next show, a 1948 revue called Angel in the Wings, she earned attention for her deadpan delivery of a ludicrous comic number called "Civilization." Playing a stereotypical native from the bush, she sang "Bongo Bongo Bongo / I don't wanna leave the jungle / Ohnononono."
Her performance won her the thankless chore of standing by the chronically healthy Ethel Merman in Call Me Madam ("I was 20, I looked 40. I got the job"). Merman repeatedly reminded the young actress to dismiss any hopes she harbored of going on; when she poked her head in Merman's dressing room, Merman would bellow, "Get out of here!" At the same time she was doing Madam, she performed "Zip" on the side in a revival of Pal Joey — an arrangement that caused her to shuttle back and forth between Times Square and a tryout for the Rodgers and Hart musical in New Haven every performance day. (Her entire part in Pal Joey lasted a mere 12 minutes in the second act.) Pal Joey made it to Broadway in 1952.
Though still a pious person (she professed to have kept her virginity until she was 30), she pursued life in New York to the fullest, attending parties and entrancing men. Though not a classic beauty, she possessed a full head of champagne blonde hair, shapely legs and a vivacious personality. She lived with Ben Gazzara for two years in the 1950s and almost married him. She later began seeing film star Gig Young; both drank heavily. In love, they hoped to marry, but the differences in religious background proved too much for the good Catholic girl and the twice-married Protestant.
She was in a revival of
On Your Toes
directed by
George Abbott
. She became transfixed by Kim Stanley while acting in
Bus Stop
. On paper, the 1958 musical
Goldilocks
looked to be her ticket to leading lady stardom. Directed by Walter Kerr, with a book by Kerr and his wife Jean, and dances by Agnes De Mille, it was produced by
Robert Whitehead
. But the show closed after 161 performances on Broadway. Noel Coward was impressed with her work, however, and gave her a supporting part in his new musical
Sail Away
. Two weeks before the show opened, however, her role was combined with another part in the story, thus making Ms. Stritch the lead in the show. It didn't run much longer than
Goldilocks
, but she was praised by critics and was the only actor in the cast nominated for a Tony Award.
Soon after, she entered the cast of Albee's Who's Afraid of Virginia Woolf?, taking over from Uta Hagen a part particularly well-suited to her talents and personality: the hard-drinking, tough-talking Martha. She did not work on Broadway again until Company, seven years later. She turned down the Stephen Sondheim musical Anyone Can Whistle to go on the road with a play called Time of the Barracuda, which flopped and closed out of town. She was so despondent that she left the theatre for a year and instead tended bar at Elaine's, the famed Upper West Side watering hole.
The producers of Company, worried about her erratic, irresponsible behavior, had her behavior closely monitored during the weeks prior to the opening. She moved into the Chelsea Hotel to concentrate on the assignment. "No stuff, no memorabilia. Just my script, clean white sheets, clean towels and me."
In a later documentary about the making of the cast album of Company, she was the star, messing up take after take of "The Ladies Who Lunch," and laughing at her mistakes. "Elaine is incapable of lying," said Harold Prince. "And she's perfect for this show because she is as innocent as she is acerbic." Lee Strasberg put it another way. Once, when she went to the Actors Studio for a tune-up, he just waved her away with "Elaine, you were born with The Method."
She went on perform Company in London. She later performed there in a Tennessee Williams play opposite actor John Bay. Ms. Stritch soon proposed to him and they married. They lived at the Savoy Hotel, where the actress was given a good rate. The couple stayed married for ten years until his death.
Alcohol dogged Ms. Stritch most of her life. She said she took her first drink when she was 13, a whiskey sour given to her by her father, an executive at B.F. Goodrich. She continued to abuse drink to combat insecurities and stage fright. Ms. Stritch said for most of her professional career, she never stepped on stage with having a drink first.
During a run at the Huntington Hartford Theatre in L.A., to get around a producer's prohibition against alcohol backstage, she had a special bottle of Champagne sent to herself from a different admirer every night. In the 1970s, she became diabetic. Finally, in 1988, after a day of filming Woody Allen's "September," she had a diabetic attack outside the door of her room at the Carlyle Hotel. A minibar waiter who happened to be on her floor gave her a Pepsi, saving her life. After that, she gave up drinking.
She had less success on film. Among her few notable credits were "Who Killed Teddy Bear?," Woody Allen's "September," "Cocoon: The Return" and "Monster-in-Law." She was, however, star of the British sitcom "Two's Company" for four years in the late '70s, during the time when she was married to Bay and was living in London. The DVD release of the sitcom (co-starring Donald Sinden) offers a rare up-close look at her qualities: focused and listening, she is intently processing each moment, making her responses seem utterly of the moment rather than (the sitcom staple) canned.
Ms. Stritch was also the original Trixie in one episode of "The Honeymooners." She reportedly lost the role of Dorothy on "The Golden Girls" by improvising profanity into the script during her audition.
In recent years, she made the Carlyle Hotel her home, living in the same room she and her late husband John Bay would stay in when they visited New York: Room 309. "I'm a hotel baby, absolutely," she said. "It's hard to think of a hotel I haven't stayed in."
"When you're getting on in years it's wonderful," she said of the Carlyle. "I think it's the wrong way around to say when you get older move to the country. I think when you get older you move to New York. If you're a nice broad they'll look after you."
Her last Broadway appearance was in the revival of Stephen Sondheim's A Little Night Music, when she and Bernadette Peters stepped into the production, replacing, respectively, Angela Lansbury and Catherine Zeta-Jones.
In 2013, Ms. Stritch decided to retire from showbiz and move back to Michigan to be near her family. She gave a series of farewell appearances at the Cafe Carlyle. Despite this seeming exit from the limelight, the press continued to cover her every move and quote her salty remarks, and she apparently relished the attention. A documentary about her life entitled "Shoot Me" was released in 2013.
"I'd like to discover life," she told the New York Times, of her quiet last act. "Quite frankly I don't know how to be happy. I have not a clue. I only serve — and I don't say that with any grandeur. I just serve others through entertaining. That's when I am happy. I'm not just delighted with myself when I'm entertaining, but I'm happier than when I'm not."