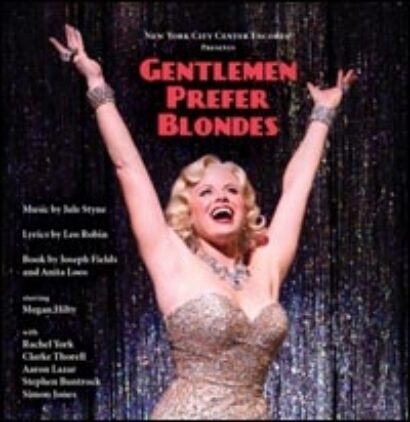 The album, drawing on the acclaimed May 9-13 New York City Center Encores! concert featuring NBC "Smash" star Megan Hilty as Lorelei Lee, conducted by Rob Berman, was recorded the week of May 21 in New York City. The full disc will include the several delicious encores that Robin and Styne wrote to "A Little Girl From Little Rock" and "Diamonds…," which were not completely preserved on the original Broadway cast album that featured Carol Channing.
The CD booklet — for those who still like to feel a recording in their hands and read about its history — will include notes by Berman (music director of Encores!) and Styne's widow, Margaret Styne, as well as Robin's complete lyrics and production photos.
The score features "Bye Bye Baby" "It's High Time," "Just a Kiss Apart," "I Love What I'm Doing," "Sunshine," "You Say You Care" and more.
Hilty (Broadway's 9 to 5) is a Sony artist. She's also working on recording her first solo album for Sony Masterworks/Columbia Records; it's expected in early 2013.
The Blondes cast also includes Rachel York as Dorothy, Clarke Thorell as Gus, Aaron Lazar as Henry plus Simon Jones, Stephen R. Buntrock, Phillip Attmore and Jared Grimes. For Encores!, the original orchestrations of Don Walker were heard. The concert script adaptation was by David Ives.
The Encores! audience got to hear complete dance sequences and obscurities from the score ("In the Champ de Mars," "Finaletto," "Coquette," "Button Up With Esmond").
Here's the album's track listing:
. Overture
2. It's High Time
3. Bye Bye Baby
4. A Little Girl from Little Rock
5. A Little Girl from Little Rock: Encore
6. I Love What I'm Doing
7. I Love What I'm Doing (Dance)
8. Just a Kiss Apart
9. Scherzo
10. It's Delightful Down In Chile
11. Sunshine
12. Park Scene
13. Pas De Deux
14. Sunshine: Reprise
15. I'm A' Tingle, I'm A' Glow
16. You Say You Care
17. Finale Act 1
18. Mamie is Mimi
19. Coquette
20. Diamonds Are a Girl's Best Friend
21. Diamonds Are a Girl's Best Friend: First Encore
22. Diamonds Are a Girl's Best Friend: Second Encore
23. Gentlemen Prefer Blondes
24. Homesick Blues
25. Keeping Cool With Coolidge
26. Button Up With Esmond
27. Finale Act 2
Gentlemen Prefer Blondes, based on the novel by Anita Loos, has music by Styne, lyrics by Robin and book by Loos and Joseph Fields. The show made a star of Carol Channing; an original cast album preserves her work, and some of the score. (There's also a 1995 Broadway revival cast album; that run was short-lived.) The property (with new plot and songs) is best known for its 1953 film version starring Marilyn Monroe and Jane Russell.
For more information, visit masterworksbroadway.com.