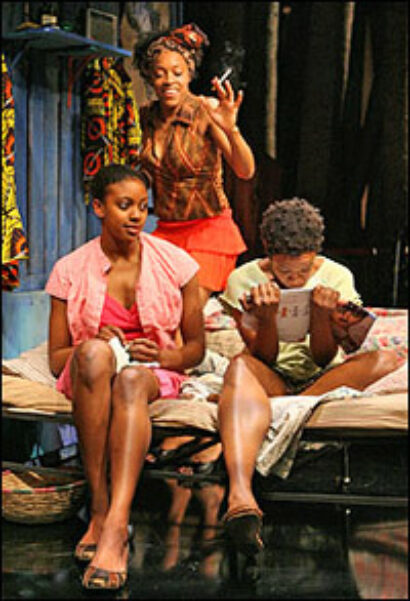 The collection of theatre professionals queried for this article all cited the Manhattan Theatre Club production — a co-production with Goodman Theatre, which premiered the play in fall 2008 prior to starting MTC performances in New York on Jan. 21, for an extended run to May 10 — as the first title that came up when talk turned to the subject of Pulitzer contenders. (All who were interviewed asked to speak off the record.)
This year's victor will be announced April 20 at 3 PM at a press conference at Columbia University in New York City. The Pulitzer Prize in Drama awards $10,000 to the winning playwright "for a distinguished play by an American author, preferably original in its source and dealing with American life," according to the official guidelines. "Productions opening in the United States between Jan. 1, 2008 and Dec. 31, 2008 are eligible." Ruined qualifies because it was commissioned and developed by The Goodman Theatre in Chicago and had its world premiere there in fall 2008.
Nottage's work has long been respected, but in recent years she's been on a winning streak with critics. In 2004 the Off-Broadway productions of two of her dramas, Intimate Apparel and Fabulation, were widely applauded by reviewers. Many expected Intimate Apparel to be among the Pulitzer finalists the following year, but it did not make the cut. Her other plays include Mud, River, Stone, Por'knockers; Poof! and Las Meninas.
If she does prevail on April 20, Nottage will be the first female playwright to win the Pulitzer Prize for Drama since 2002, when the award went to Suzan-Lori Parks. She will also be only the second African-American woman to collect the honor. Parks was the first. (Incidentally, last year's Pulitzer winner, Tracy Letts' August: Osage County, also hailed from Chicago.)
The story behind Nottage's play is almost as interesting as the play itself. In the summer, she and director Kate Whoriskey journeyed to Africa to inspect the human repercussions of the decade-long civil war in the Democratic Republic of the Congo (DRC) in central Africa. They interviewed women coming over the border from the Congo, fleeing atrocities, and these anguished stories later fed the narrative of Ruined. "We were expecting horror stories, but we weren't prepared for this extent of brutality," Nottage previously told Playbill. The play is set in a brothel, where women, by becoming prostitutes, escape a possibly worse fate in the outside world, where rape and sexual abuse — often with the use of bayonet or other implements — is a common war tactic. If there is one stumbling block to Nottage receiving the Pulitzer, observers say, it is that her play does not deal specifically with American themes. However, the judges have been known to bend that rule a bit in the past. The same argument was used against previous winner I Am My Own Wife by Doug Wright, which was largely set in Germany. The fact that Wright included himself as a character in the play, however, was cited by supporters as a thematic aspect that rendered the play sufficiently American. Nottage did not put herself in her own play, but her investigative trips to Africa, it could be argued, directly inject her American perspective into the Congolese story.



photo by Joan Marcus
Another contender frequently mentioned for the 2009 Pulitzer is Gina Gionfriddo's
Becky Shaw
, which premiered at the Humana Festival in Kentucky, and had its New York bow in January at Second Stage. Gionfriddo first drew attention a few years back with her play
After Ashley
. But, as praised as that work was, many critics considered
Becky Shaw
— about a quartet of emotionally damaged and dependent young people — to be her most mature play to date. Still, as good as it is, some say, the work lacked the topical heft that has helped make
Ruined
the front runner in this year's contest. Another candidate mentioned by a couple interviewees was the musical
In the Heights
, which won the Tony Award for Best Musical last year, though other interviewees regarded its chances with skepticism. Although the following titles were not mentioned by interviewees, some other works from 2008 that might be in the running — based on the attentions of other award-giving bodies — include Lee Blessing's
Great Falls
; Tracy Letts'
Superior Donuts
; Tracey Scott Wilson's racially charged
The Good Negro
; and Yussef el Guindi's play,
Our Enemies: Lively Scenes of Love and Combat
.
Here is a complete list of winners of the Pulitzer Prize for Drama:
2008: August: Osage County by Tracy Letts
2007: Rabbit Hole by David Lindsay-Abaire
2006: No award
2004-05: Doubt, by John Patrick Shanley
2003-04: I Am My Own Wife, by Doug Wright
2002-03: Anna in the Tropics, by Nilo Cruz
2001-02: Topdog/Underdog, by Suzan-Lori Parks
2000-01: Proof, by David Auburn
1999-00: Dinner with Friends, by Donald Margulies
1998-99: Wit, by Margaret Edson
1997-98: How I Learned To Drive, by Paula Vogel
1996-97: No award
1995-96: Rent, by Jonathan Larson
1994-95: The Young Man From Atlanta, by Horton Foote
1993-94: Three Tall Women, by Edward Albee
1992-93: Angels in America: Millennium Approaches, by Tony Kushner
1991-92: The Kentucky Cycle, by Robert Schenkkan
1990-91: Lost in Yonkers, by Neil Simon
1989-90: The Piano Lesson, by August Wilson
1988-89: The Heidi Chronicles, by Wendy Wasserstein
1987-88: Driving Miss Daisy, by Alfred Uhry
1986-87: Fences, by August Wilson
1985-86: No award
1984-85: Sunday in the Park With George, by James Lapine and Stephen Sondheim
1983-84: Glengarry Glen Ross, by David Mamet
1982-83: 'night, Mother, by Marsha Norman
1981-82: A Soldier's Play, by Charles Fuller
1980-81: Crimes of the Heart, by Beth Henley
1979-80: Talley's Folly, by Lanford Wilson
1978-79: Buried Child, by Sam Shepard
1977-78: The Gin Game, by D.L. Coburn
1976-77: The Shadow Box, by Michael Cristofer
1975-76: A Chorus Line, by Michael Bennett, James Kirkwood, Nicholas Dante, Marvin Hamlisch and Edward Kleban
1974-75: Seascape, by Edward Albee
1973-74: No award
1972-73: That Championship Season, by Jason Miller
1971-72: No award
1970-71: The Effect of Gamma Rays on Man-in-the-Moon Marigolds, by Paul Zindel
1969-70: No Place To Be Somebody, by Charles Gordone
1968-69: The Great White Hope, by Howard Sackler
1967-68: No award
1966-67: A Delicate Balance, by Edward Albee
1965-66: No award
1964-65: The Subject Was Roses, by Frank D. Gilroy
1963-64: No award
1962-63: No award
1961-62: How To Succeed in Business Without Really Trying, by Abe Burrows, Willie Gilbert, Jack Weinstock and Frank Loesser
1960-61: All the Way Home, by Tad Mosel
1959-60: Fiorello!, by Jerome Weidman, George Abbott, Sheldon Harnick and Jerry Bock
1958-59: J.B., by Archibald MacLeish
1957-58: Look Homeward, Angel, by Ketti Frings
1956-57: Long Day's Journey Into Night, by Eugene O'Neill
1955-56: The Diary of Anne Frank, by Frances Goodrich and Albert Hackett
1954-55: Cat on a Hot Tin Roof, by Tennessee Williams
1953-54: The Teahouse of the August Moon, by John Patrick
1952-53: Picnic, by William Inge
1951-52: The Shrike, by Joseph Kramm
1950-51: No award
1949-50: South Pacific, by Richard Rodgers, Oscar Hammerstein II and Joshua Logan
1948-49: Death of a Salesman, by Arthur Miller
1947-48: A Streetcar Named Desire, by Tennessee Williams
1946-47: No award
1945-46: State of the Union, by Howard Lindsay and Russel Crouse
1944-45: Harvey, by Mary Chase
1943-44: No award
1942-43: The Skin of Our Teeth, by Thornton Wilder
1941-42: No award
1940-41: There Shall Be No Night, by Robert E. Sherwood
1939-40: The Time of Your Life, by William Saroyan
1938-39: Abe Lincoln in Illinois, by Robert E. Sherwood
1937-38: Our Town, by Thornton Wilder
1936-37: You Can't Take It With You, by Moss Hart and George S. Kaufman
1935-36: Idiot's Delight, by Robert E. Sherwood
1934-35: The Old Maid, by Zoe Akins
1933-34: Men in White, by Sidney Kingsley
1932-33: Both Your Houses, by Maxwell Anderson
1931-32: Of Thee I Sing, by George S. Kaufman, Morrie Ryskind, Ira and George Gershwin
1930-31: Alison's House, by Susan Glaspell
1929-30: The Green Pastures, by Marc Connelly
1928-29: Street Scene, by Elmer Rice
1927-28: Strange Interlude, by Eugene O'Neill
1926-27: In Abraham's Bosom, by Paul Green
1925-26: Craig's Wife, by George Kelly
1924-25: They Knew What They Wanted, by Sidney Howard
1923-24: Hell-Bent fer Heaven, by Hatcher Hughes
1922-23: Icebound, by Owen Davis
1921-22: Anna Christie, by Eugene O'Neill
1920-21: Miss Lulu Bett, by Zona Gale
1919-20: Beyond the Horizon, by Eugene O'Neill
1918-19: No award
1917-18: Why Marry?, by Jesse Lynch Williams
1916-17: No award