*
It sounds strange to say, but arguably the most-anticipated production of the upcoming fall Off-Broadway season is by the Elevator Repair Service. Downtown theatre addicts and drama critics know this edgy, innovative theatre group well. But your average Off-Broadway theatregoer has probably never seen one of the troupe's form-bending works.
If they take in Gatz — which is being hosted by the Public Theater and will begin Sept. 26 — they will more than make up for that oversight by soaking in six-and-a-half solid hours of the good old ERS. That's how long it takes to attend a performance of this adaptation of F. Scott Fitzgerald's "The Great Gatsby." That's right. Every word of the book is spoken in this show, where the action starts one morning in an office where an employee finds a copy of the 1925 novel and starts to read it out loud. Soon, the office and its workers are transformed by the work. (I don't know about you, but this kind of thing happens in the Playbill offices all the time.)
New York is late to the game on this one. Previously, the Fitzgerald estate had restricted the New York premiere of Gatz because producers of Gatsby, Simon Levy's play adapted from the book, held the stage rights to the original novel. That appears to have been resolved. The cast includes a host of ERS favorites, including Scott Shepherd as Nick; Victoria Vazquez as Daisy; Jim Fletcher in the title role; and Gary Wilmes as Tom and Susie Sokol. There will be two intermissions and a dinner break. If you want to dine in a place mentioned in the novel, the Plaza Hotel is still around. Here's Playbill.com's annual glimpse at the coming fall season Off-Broadway. A variety of new productions will surface between September and December 2010, and this overview is not meant to be exhaustive, but a jumping off place for you to explore the bounty.



photo by Joseph Moran
Also at the Public this fall, beginning Oct. 19, is the latest play by actress and writer Lisa Kron. Kron's last work at the theatre, Well, got all the way to Broadway. As with that show, In the Wake deals with the tricky terrain of family politics. The play is set Thanksgiving of 2000, when the presidential election between George W. Bush and Al Gore had still not been decided. Needless to say, not everyone at the table sees eye to eye on the subject. The play received its world premiere by the Center Theatre Group in March under the title The Wake, and was subsequently produced at the Berkeley Repertory Theatre in May. Leigh Silverman, who staged Well, is back at the helm, and Marin Ireland stars.
In contrast to Silverman and Kron, it's been a while since playwright Jon Robin Baitz and director Joe Mantello last worked together. The two men, one famously a theatreland power couple, collaborated early on Three Hotels (when Mantello was barely known as a director) and Mizlansky/Zilinsky (when Mantello was getting better known). Since the, Mantello has become one of the top men in his field, winning a couple Tonys and staging something called Wicked. Well, the boys are back in town with Other Desert Cities, the latest by Baitz. The play, about a one-time matinee idol turned politician, his screenwriter wife and their novelist daughter (there are very few people with dull professions in Baitz plays), will bow at Lincoln Center Theater's Mitzi E. Newhouse Theatre on Dec. 16.
The show that Joe Mantello the Actor — a personage who has long since passed into the mists of history — is most associated with, Angels in America, will make a noisy return to the New York stage as the centerpiece of a Signature Theatre Company season dedicated to Tony Kushner. This is the first ever New York revival of the mammoth, two-part work, and director Michael Greif has appropriately rounded up a Broadway-level cast for it, including Robin Bartlett, Christian Borle, Bill Heck, Zoe Kazan, Billy Porter, Zachary Quinto, Robin Weigert and, as Roy Cohn, Frank Wood. Previews begin Sept. 14. The two parts — Millennium Approaches and Perestroika — will begin alternating in repertory from the start of performances.



photo by Joan Marcus
Few playwrights today enjoy Kushner's stature. One who exceeds it is Edward Albee, who continues to write plays despite being 82. Me, Myself & I, which had its world premiere at New Jersey's McCarter Theatre in 2008, will get its New York opening at Playwrights Horizons Sept. 12. The work concerns a pair of identical twins, one of whom may not exist. Albee seems to have a thing about phantom children (see Who's Afraid of Virginia Woolf? and The Play About the Baby). Old Albee hand Brian Murray is in the cast, as well as Elizabeth Ashley. Emily Mann directs.
The Albee acolyte, playwright Will Eno, will see his biggest New York production yet on Oct. 13, when Middletown premieres at the Vineyard Theatre. Eno's Thom Pain was a cause célèbre for the New York Times' Charles Isherwood back and a 2004 finalist for the Pulitzer Prize. The new work has a fine cast — including Joanna Day, Heather Burns and Linus Roache — and a plot that sort of sounds like a 21st-century spin on Our Town, or, at least, "Winesburg, Ohio" — "a deeply moving and funny new play exploring the universe of a small American town. As a friendship develops between longtime resident John Dodge and new arrival Mary Swanson, the lives of the inhabitants of Middletown intersect in strange and poignant ways in a journey that takes them from the local library to outer space and points between."
Back during his first bloom of fame, Albee (yes, we're still talking about Albee) often flumoxed critics by following up original plays like Who's Afraid of Virginia Woolf?, Tiny Alice and A Delicate Balance with adaptations of other writers' work, like The Ballad of the Sad Cafe, Malcolm and Everything in the Garden. Playwright Sarah Ruhl will perform a similar act this fall. Her most recent work, In the Other Room, was perhaps her most visible and best-received play to date. Yet her next will be Orlando, an adaptation of the Virginia Woolf novel of the same name. It will premiere at the Classic Stage Company on Sept. 8. The production coincides with the recent re-release of the 1993 film of the book. Woolf's novel was about a young nobleman who awakes to discover he is now an immortal woman.
The new play The Divine Sister is about, well, an actor who long ago realized he was born to spend his life playing women. In latest work by Charles Busch, New York theatre's most famous cross-dresser, the man dons a nun's habit and spoofs every convent-set movie Hollywood ever made, from "The Bells of St. Mary's" to "Agnes of God." Busch plays the put-upon Mother Superior at a Pittsburgh convent. And, no, he won't be singing "Climb Every Mountain." Performances begin Sept. 12 at SoHo Playhouse.
One could see Busch doing a good Bette Davis is a production of Lillian Hellman's The Little Foxes. That won't be happening this autumn, but, rest assured, Dutch director Ivo Van Hove has something just as outrageous planned for the classic melodrama. Van Hove returns to his New York home, New York Theatre Workshop, scene of his flamboyant, off-the-wall interpretations of A Streetcar Named Desire and Hedda Gabler. His American muse, Elizabeth Marvel, is back as well. In Streetcar, she landed in a tub of water. In Hedda, she got a tomato-juice shampoo and gargle. What will dampen Marvel this time? Tune in Sept. 10.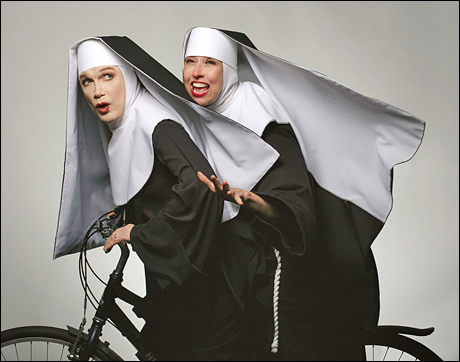 photo by David Rodgers



photo by Ari Mintz
On Oct. 28, MCC Theatre returns to the playwright with which it is most associated: Neil LaBute. Their last collaboration, Reasons to Be Pretty, went to Broadway. The Break of Noon, the new play, was supposed to have premiered back in early 2009 but was cancelled. Jo Bonney directs the tale of a man who sees the face of God during the chaos and horror of an office shooting, beginning Oct. 28 at the Lucille Lortel.
The Altantic Theater Company had some luck with a double bill of Harold Pinter when it presented Celebation and The Room in 2005. This Nov. 3, it tries its hand as another pair of short works by the playwright, The Collection and A Kind of Alaska. It will precede that with Bottom of the World, a new play by Lucy Thurber about a woman who delves into the world of her sister's final novel, starting Sept. 3. (While ATC's mainstage is being expanded and renovated, productions will play at borrowed spaces.) Words are also part of the characters' world in The Language Archive, a new Julia Cho play that begins at the Roundabout Theatre Company's Laura Pels Theatre Sept. 24. In the drama, a man consumed with preserving and documenting the dying languages of far-flung cultures doesn't know what to say to his wife to keep her from leaving him, and doesn't recognize the deep feelings that his lab assistant has for him.
Finally, Jan Maxwell, a two-time Tony Award nominee this past season, gets one of her best roles to date in Second Stage's revival of Arthur Kopit's 1978 play Wings. She will play the central character of Emily Stilson, a female stoke victim, in this production directed by John Doyle. It commences Oct. 5



photo by Aubrey Reuben
Also of interest: Tigers Be Still, Kimberly Rosenstock's new play about a woman who finds herself unemployed, overwhelmed and back at home after earning her masters degree in art therapy, at the Roundabout Theatre Company's Black Box Theatre Sept. 10; underneathmybed, Florencia Lozano's play about ghosts of a foreign dirty war who invade the Jimenez family home, while a woman remembers the moment in her life when she disappeared for good, at Rattlestick Playwrights Theater, opening Sept. 10; Through the Night, Daniel Beaty's solo play about six African-American males, ages 10-60, who discover the power of possibility through one extraordinary event, at the Union Square Theatre from Sept. 10; In Transit, an a cappella musical about a group of people on a subway, at Primary Stages, starting Sept. 21; Spirit Control, Beau Willimon's story of an air traffic controller who must guide the passenger of a small plane through an emergency landing, at Manhattan Theatre Club, beginning Oct. 7; There Are No More Big Secrets, actress Heidi Schreck's new play about an American expat who returns to the United Stages with his Russian journalist wife and their daughter, and seeks refuge for his family in the home of his old friends, at Rattlestick from Nov. 3; Mistakes Were Made, Craig Wright's comedy about a Broadway producer who gets in way over his head when he takes on the first world-premiere of his career, at Barrow Street Theatre beginning Nov. 5; After the Revolution, Playwrights Horizons' presentation of Amy Herzog's play about a shocking truth that forces a Marxist family to confront questions of honesty and allegiance, commencing Oct. 21; The New Group's Blood From a Stone, Tommy Nohilly's play about a troubled working-class family in New Britain, CT (dates TBA); A Small Fire, the latest from playwright Adam Bock, running at Playwrights Horizons from Dec. 10; TACT/The Actors Company Theatre's presentation of Vaclav Havel's The Memorandum, from Oct. 25; and the U.S. premiere of Alphabetical Order, which will run from Sept. 14, and is part of the Keen Company's season dedicated to Michael Frayn.
(Robert Simonson has been Playbill.com's senior correspondent since 2006. Prior to that, he was the editor of Playbill.com for seven years. His most recent book, "The Gentleman Press Agent," was published by Applause Books in June. Contact him at rsimonson@playbill.com.)