Ann Harada is ready for the last midnight. Into The Woods' ostracized, fantastical Witch is a marriage of various identities for Harada, and thanks to the National Asian Artists' Project (NAAP) and Prospect Theater Company's staged reading featuring all Asian actors, she has the chance to add her individual spin to the beloved Stephen Sondheim role.
Harada, who originated the role of Christmas Eve in Avenue Q and recently appeared Off-Broadway in Sondheim's Pacific Overtures, sees the October 20 concert reading, presented as part of NAAP's annual Rediscover Series, as an opportunity to bring to life a character who is so identifiable—especially to minorities.
Read: ANN HARADA TO PLAY THE WITCH IN ALL-ASIAN INTO THE WOODS CONCERT
"Into The Woods obviously resonates with everybody because the Witch is an outsider," says Harada. "She's always been completely misunderstood. She's been feared because of how she looks—because she's different—and I just feel like any member of a group that has ever been considered a minority empathizes with the Witch."
While acknowledging that the theatre industry has made strides in casting more minority groups, Harada says there is still work to do. "We're still battling this white-washing issue after so many years," she says. "It's not just Asian people; every ethnic group is sort of feeling like, 'Hey, these parts are parts that we're supposed to be playing, and maybe it's not cool that you're going to be casting them with white people all the time.'"
NAAP's reading aims to flip the script on that by casting an underrepresented community in roles they might not necessarily get in commercial stage productions. "A lot of people don't get the opportunities to show that they can handle or do these iconic roles," she says. "If you don't get a chance to do the repertory, how are you ever going to do the repertory? I remember auditioning for Shakespeare plays when I was younger. And they said, 'Well, we like you, but we're going to give it to someone who's done the play before.' Well how am I going to do the play if nobody ever gives me a chance to do the play?"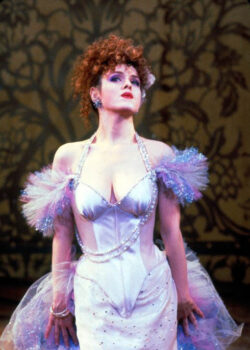 Not only is the NAAP production a platform for the underrepresented, but it is a caring community for them as well: "When you get the chance to tackle difficult material—to be with people who understand what it's like in some ways to be you—I think it's very freeing and empowering."
Harada also spoke to her own experiences as a mother and how it will inform her performance, considering much of the Witch's own agenda is informed by her complex relationship with Rapunzel: "Now that I'm a mother, everything [the Witch] says has so much more resonance, and that's so much of what motivates her… The impulse to try to protect your child from the world is very strong, but you know that you can't."
As to what she's most excited about taking on? "'Last Midnight.' I have never ever tried to sing it ever, so I'm kind of excited to try."
With this special performance, Harada has the chance to try things she hasn't tried before, to be emboldened by a community of actors who understand what it is like to be underrepresented on stage, and to show the world what they can do.
The concert version of Sondheim and James Lapine's Into the Woods, presented by NAAP and Prospect Theater Company, will take place October 20 at 7:30 PM at The TimesCenter. Steven Eng directs a cast that also includes Viveca C. (Miss Saigon) as Cinderella, Alex Chester (How the Grinch Stole Christmas) as Little Red Riding Hood, Cindy Cheung (Thirteen Reasons Why) as the Baker's Wife, Karl Josef Co (CSC's Pacific Overtures) as Cinderella's Prince, Daniel J. Edwards (Anything Goes) as Rapunzel's Prince, Lydia Gaston (The King and I) as Jack's Mother, Kennedy Kanagawa (Dinner with Georgette) as Jack, Raymond J. Lee (Groundhog Day, Honeymoon in Vegas) as The Baker, and Jason Ma (writer/composer, Gold Mountain) as the Mysterious Man.