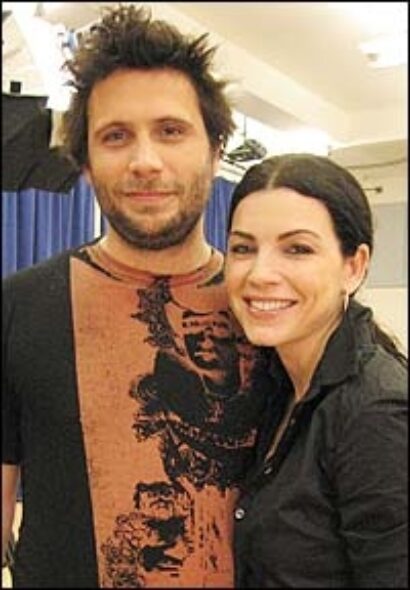 Hayden plays Christian, the whistle-blowing son in the film-inspired, British-born play Festen, whose ten-ton, dinner-time revelation sends a large family gathering spiraling as far south as possible. The production begins previews at the Music Box March 23 toward an opening on April 9. The London show's director, Rufus Norris, and producer Marla Rubin (who here teams with Bill Kenwright) repeat their duties in New York, though with a new American cast.
"Family dynamics are a lot messier and unexpected and insane than we would like to admit or even portray," Hayden continued. "I think ultimately the most shocking thing about this play is not what's revealed, but how it's dealt with by the mass of the family. That is shocking, the behavior that comes out."
Hayden admitted that he found the visceral material difficult to deal with on a day-to-day basis. "It's upsetting to play," he said. "There are some actors who are very facile at putting things on. I am unfortunately not one of those actors. It's dark stuff. What's wonderful about this piece and makes it different—it's very un-American in a way—is it's not soft. The writer keeps it on a razor's edge. You don't have a lot of time to wallow. While you're doing it, you've got to keep riding it."
After reading the script, actor Larry Bryggman was not sure he could accept the job. He plays the family patriarch, the man at whom the vile accusations are leveled. Bryggman cited the actor's rule that one should always find a way to like one's character. At first glance, he couldn't. His agents, however, prodded him to read the play again. "I decided that, in the end, this man still loved his family," he related. "That was enough."
As for Ali MacGraw, who makes her Broadway and stage debut as the mother caught between spouse and children, "I wake up in the middle of the night tortured. I'd say it's incredibly difficult." The play also stars Julianna Margulies. Like Hayden, Bryggman said he'd been present at an occasion where an angry remark had led to the general disintegration of the gathering. (In his case, the event took place in Sweden and much of the quarreling was in Swedish, leaving him in the dark as to the nature of the dispute.) Co-star Jeremy Sisto, who plays another brother in the family, meanwhile, recalled his sister's wedding, which brought together his mother and father, who hadn't seen each other in 20 years. "It was kind of tense," he said.
"I think one of the reasons that it makes such good theatre is that everyone has had an experience like that," opined director Norris, who is making his Broadway debut with Festen, a work which placed him in the front ranks of British stage directors. "One time, my brother decided to discuss an aspect of his relationship with the whole family. And then the tin of worms started to get out and you can't do a thing about it, and as it's happening, you're thinking 'Oh God, please, please, please don't do that.' The play's accessibility has to do with the fact that, when we're in the company of the family we grew up with, it's a very particular, ritualized, deep-rooted environment. I think it's very common."
The play is an anomaly of sorts. Broadway audiences are used to musicals that are based of existing films. A play based on a film, however, is rarely seen. Festen was adapted by playwright David Eldridge from the 1998 Thomas Vinterberg movie of the same name. (It was called "Celebration" when released in the U.S.) It is one of the most famous movies to emerge from the Denmark-based "Dogme" cinematic movement, which eschews the Hollywood aesthetic, filming on location, using only hand-held, 35 mm cameras and natural lighting and sound effects.
Both Norris and Eldridge were recruited by producer Marla Rubin, whose idea it was to turn "Festen" into a stage play. She got the idea six months after seeing the film in a movie theatre. Getting the stages rights to the project, however, took a year and a half while she wore down the skeptical leaders of Dogme.
"Dogme didn't want anything to do with it initially," she explained. "They're film people, as you know—tremendous collective consciousness. I had to deal with Thomas Vinterberg and Mogens Rukov. He's formidable; Mogens is the grandfather of the group. He's more formidable that Lars von Trier [the controversial Dogme director of "Dogville" and "Breaking the Waves"], which is hard to believe, but it's true. He was wary and didn't really have anything to do with theatre."
Eventually, Rubin gained the trust of Vinterberg and Mogens. She discovered director Norris and adapter Eldridge by sure serendipity, while taking in a play called Under the Blue Sky upstairs at the Royal Court. Eldridge had written it, and Norris directed. "I got that truth feeling down my spine," she remembered. She approached them with the project. Luckily, "Festen" turned out to be Norris' favorite film.
"'Festen' the film is, I think, fantastic," said Norris. "It's just a really strong example of the kind of value and provocation that that movement set up. If you've got a good story and great actors, everything else can be a bit of a distraction from that." He added that he thought the drama was essentially "about love, really. It's a very dysfunctional family, but what makes it so compelling is that these people love each other very much."
Rubin is aware that the reaction of audiences in America, where the public confession of foibles and family secrets has become a kind of mania, may be different from that she encountered in the more reserved British.
"The culture of denial in Denmark and Britain are quite similar emotionally. When the s--- hits the fans, the tendency in Denmark, as it is in England, is to say, 'Let's have some tea.' Whereas the tendency in America is to pour the tea over the whole family."
The story is still set in Denmark, and the Danish names have been retained. Asked if she was ever tempted to change the name of the play to something more decipherable to English-speaking theatergoers, she said no. "We want people to go, 'What the hell is that?'"