Known for her Tony Award-winning turn in The Producers as bombshell assistant Ulla and in the show-stopping role of Ziegfeld's Favorite in The Will Rogers Follies, Huffman's off-stage passions include a lifelong love of food – one which fans may already know from her on-screen appearances as a judge on "Iron Chef America" for ten years.
Playbill.com spoke with Huffman about her passion for food and her top-seven must-eat places for everything from cupcakes to cocktails to brunch.
Where did your love of cooking and food come from?
CH: I grew up in an Italian household in California, so everything was fresh. I lived with my mother and my grandmother. My grandmother cooked the sauce. When she did the sauce it was a two-day affair. You didn't just whip it up and throw it on the table. She had a "pasta fazool" [pasta e fagioli] that was legendary! I can't believe no one bothered to write the recipe down. We all still talk about it.
I remember my grandmother loved her toast a little burnt. She would put a little mayonnaise on it, slice some tomatoes and some salt. There was something a little ritualistic about food that was special. You sliced, you prepared. And my mother, who was a single mother, worked three part-time jobs, but she and my grandmother always made sure that someone was cooking dinner for us. We had a very experimental kitchen; she loved to cook different things and this was California, so everything was fresh. Nothing packaged at all. How did "Iron Chef" come about for you?
CH: A friend of mine at Food Network was producing "Iron Chef America." They had done the pilot and foodies can be very dry, especially back then, and I think I was in The Producers, and he said, "Cady, you're sort of a celebrity." [Laughs.] "Would you come onto our new show?" I was like, "Free food? Sure, I'll do that." And then I ended up doing ten seasons of it.
It was funny, I didn't consider myself a foodie, particularly. So, when I got on the show, I found that I really do have a palette and that people for some reason wanted to hear what I had to say about the food. I think because I put it in pretty simple terms. And I could rib Jeffrey Steingarten, and I love him! [Laughs.] He's so knowledgeable, but what happened was I learned so much from all of them. I'm so happy to have tasted some of the best food in the world.
Was there anything they put in front of you that made you think, "How am I going to eat that?
CH: I have no food phobia at all. I have put strange things in my mouth! [Laughs.] One of the big things I learned doing "Iron Chef" was the aesthetics of food. It has to looks pleasing before you eat it. It all looks gorgeous, so you never think, "Ew, I'm not going to eat that mountain of calves liver."
Did anything surprise you that you thought might not be as good as it was?
CH: Actually never. I'm kind of boring that way. Some things certainly surprised me. One of my favorite things was the Offal battle – things that fall off a butchered animal. So, it was pig's ears, trotters, blood, tripe – anything. That was the only show where they called me beforehand to make sure I would do it.
People are going to wonder how you maintain a dancer's body and indulge. Any secrets?
CH: I don't reward myself with food and I don't punish myself with food. And I think that is much more the root of dietary problems. I don't eat processed foods and I don't like fast food. As I've gotten older, I have to watch my diet. I stick to gluten-free, I cut out some dairy and meats. I eat well and I don't worry about it too much.
Click through to see Cady Huffman's Picks of her New York City culinary destinations:
Señor Pollo (221 1st Avenue A).
I love Peruvian chicken. Peruvian chicken is a roasted chicken served with yogurt-based dipping sauces. I fell in love with Peruvian chicken 25 years ago at a place that doesn't exist anymore. So, I was looking for another place on the Internet, where I could find it. Then I found Señor Pollo in the East Village. It's a little cafeteria, but you can get a whole chicken with spinach-mashed potatoes! It's cheap and it's delicious.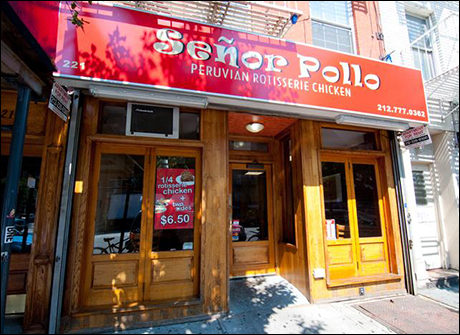 Lafayette (380 Lafayette Street).
This is a pretty new restaurant. It's this big beautiful place. I had a glorious meal there. The cocktails are fun. You go so many places now where the cocktails are expensive and dull. This place has cute, fun, traditional cocktails that are really good. They have wonderful cheeses, too. What I remember most about the meal was when they got to the beignets at the end. It was this little pile of beignets, with a little pot of pudding and some cream, and drizzled sauces. You just dip them in the sauces and the combinations were endless. I would go back just for that dessert.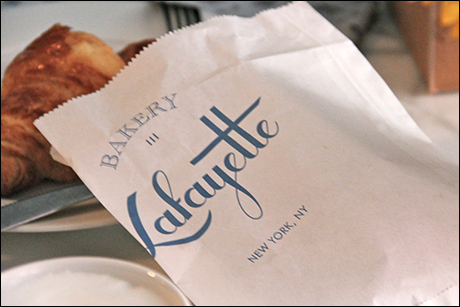 Bar Americain (152 W 52nd Street).
Bobby Flay was on "Iron Chef" for so many years, and I try to get to all of the Iron Chef's restaurants. So, when Julie White won her Tony Award for The Little Dog Laughed – I've know her since I was 17 – I said, "Let's go to brunch." It was me and Julie, her daughter and a few other people. So, we sat down and I said, "So, where's your Tony Award now?" And she said, "Oh, it's in L.A., I guess." And I said, "Oh, that's okay, I brought mine!" And I pulled mine out of my purse and slammed it on the table! [Laughs.] They have so many different kinds of bacon. Cured pig! What is better than cured pig? And when you go to these nice places it's good. They know their farmers. We sampled every kind of brunch food and cocktail. I think of brunch as being kind of gluttonous. You're there and have nothing to do but get happy and stuffed, and boy, can you do it there. It's a very generous space, so you're not sitting too close to people. It's not very loud. It's elegant. I think I just think about that bacon – all the bacon all the time. And I remembered to take my Tony after all the cocktails!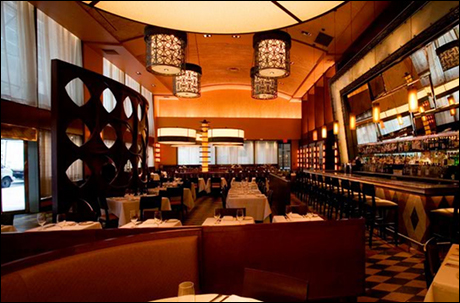 craftbar (900 Broadway).
It's so sexy. What I like to do is wander in and sit at the bar. Usually with a friend, but it would be great for a date. They have a fantastic wine list and some great Scotches. This sounds like I drink a lot, but I've actually cut out alcohol of my diet as well, for the most part. But on the occasion that I'm craving a great glass of wine, or a great scotch, or a well-made cocktail, I got here. They come with little plates of snacks. Knowing Tom Colicchio, I always feel very attached to craftbar. The first time I ate there was with Tom. The experience of that – there's just nothing like it. If I were to pick my favorite things to enjoy there, I love a chilled red, these lighter reds that are being chilled or Lambrusco with a little bit of effervescence. I love big whites like white Burgundy. All said, it depends on what I'm eating. I'm enamored with wine. I'm also really into Hendricks gin martinis with cucumber. And I've been drinking it before it got so trendy!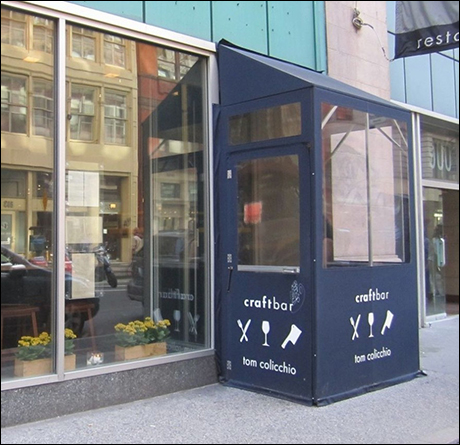 Gramercy Tavern (42 E. 20th Street).
Anytime I want great service, I go to a Danny Meyer restaurant, but Gramercy Tavern is elegant. The staff is impeccable. There's enough staff, but there's not too much staff. There's someone always there for you, but they're not lurking. They have that wonderful huge cheese board. It's a huge wooden board where they keep all their cheeses under a cheese cloth. I can smell it just talking about it. They know how to seduce you and how to treat you exactly right. The restaurant has a hush about it and the food is always perfect. The silverware is perfect and I just love the staff. The staff makes the experience. And the dining room – you feel like you're in a historic New York space.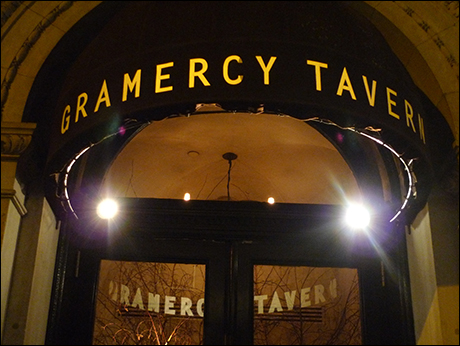 Lupa (170 Thompson Street).
This is a real trattoria. You immediately smell the bread and the pasta cooking. It's loud and it's fun. They always have something on the menu that you're not expecting. There's also a well-priced wine list. Not too fancy, but really, really good. It's not casual at all, but it's more casual than some others on my list. It's the place to go that's not too expensive, where you know you're going to have great food and great wine and a great fun atmosphere.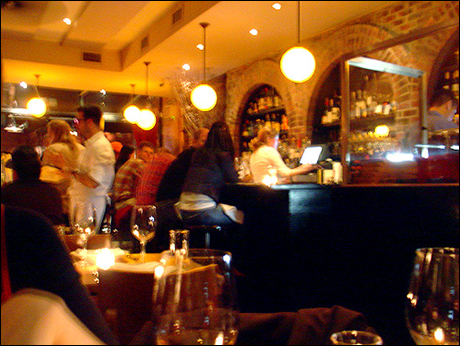 Baby Cakes (248 Broome Street).
I've literally tried everything in this place. A friend introduced us and the owner of the bakery sent a package to the theatre. So the whole cast tried everything. Also because I've been virtually gluten-free for several years, this was perfect. And it's vegan. It's so hard to find things that are vegan, gluten-free and delicious. I'm all about cookies. The cupcakes here are really pretty and interesting. And the chocolate chip cookies are my favorite. Also the staff here. The girls are gorgeous, they wear pink and they sing!