* It's become almost a cliché to complain about the dearth of quality new musicals. You kind of can't help it. If you love musicals, chances are you love them for the rich history of what they used to be… Oklahoma!; Fiddler On The Roof; Gypsy; Hello, Dolly!; Cabaret. To say they don't make 'em like that anymore is an understatement. But they do still "make 'em," and being an avid theatregoer can be hearbreaking when new shows don't hold up.
On the other hand, we the fans are part of the problem, experiencing new shows with preconceived notions about what a musical should sound like and look like, and feel like. If we keep thinking that way, we're pretty much never going to be satisfied (other than the occasional Hairspray or Ragtime). If, however, we open our minds to what musicals can be in the 21st century, well, chances are we'll still be disappointed a lot of the time, but—and this is crucial — sometimes we will be thrilled and delighted as has happened to me on a number of occasions over the last ten years or so, for example at Avenue Q, The Light In The Piazza and In The Heights. Basically, new musicals, or good new musicals anyway, can be broken down into three categories: the super-accessible pop culture-y shows, the quasi-operatic fancy musicals and the genre crossover musicals. Looking back on all the cast recordings that came out in 2014, there is a rich crop of new theatre songs to enjoy (and obsess over).
Click through to read my selections for the Top New Showtunes of 2014.
10. "I've Decided to Marry You" from A Gentleman's Guide To Love And Murder
The 2014 Tony Award winner for Best Musical, A Gentleman's Guide To Love And Murder is a peculiar show, sort of fitting into all three of my categories and yet not really belonging to any of them. As a theatrical experience, A Gentleman's Guide To Love And Murder is pretty delightful, funny and suspenseful and surprising and thoroughly engaging. The tuneful music and clever lyrics bring each scene fully to life, but I can't say that any of it really stuck with me after the show. Even listening to the cast recording, it is only "I've Decided To Marry You" that really makes an impression. Still, it's quite an impression vividly conjuring the pleasure of the dually-staged scene as Monty bounces back and forth between his two ladies, the trio given gorgeous and witty voice by Bryce Pinkham, Lisa O'Hare and Lauren Worsham.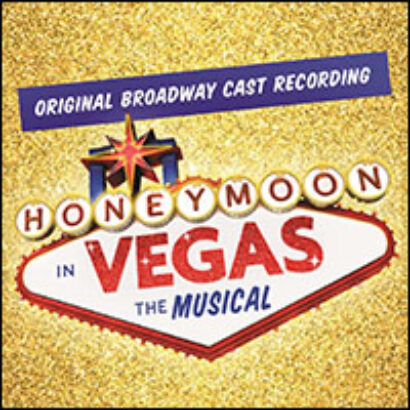 9. "Betsy's Getting Married" from Honeymoon in Vegas
Another nuptial number, this one firmly in the frothy fun firmament, is "Betsy's Getting Married" from Honeymoon in Vegas, which finds Jason Robert Brown in somewhat new territory, kind of blending his contemporary female insight of The Last Five Years with the upbeat humor of 13 to offer something strangely reminiscent of Legally Blonde (not by Brown). More importantly, the memorable new showtune is perfectly suited for its context within Honeymoon in Vegas and brought hilariously and excitingly to life by the talented Brynn O'Malley.
8. "Four Friends" from Ghost Quartet
Fans of last year's smash hit, award-winning Off-Broadway electropop opera Natasha, Pierre & The Great Comet of 1812, will delight in the newest musical from Dave Malloy, Ghost Quartet, reopening for a limited run at the McKittrick Hotel January 5-18, after an acclaimed run at the Bushwick Star. Like its predecessor, Ghost Quartet falls somewhere between the fancy operatic works and the genre crossover shows and offers a vibe unlike anyone else's work in the theatre. A particular musical highlight is "Four Friends," a witty, woozy, harmonic, melodic ode to booze.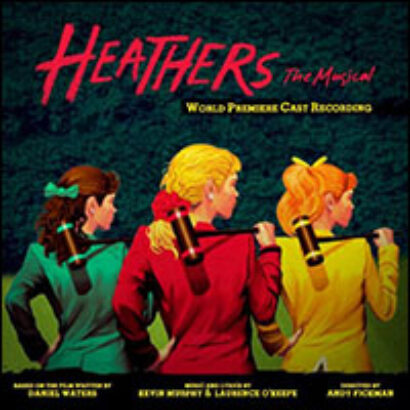 7. "Dead Girl Walking" from Heathers
"Dead Girl Walking," decidedly in the poppy accessible category, is one of several standouts in the popular Off-Broadway musical version of thecult classic film "Heathers." This one is actually co-written by one of the creators of Legally Blonde, Laurence O'Keefe, and it bears the same good-time verve. In fact, with its dark comic take on disaffected youth culture, it represents another step forward for this promising songwriter after previous success with Legally Blonde and the earlier Bat Boy. This particular song is a thrilling would-be 11th hour seduction by the temporarily doomed heroine.
6. "Almost Real" from The Bridges of Madison County
An unforgettable moment of glory in this past season's short-lived Broadway musical adaptation of the novel and film "The Bridges of Madison County," "Almost Real" undoubtedly contributes majorly to the musical's status as a fan favorite, particularly those partial to the lofty operatic style of musicals. In that respect, this is an especially impressive score from Jason Robert Brown, who had never ventured so far in that direction, and together with the opposite in tone Honeymoon in Vegas, continues to show amazing range. And speaking of range, Kelli O'Hara is incomparable in her vocal and emotional display.
5. "Changing My Major" from Fun Home
Perhaps the most significant new Off-Broadway musical of the last year, the soon-to-open-on-Broadway Fun Home has already given us a cast album that only increases one's fondness for the material after having already loved the show. Popular theatre composer Jeanine Tesori has found an ideal collaborator in lyricst/bookwriter (acclaimed playwright) Lisa Kron and the pair couldn't have picked cooler or more moving source material than Alison Bechdel's 2006 graphic novel, "Fun Home." I don't think since Falsettos has a Broadway performer sung so simultaneously conversational and poetic lyrics, so true to character and so active on stage as in "Changing My Major," a deliciously modern spin on the classic musical theatre ingénue-in-love song.
4. "God Draws Straight" from Here Lies Love
If, in comparison to Fun Home, Here Lies Love (not for nothing, also produced by the peerless New York Shakespeare Festival/The Public Theater) is less significant as a piece of musical theatre, it's only because Here Lies Love is such a major genre crossover piece that my limited traditional mind can barely accommodate it as an example of the form. That said, this immersive sonic experience is by far the best music to be heard in a show in years, by Rock and Roll Hall of Famer David Byrne and "Big Beat" maverick Fatboy Slim. None of this dance music sounds anything like anything ever heard on Broadway and points to a future of more exciting roads for musical theatre. The exception to this score is the folk guitar ballad sung at the end of the show by the D.J. "God Draws Straight" is a beautiful paean to the rainbow after a political storm and chokes me up every time.
3. "One Second and Million Miles" from The Bridges of Madison County
This climactic duet from the end of The Bridges of Madison County takes Jason Robert Brown back to territory he's mined for gold before, with the similarly heart-stopping two-hander near the end of his beloved 1998 musical Parade, "All The Wasted Time." Where that one boasted Carolee Carmello's spine-tingling belt, this one makes the most of Kelli O'Hara's heaven-sent head tones and similarly recalls an era of classic musicals when passionate lovers opened their hearts and their lungs center stage, and nothing else was needed to bring an audience to its feet.
2. "Ring of Keys" from Fun Home
Musical theatre has long been thought to be the provenance of gay men, and this has popularly been attributed to some attraction to razzmatazz and tap dancing and sequins and whatnot, but Fun Home, with its lesbian protagonist, is making a very strong case for something different. Perhaps the real appeal of musical theatre is its opening up the introspective insides of outsiders, something not just for gay men or women, but for almost everyone. Who hasn't been there? In Fun Home's cast of spot-on performances, none is more compelling than Sydney Lucas as Small Allison, reminiscent of the disarming authenticity young Daisy Eagan brought to The Secret Garden, winning a Tony in 1991. Lucas deserves the same for her moving and, yes, winning rendition of this peak excerpt from Fun Home, perhaps the single best dramatization of growing up different I've ever heard.
1. "Here Lies Love" from Here Lies Love
In the sense that Here Lies Love is the Phillipine Evita, telling the story of how a dictator's wife "simply seduced a nation," the title song is clearly Imelda Marcos' "Don't Cry for Me, Argentina" equivalent. In the sense that Here Lies Love is the Phillipine Evita, telling the story of how a dictator's wife "simply seduced a nation," the title song is clearly Imelda Marcos's "Don't Cry for Me, Argentina" equivalent, albeit with a toe-tapping beat. It's as if they skipped the show ballad version and went straight to Festival's "Disco Evita," or perhaps the Madonna club remixes released in tandem with the "Evita" film. Regardless, this ravishing tune gets in your head and doesn't get out and so powerfully conjures the nearly irresistible glamour of fascism, that there's more substance than meets the ear. Who needs Evita when you've got Here Lies Love?
(Ben Rimalower is the author and original star of the critically acclaimed Patti Issues, currently on a worldwide tour. His new solo play, Bad with Money, performs through Feb. 27 at The Duplex in NYC. Read Playbill's coverage of the show here. Visit him at benrimalower.com and follow @benrimalower on Twitter.)