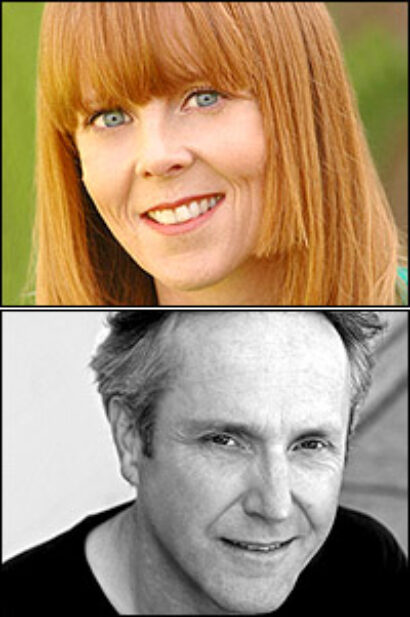 Gallagher recently replaced Marsha Mason, who withdrew from the production during rehearsals because of personal reasons. Cal Shakes artistic director Jonathan Moscone directs the production, which also features Dan Hiatt as Winnie's monosyllabic husband, Willie. Happy Days, which began previews Aug. 12, will run through Sept. 6.
Joan Mankin serves as understudy to Winnie.
Gallagher is associate professor of theatre arts at University of California Santa Cruz where she directs courses in physical theatre, mask, Balinese dance, and clown traditions. She is director in residence for the Clown Conservatory, San Francisco School of Circus Arts. She holds a doctorate in theatre from University of Wisconsin–Madison. She has performed clown and buffoon with Teatro Cronopio and studied in Laboratorio Grupo Malayerba. She has worked with the New Pickle Circus, Fool Time Circus, Folger Shakespeare Theatre, Ripe Time, San Francisco Circus and the Weird Sisters Ensemble.
Hiatt appeared at Cal Shakes in 2008 as the title character in Uncle Vanya, for which he won a BATCC Award; previously as the Duke of Buckingham in Richard III, Straker in Man and Superman, Hermocrates in The Triumph of Love and more.
For more information call Cal Shakes at (510) 548-9666 or visit www.calshakes.org.