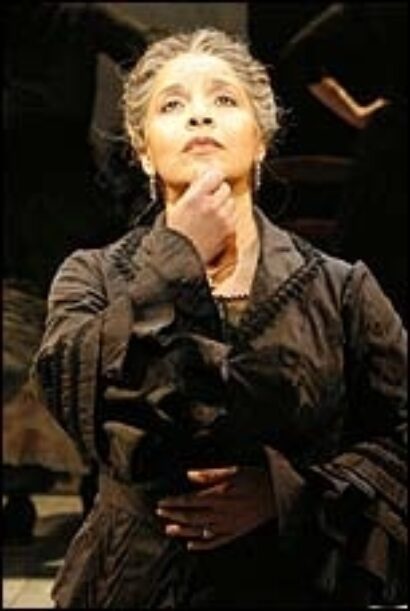 Yolande Bavan, Judith Blazer, Candy Buckley, Nikki M. James, Sally Murphy, Phylicia Rashad, Daphne Rubin-Vega, Saundra Santiago, Laura Shoop and Nancy Ticotin are in the cast. Direction and choreography are by Graciela Daniele. Bernarda Alba is the story of "a newly-widowed mother (Rashad), who enforces her iron will on her large household, only to have her daughters (James, Murphy, Rubin-Vega and Santiago) overwhelm her tyranny." The subject matter is of the serious, literary sort that LaChiusa often favors. In the past, he has drawn inspiration from the work of Schnitzler, Euripides, Ryunosuke Akutagawa and Gabriel García Márquez.
LaChiusa's Hello, Again and Marie Christine were produced at the nonprofit. Daniele has directed such LCT shows as LaChiusa's Marie Christine and Chronicle of a Death Foretold, as well as such Stephen Flaherty and Lynn Ahrens works as Once on This Island and the recent Dessa Rose.
The prolific LaChiusa enjoyed some of his best reviews in years for See What I Wanna See, which played last fall at the Public Theater.
Lorca was born in 1898 and was executed Aug. 19, 1936, by Nationalist partisans at the beginning of the Spanish Civil War. He was also a poet, painter, pianist, and composer, and a member of the famed "Generation of '27,'" a group of Spanish artists who worked in avant-garde forms. Under Franco, his work was banned for decades. Bernarda Alba was written the year of his death and can be seen as an allegory for the repressive tactics of the Franco regime. It was not produced until 1945. His other plays include Yerma and Blood Wedding.