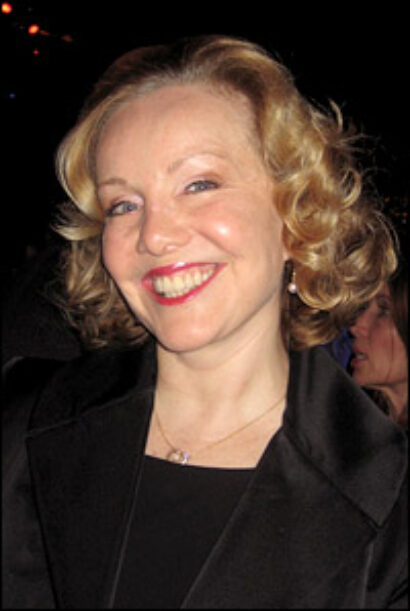 One such homecoming is even called Happiness. It is the second collaboration between director-choreographer Susan Stroman and librettist John Weidman. Their first such work was the 1999 hit Contact, a landmark credit for both artists, and a long-running attraction for Lincoln Center Theater. This time, they're teamed up with Grey Gardens composers Michael Korie and Scott Frankel to tell the story of a group of New Yorkers caught on a subway train. Opening is March 30 at the Mitzi E. Newhouse.
Also coming back to the New York theatre after a hiatus will be playwright Lisa Loomer. Many thought her 2003 play Living Out, about the tangled web of modern-day child care, was one of the best of that season. Her new work, Distracted, at the Roundabout Theatre Company, is again about parenthood. Cynthia Nixon, who memorably expressed troubled motherhood in Rabbit Hole, plays a mother who attempts to figure out if Attention Deficit Disorder is the root of her son's problems. Opening is March 4.
Back after her twin 2004 successes, Intimate Apparel and Fabulation, is playwright Lynn Nottage. Her Ruined will open at Manhattan Theatre Club on Feb. 10. The drama, set in a small mining town in the Democratic Republic of Congo, is about Mama Nadi, a shrewd businesswoman in a land torn apart by civil war. Nottage and director Kate Whoriskey traveled to Africa as research for this play. Whoriskey will also direct Inked Baby, Christina Anderson's play about a woman who asks her sister to help her make the child that she and her husband cannot. Tony winner LaChanze stars. Previews begin at Playwrights Horizons March 5.
Also at Playwrights Horizons is The Savannah Disputation, a new play by PH favorite Evan Smith, whose work has not been seen in Manhattan since Psych in 2001. Walter Bobbie directs the piece about a Catholic spinster who lets a door-to-door Pentecostal missionary inside her home. The experienced cast includes Reed Birney, Marylouise Burke, Dana Ivey and Kellie Overbey.
Playwright Douglas Carter Beane had one of the biggest hits of his career with 2005's The Little Dog Laughed at Second Stage. He and the nonprofit team up again with another slice of celebrity culture satire, Mr. & Mrs. Fitch, a play about husband and wife gossip columnists with names like nineteenth-century stage stars. Scott Ellis directs. Opening is in April.



photo by Doug Hamilton
Oscar winner
Ethan Coen
, who found a career beyond filmmaking last season when his collection of one-acts,
Almost an Evening
, became a hit at the
Atlantic Theater Company
, has quickly produced a new trio of short plays, entitled
Offices
. It will premiere in the spring. The
Mint Theater Company
found success some seasons back with a forgotten play by nobody-knew-he-was-a-playwright novelist D.H. Lawrence. The troupe will go back to the well with
The Widowing of Mrs. Holyroyd
, which is set in a coal-mining village. Previews begin Feb. 4. New productions of classic plays will come from a variety of sources this winter and spring.
Irish Repertory Theatre
will stick close to what it does best, presenting a new look at
Brian Friel
's
Aristocrats
.
Charlotte Moore
will direct the 1979 play about a family gathering for the wedding of the youngest sister. Opening is Jan. 25.
Classic Stage Company
will continue to explore the plays of Anton Chekhov, reviving
Uncle Vanya
.
Austin Pendleton
will direct an enviable cast, including
Maggie Gyllenhaal, Mamie Gummer, Denis O'Hare, Peter Sarsgaard
and
Louis Zorich
. First preview is Jan. 17.
The New Group
, not normally known for presenting plays of great age, will have a go at O'Neill's lengthy and seldom-seen twist on
The Oresteia
, the three-act
Mourning Becomes Electra
. The long show will be done with a meal break. In the cast are
Mark Blum, Robert Hogan, Jena Malone
and
Lili Taylor
. The marathons begin Jan. 27 at the Acorn.
Theatre for a New Audience
will do back-to-back productions of two of the Bard's best,
Othello
and
Hamlet
. The first, beginning Feb. 14, is a new eight-actor, two-hour long production of the classic Shakespeare drama, directed by
Arin Arbus
. The second, beginning March 15, will star Christian Camargo as the young Dane, and will be directed by
David Esbjornson
. New works by living playwrights include
Chasing Manet
, a
Tina Howe
play about two residents of the Mount Airy Nursing Home who plot to escape to Paris aboard the QE2. The
Primary Stages
show, starting March 24, will bring
Jane Alexander
back to the stage. The productive
Theresa Rebeck
gives
Playwrights Horizons
her latest,
Our House
, a comedy about a reality show.
Michael Mayer
directs, commencing in May.



photo by Aubrey Reuben
Mark Wing-Davey
and
Craig Lucas
team up at the
Public Theater
for the ambitious
The Singing Forest
. The play, which gets underway April 7, intertwines today's world, Freud's inner circle in 1930's Vienna, and Paris at the end of World War II. Also at the Public,
Christopher Durang
has the funniest title of the season with his
Why Torture Is Wrong, and the People Who Love Them
. Previews of the story about a paranoid woman who wonders if her husband is a terrorist, and if her father is a government agent, begin March 24. Other attractions due in the coming months include:
Lansky
, a one-man show starring
Mike Burstyn
as a certain Jewish gangster, opening Feb. 5 at St. Luke's; playwright
Donald Margulies
' latest, and the longest-titled play of the season,
Shipwrecked! An Entertainment—The Amazing Adventures of Louis De Rougemont (As Told by Himself)
, opening Feb. 8 at
Primary Stage
;
This Beautiful City
, a new work about the growth of the evangelical movement in Colorado Springs by those quasi-documentarian reality-robbers
The Civilians
, beginning Feb. 3 at the
Vineyard Theatre
;
That Pretty Pretty; Or, the Rape Play
, the provocatively titled
Sheila Callaghan
play about a man having a bit of trouble with life, starting Feb. 10 at the
Rattlestick Playwrights Theatre
;
Zooman and The Sign
, the
Signature Theatre Company
revival of
Charles Fuller
's play, and a part of the troupe's examination of the legacy of the Negro Ensemble Company;
Handball
,
The New Group
's production of
Seth Zvi Rosenfeld
's play about a quickly gentrifying neighborhood, opening May 14 at the Acorn;
Coraline
, an
MCC Theatre
world premiere of
Stephin Merritt
and
David Greenspan
's new musical about a lonely girl who steps through a door into a perfected replica of her own world, beginning May 6 at the Lucille Lortel;
The Good Negro
,
Tracey Scott Wilson
's play about the 1960's American Civil Rights Movement, at the
Public Theater
starting March 3;
The Third Story
, a new play by
Charles Busch
starring
Kathleen Turner
, presented by MCC at the Lucille Lortel, from Jan. 14 on; and
Things of Dry Hours
,
Naomi Wallace
's about Tife Hogan, a black Sunday school teacher and Communist Party leader, living in Depression-era Alabama, at
New York Theatre Workshop
.
Writer's Note: There are a myriad of new Off-Broadway productions during the winter and spring of 2009; this overview is not meant to be exhaustive.