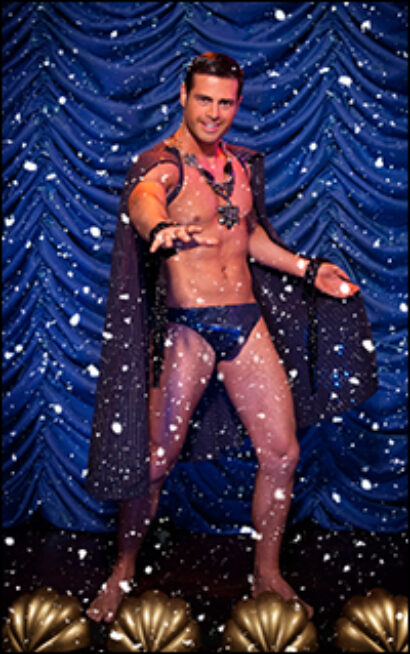 The 2013 Broadway Bares season (leading to its major June event Broadway Bares 23) officially begins Jan. 27 with Winter Burlesque at XL Nightclub at 512 W. 42nd Street. It "will recreate last summer's Fire Island Pines sensation, Broadway Bares: Beach Burlesque" and feature "more than 25 of Broadway Bares' sexiest dancers in a sizzling collection of choreographed stripteases."
The show will be followed by Bares' famous "rotation," where the performers freestyle dance for donations. The rotation will be hosted by Broadway Bares favorite Jen Cody.
International recording artist Matt Zarley, who last month won best single and best album honors at the 8th Annual Out Music Awards, will sing the show's finale, "Trust Me," a Billboard and U.K. dance hit from Zarley's most recent album, "Change Begins With Me."
Performers for Broadway Bares: Winter Burlesque include Cesar Abreu, Samantha Berger, Daria Chamanskaia, Stephan Choiniere, Adam Fleming, KC Fredericks, Judah Gavrah, Lauren Gemelli, Andrew Glaszek, Christopher Jackson, Christopher Michael Lacey, John Paul LaPorte, Brandon Rubendall, Angie Schworer, George Smallwood, Justin Smith, Matthew Steffens, Jamal Story, Grant Thomas, Rickey Tripp, Steven Wenslawski and Sidney Erik Wright.
Broadway Bares: Winter Burlesque is directed by Michael Lee Scott. It's produced by BC/EFA and executive-produced by Jerry Mitchell. The 9 PM performance is sold out. Tickets are still available for the 11 PM performance. If ticket buyers wish to try for cancellations to the 9 PM show, they can go to XL in advance and BC/EFA staff will advise them as to availability, a spokesman told Playbill.com.
For Broadway Bares: Winter Burlesque, reserved table seats are $100 ($75 of which is tax deductible). There is a two-drink minimum per person at reserved tables. General admission standing tickets are available for $25.
The 2013 Bares season will continue with Broadway Bares: Solo Strips on May 5 and Broadway Bares: Fire Island on June 1 before concluding with Broadway Bares 23 on June 23 at Roseland Ballroom.
For tickets to Broadway Bares 23 and Broadway Bares: Winter Burlesque, visit broadwaycares.org or call (212) 840-0770, ext. 268.
*
photo by Joseph Marzullo/WENN
Prices for
Broadway Bares 23
range from $65-$750. VIP tickets include open bar and special viewing areas. Also available is the exclusive "Stripper Spectacular" package, which includes a reserved table seat at either show, admission to a private cocktail party with
Broadway Bares
creator Jerry Mitchell, a backstage tour, and more.
Broadway Bares was created in 1992 by Tony Award-winning director and choreographer Jerry Mitchell (Kinky Boots, Legally Blonde), who serves as executive producer. It is produced by and benefits Broadway Cares/Equity Fights AIDS.
Last year's Broadway Bares XXII: Happy Endings raised a record-breaking $1,254,176, the highest total of any edition of Bares. The first Broadway Bares featured seven dancers stripping on a bar and raised more than $8,000. To date, the 22 editions of Broadway Bares have raised more than $9.8 million for Broadway Cares/Equity Fights AIDS.
The presenting sponsor of Broadway Bares is M•A•C VIVA Glam, with support from BC/EFA corporate partner United Airlines.
*
Broadway Cares/Equity Fights AIDS is one of the nation's leading industry-based, nonprofit AIDS fundraising and grant-making organizations. By drawing upon the talents, resources and generosity of the American theatre community, since 1988 BC/EFA has raised more than $225 million for essential services for people with AIDS and other critical illnesses across the United States.
Broadway Cares awards annual grants to more than 450 AIDS and family service organizations nationwide and is the major supporter of the social service programs at The Actors Fund, including the HIV/AIDS Initiative, the Phyllis Newman Women's Health Initiative and the Al Hirschfeld Free Health Clinic.
For more information, visit Broadway Cares online at broadwaycares.org.
Read about the current curtain-call appeals campaign that leads to the annual Gypsy of the Year performances.
Backstage at Broadway Bares XXII: