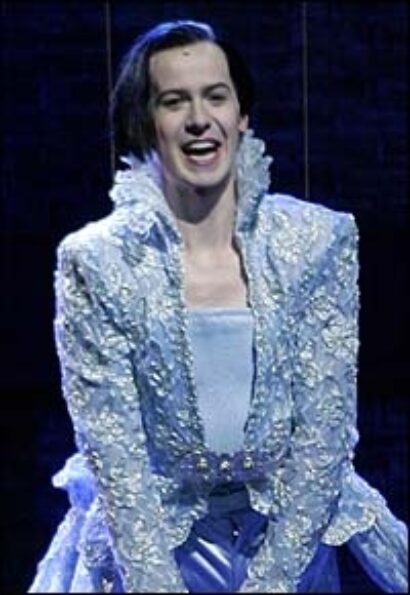 The $7.2 million show in question is by Broadway neophyte Joseph Brooks, who wrote its book, music and lyrics — and directed it. A successful jingle writer and author of the song "You Light Up My Life" (and the writer-director-producer of the film of the same name), Brooks answers to himself as producer of In My Life, although he has an investor fueling the fire of his creative furnace.
The musical officially opens at The Music Box Oct. 20.
In My Life, in its previews, has become a must-see for theatre industry folk and fans who hunger for the kind of show where you ask, "Are they really doing that on stage?"
In the show, an androgynous angel-like character named Winston (played by David Turner) flies through heaven and plots "God's reality opera," using the quirky romantic leads as his stars. A sweet-singing songwriter (Christopher J. Hanke) violently barks rhymes as a symptom of Tourette Syndrome. The voice of the hero's dead mother (Roberta Gumbel) is one of the most crystalline sounds on Broadway at the moment — a legit opera soprano. A band of pirates wanders into the action. Winston dances with a skeleton (and with animated projections of skeletons) and extracts a tennis ball from the dummy's cranium, representing a tumor that is an obstacle in the lovers' path. Heavenly denizens sing jingles about Dr. Pepper and Volkswagen.
One might wonder if this is the most experimental commercial show ever on Broadway. Whatever it is, people are talking about In My Life in way they don't about other unknown shows. In less than a month, a kind of cult status has emerged. Internet message boards are filled with descriptions of the plot and fans post updates about changes made since previews began. For example, Hanke's character, J.T., no longer flies out of his hospital room on wires; they cut that in previews and gave the wires to Winston.
Unlike most musicals, the show is not based on source material, but rather explodes out of Brooks' feverish imagination. In My Life seems to have become a sort of monument to the idea of following your own vision at all costs. This clearly is the show Joe Brooks wanted to put on and it has more bells and whistles than audiences are used to at the somewhat intimate Music Box. Musical mavens are cooing that the sets by Allen Moyer, costumes by Catherine Zuber and projections by Wendall K. Harrington help make the experience look like $7 million is behind it.
"Most of my friends end up using the word surreal," David Turner, the actor who plays the Boy George-like character Winston, told Playbill.com. "What you end up with is a pure vision that doesn't usually make it to the stage because there are usually more chefs. It's a totally unique theatrical experience."
How does Turner describe his colorful character?
"I feel like he is — and I use this term with a lot of reverence — a clown, and the audience's surrogate for a lot their wonder," Turner explained. "They wonder, 'What is this?' and 'Where are we?' and 'What should we be feeling?' I think Winston helps them feel like we're all in this together and we're going to have fun and make the best of it and we're going to make it hang together."
Turner, whose other Broadway credit was The Invention of Love, did the first of two in My Life workshops prior to its Broadway bow this fall. On the page, was Winston a kimono-wearing '80s glam rock icon?
"I think a lot of that is me, a lot is Cathy Zuber, who did costumes, and a lot of it is Tom Watson, who did the hair," Turner said. "The way Winston turned out was a huge collaboration. Joe knew he wanted him to be snarky. Originally, in the first workshop, he was a full-on transvestite. I don't know what discussion led to him being downgraded to mere flamboyance — which was fine with me, and fine with my agent."
Turner added with a laugh, "I was excited to be a full-on trannie, too, knowing Cathy was doing costumes."
What was the process of "finding" Winston like?
"Joe and I have a fantastic crazy alchemy," Turner said. "For some reason, I ended up with a lot of latitude in terms of interpreting his script. A lot of the lines and comic bits reflect my clown: Winston has become the voice of my favorite inner clown/comic persona. Joe Brooks saw something in that and allowed me to have free rein. That's part of what gives me such joy in doing it."
It's also a turn spiked with ad libs and of-the-moment "takes." Many actors would say such freedom can be terrifying. Most performers welcome the structure of a script. Turner — whose part, in fact, is mostly scripted — seems to be flying by the seat of his pants each night.
"I'm nervous all day long in a way that I'm not ordinarily," he admitted. "I'm literally flying…"
How does he explain the show to friends?
"God loves a good opera — that's a lyric, actually," Tuner said. "Indefatigable, I still believe the answers are in the text. That's where you have to look. I say to my friends that we mortals are the players in God's opera. I describe Winston as being sort of analogous to [Shakespeare's] Puck: Able to shuttle between mortals and heaven and getting a kind of impish pleasure in interceding — and manipulating mortals. The idea is that Winston has been chosen to direct God's opera. [He's] uninspired because people are bland, ordinary, beige — and then he runs into J.T., and I see his affliction and think this has the makings of a great protagonist. [J.T.] meets Jenny [played by Jessica Boevers] and starts keeping secrets from her. I think this has all the complications necessary for a great tragedy."
The show at hand (set between heaven and New York City) prompts the audience to work hard in a way that seems oddly positive — they're trying to dope out meaning in Brooks' world.
"That's certainly the feedback I get," Turner said.
The uncynical Turner, a refugee of workshops of Barry Manilow's once and future Harmony musical, added, "I saw Joe Brooks' Metropolis when I was 14 and visiting London. If you had told me I'd be on Broadway in a show by the same man I would have laughed in your face. No, first I would have taken your money, then I would have laughed in your face. I didn't even major in theatre in college, so all my good luck is a wonderful, unexpected surprise. And flying by the seat of my pants every night keeps me sharp — and happy."