On the Town's prep for the Tonys began a few weeks back when we all gathered for a rehearsal to string together three numbers from our show into one tight, four-minute number (the performance time allotted for a Best Musical/Revival nomination).
A week later we were visited by the Tony peeps, who came to the Lyric (home to On the Town) to film a scratch tape for the camera operators to study before we showed up to Radio City for a camera blocking rehearsal. Many of you may have caught a behind-the-scenes feature of our camera blocking rehearsal where I screwed up the choreography. Awesome.
Then, the morning of the Tonys, all the nominated shows arrive at Radio City for a huge dress rehearsal. It might be the butt-crack of dawn, but the energy at the Music Hall is always palpable. It's the morning that Broadway feels most like a community. After the dress rehearsal, we prepped for the matinee, and then after the matinee, we started prep for the Tonys.
Now, when I was younger, I always thought that if you performed at the Tonys you got to get dressed up in a tux, walk the red carpet, do your performance, get back into your fancy garb and hit the after parties. NOPE! It's a work night, squirrel!!! So after our matinee, we grabbed a bite, chilled a bit, got back into costume at the Lyric, got on a bus to Radio City, did our performance and, in a twist of events, we actually got to hang out in an upstairs studio at Radio City with the rest of the Broadway community to watch the Tonys on flat screens.
Usually, after a Tonys performance, a cast gets back on the bus and taken back to their theatre to get out of costume and start the festivities. This year was special. We were all held in the studio upstairs to be part of the "In Memoriam" section of the awards. I got chills as we were raised up on the elevators of that massive stage at Radio City. I've always wanted to sing back up for Josh Groban while feeling like a Rockette. #bucketlist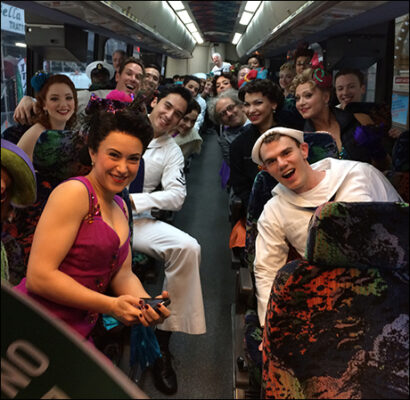 OMG!!!!! Ruthie! Ann! Miles!
THEN we got back on the bus to head back to the Lyric, get out of costume and start celebrating one of the most exciting seasons on Broadway in a very long time.
When talking with my buddy Billy Lewis the other night, he said this time of year "…feels like New Year's. Everything is leading up to one night, and then it all starts over again."
I guess, technically, the calendar year for Broadway starts on the Tony Awards. The prep is almost the same as New Year's. You've got to get that alcohol tolerance up to not make an ass of yourself in front of "God Knows Who" at the after parties. You've got to find a bangin' outfit cause even the parties are black-tie affairs. Then there's the resolution.
My resolution for New Year's this past year was to try my darnedest to not eat Popeyes Chicken: Louisiana Fast. This is a gamble. Popeyes is adjacent to my apartment. The struggle is real. My Tonys resolution is to save money, again a gamble — as nominations, wins and other factors determine the fate of many shows on "The Broadway."
People say you should jump start your new year with those you love and make an effort to do something that sets the tone for your year. I couldn't think of a more exciting, moving, brilliant and powerful way to start Broadway's new year than to stand on stage at Radio City Music Hall with some of the most talented performers in New York City.
Regardless of who wins, loses or draws, I am #blessed #grateful #proud to celebrate the monumentally daunting task of putting on a Broadway show. It takes a village.
See more pics here!
(Jay Armstrong Johnson's Broadway credits also include Hands on a Hardbody, Catch Me If You Can and Hair. Follow him on Twitter at @Jay_A_Johnson.)