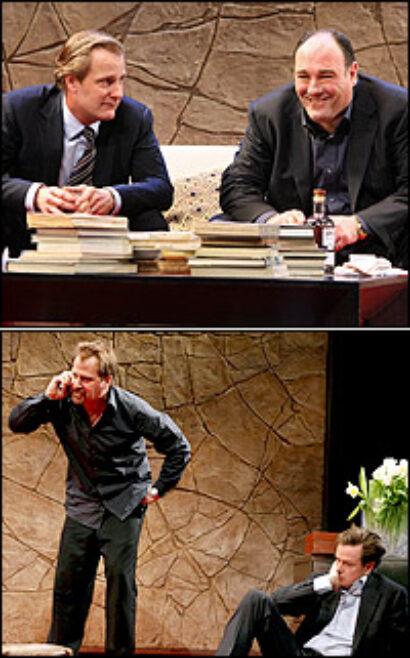 In 1955, actor Begley has a late-career triumph playing Matthew Harrison Brady — a stand-in for William Jennings Bryan of the Scopes "Monkey Trial" fame — in Jerome Lawrence and Robert E. Lee's drama Inherit the Wind. When his co-star Paul Muni left the show, Begley rocked Broadway by switching from Brady to playing Muni's part of Clarence Darrow manqué Henry Drummond. The stunt earned Begley copious press and praise, and branded him an actor's actor.
Trading leads within the same show is not a trick any actor can pull off. Hence, such incidents, while not unheard of, are rare. The first of the 21st century comes courtesy of Daniels, who is now playing frustrated housewares dealer Michael (created on Broadway by James Gandolfini) in Yasmina Reza's Tony Award-winning comedy, God of Carnage. Daniels was in the original Broadway cast, but playing Alan, the callous, cell-phone-addicted corporate lawyer.
"It seemed like exactly the kind of creative challenge I look for nowadways," said Daniels, who has never "flipped" roles before. "That was one of the draws of it, that it's rare on Broadway."
The idea came from casting director Daniel Swee, who suggested it to producers, who suggested it to director Matthew Warchus. Originally, producers asked Daniels to play Michael in the national tour. When the tour didn't start up as soon as expected, Broadway became the plan.
"It's like an authorized schizophrenia," Daniels said. "It was a bit hallucinogenic in the first week or two. There are some things that you are able to understand going in." But there were also some unexpected side effects. "When Dylan [Baker, who now plays shark Alan] starts getting laughs on lines where you never found the laugh, you find you're the only one in the room not laughing. I told him once, 'I did 250 shows, and you just nailed that line.'"
He also noticed something funny in the way director Matthew Warchus did business. Warchus gave Daniels direction that Daniels didn't remember Gandolfini getting. And the director told Dylan Baker things he never told Daniels.
"He's brilliant at taking the actor and finding the strengths and finding the things that the actor is bringing to it, sometimes subconsciously, and fanning that flame," said Daniels. "That's what Matthew does. He reimagines it every time he comes in. He looks at who he's got up there and tailors it to what they do well."
For Warchus, that policy is just natural instinct. "To me that's sort of obvious," said the director, "because you're trying to get two different people to the same point, so you have to take a different route."
Warchus is a something of a breeder of Begleys. During the long run of Reza's hit play Art, three actors returned to the production to play different roles than those they had created at first. And Warchus was the director behind the famous modern-day switcheroo — when Philip Seymour Hoffmand and John C. Reilly regularly exchanged duties as Austin and Lee in the 2000 Broadway revival of Sam Shepard's True West.
Such acting bravado is "common practice" for him, Warchus said with a laugh. "It can only work with certain plays in which the roles don't require absolutely opposite types," observed the director. "And also certain actors who are as chameleon-like as Jeff."
He joked, "I'm assuming Jeff is coming back to play the women in a while."
Another famous incident of double duty: Laurence Olivier played the title role in Becket on Broadway in 1960. When the played resumed in 1961 after a short hiatus, he played King Henry II to Arthur Kennedy's Thomas Becket.
The next to ostentatiously display his versatility? Kelsey Grammer, who will reportedly spend the first six months during the upcoming revival of La Cage aux Folles playing Georges, and the second half-year (assuming the show lasts that long) playing Georges' partner, Albin.
For Daniels, there is nothing boring about coming back to the same play he did last year. After all, Michael's God is a world away from Alan's God. "You get to the same place at the end of the night. But it's a completely different journey. There are four people on stage, but at the top of the play there are really only three. And Alan is an island to himself. He's already kinda there, if 'there' is behaving in a kind of horrible light, because that's where you're the most authentic — as Yasmina writes. Alan's already there. At the end, he's the one picking up the flowers, trying to see some kind of beauty.
"If Michael is A to Z," he added, "Alan is Z to A. It's truly a flip."