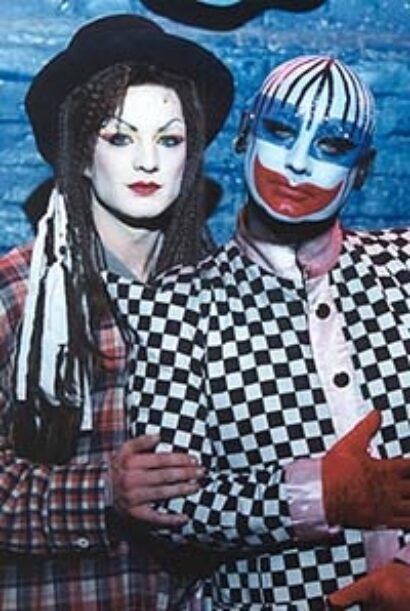 The original 2003 Broadway production featured pop singer Boy George as Leigh Bowery and Tony nominee Euan Morton as Boy George. Also announced for the reunion concert is Jeremy Kushnier (Footloose, Jesus Christ Superstar), who will play Philip Sallon. Raúl Esparza originated the role on Broadway.
The concert date marks the 10th anniversary of the musical's closing on Broadway. The event will benefit Broadway Cares/Equity Fights AIDS. Taboo was originally produced on Broadway by Rosie O'Donnell. Boy George was Tony-nominated for his score to the musical. The Broadway production of Taboo had a book by Tony Award nominee Charles Busch.
The concert will also feature original Broadway stars Sarah Uriarte Berry (Nicola), Jeffrey Carlson (Marilyn), Liz McCartney (Big Sue) and Cary Shields (Marcus), as well as ensemble members Jennifer Cody, Lisa Gajda, Bob Gaynor, Curtis Holbrook, Donnie Keshawarz, Jennifer K. Mrozik, Nathan Peck, Alexander Quiroga, Jody Reynard, Asa Somers, Denise Summerford, James Tabeek and Gregory Treco.
The concert is being presented by John McDaniel and Amanda Sales. McDaniel will also reprise his roles as arranger and music director. Original band members Kevan Frost, Chris Jago and David Kuhn will perform.
Taboo began performances at The Plymouth Theatre on Oct. 28, 2003, and opened on Nov. 13. The musical played 16 previews and 100 performances when it closed Feb. 8, 2004. Taboo had its world premiere at the Venue in London, produced by Kenwright and Michael Fuchs. Taboo concerned the lives of two larger-than-life personalities involved in the eighties London club scene: the Kent-born singer Boy George, who rose to fame and international acclaim via the pop group Culture Club; and performance artist Leigh Bowery, who became known for his outlandish costumes and make-up before an early death from AIDS. Their stories were told against the background of the London club Taboo, which featured an array of self-proclaimed "freaks."
The Boy George score includes "Freak/Ode to Attention Seekers," "Stranger in This World," "Safe in the City," "Dress to Kill," "Genocide Peroxide," "I'll Have You All," "Sexual Confusion," "Pretty Lies," "Guttersnipe," "Love Is a Question Mark," "Do You Really Want to Hurt Me," "Church of the Poison Mind/Karma Chameleon," "Everything Taboo," "Talk Amongst Yourselves," "The Fame Game," "I See Through You," "Ich Bin Kunst," "Petrified," "Out of Fashion," "Il Adore" and "Come On In From the Outside."