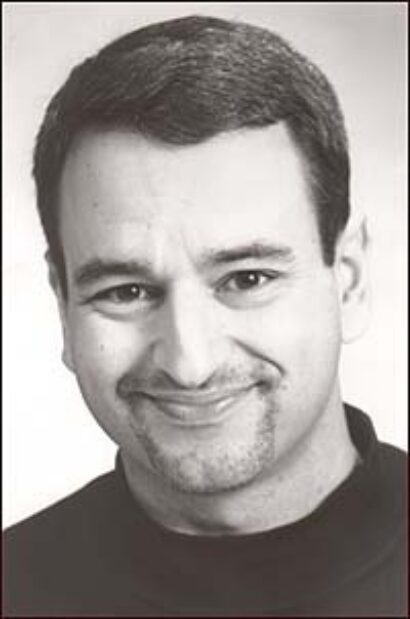 ***
On Day 4 of the new year — when Kander and Ebb's Cabaret closed its doors at Studio 54 — only three teams of tunesmiths now have two shows running simultaneously in Manhattan.
The Broadway concession belongs to Alan Menken and the late Howard Ashman (Beauty and the Beast, Little Shop of Horrors) and Elton John and Tim Rice (The Lion King, AIDA), but Off-Broadway the third team of hitmakers may have flown in under your radar. Joe DiPietro and Jimmy Roberts have only written two shows together, but both are on the boards as we speak: The Thing About Men opened at the Promenade in August, preceded by I Love You, You're Perfect, Now Change at the Westside Theatre seven Augusts ago.
Yes, the month was picked for luck. "August has been good to us," says DiPietro, the team's wordman, "but it's testing the fate of the gods to wish for another eight-year run. ILoveYouYou'rePerfectNowChange [he says the title sans commas in a gulp, like Mame Dennis manning that law-firm switchboard] is its own thing. We judged The Thing About Men on its own terms. You can't hope to repeat the success of [let's say ILYYPNC]."
Both shows are cautionary tales of contemporary relationships, set to Roberts's music and kidded along by DiPietro's comedy. The Thing About Men is the more gender-specific, coming from Men (a movie directed dry-eyed and all-seeing by a woman, Doris Dörrie).
"The first time I saw it, I thought it was the best dissection of men that I'd ever seen on screen or stage," says DiPietro. "It called men on their crap and said, 'At the end of the day, men can be mean, self-involved, just plain big kids.' I felt it was a fun, funny and somewhat truthful aspect of life. It also said: 'It's possible a meaningful relationship between two men who are straight can be as important as a man/woman relationship.'"
As musicalized and Americanized from the 1985 German flick, The Thing About Men relays the plight of the double-standard bearer, a philanderer (Marc Kudisch) who finds out his wife (Leah Hocking) is also playing around. To win her back — and learn something from the hunk who's cuckolding him (Ron Bohmer) — he becomes the guy's roommate, and the stage is set for farce. Zipping around the center ring triangle is an industrious supporting cast of two, playing what seems to be the entire population of Rhode Island: Daniel Reichard (Radiant Baby's Keith Haring) and Jennifer Simard (from the original cast of ILYYPNC).
This plot's practically an abstract of their first show, which started out as sketches spanning the whole spectrum of dating. It played basement theatres like the West Bank and the Westbeth, where a producer informed DiPietro, "This is a musical revue. Put music in it." Enter Roberts 12 years ago. "Jimmy sat me down and said, 'Okay, in order to turn this sketch into a little play-with-music, let's take each one separately.' I wound up writing a lot of new material, so it wasn't just taking what I had and putting a song on the end of it. We really worked very hard on integrating everything. Even though there's not a storyline, we made it so the sketches built on each other emotionally and had a kind of cumulative effect. The whole evening had an arc so that you felt you had seen a show."
Roberts seconds that motion: "Either subliminally or overtly, the scenes are like little one-act plays. There's something about them that makes them look less like a contemporary New Faces skit and more like a little minimusical. That draws in people in a different way than a revue does. I think that's a lot of the reason people keep coming."
Audience identification runs high with both shows, says DiPietro. "I feel these are human comedies, almost like the Neil Simon school. There's a universality to them. The actors who are doing them call them 'the nudge shows' because they constantly see people nudging each other and saying, 'That's you' or 'That's your Aunt Harriet.'"
For their next show, the team is off on a whole new tangent — a different kind of period piece: Henry James's The Aspern Papers. It will represent their deepest reach into drama. "I don't think you can appreciate the darkness if it's all one color," declares Roberts. "It will have light moments to go with the dark moments. Musically, so much depends on the book. If I were given a theme or words that were darker in nature, I'd know what to do musically. But I definitely would want to seek out something that was lighter in nature in the same show. Your heart leads you in different places, depending on what the words do to you. My moods determine what my fingers do."
Co-dependence is the key, Roberts contends. "Collaboration is like a relationship, like a marriage, like a growing-together. Joe hadn't done lyrics, and writing a book show's new to me. It's great to do it with somebody who's your partner, somebody you're similar to in some ways and different from in other ways. We're moving forward together like that."