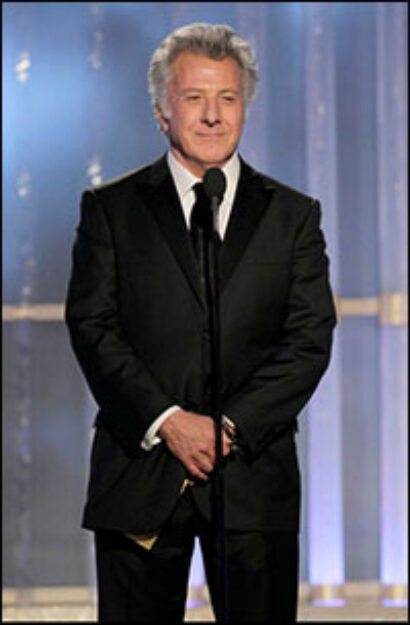 Caroline Kennedy hosts the two-hour event.
Performers and presenters include Alec Baldwin, Jeff Beck, Jack Black, Jason Bonham, Tracy Chapman, Gary Clark, Jr., Alina Cojocaru, Billy Connolly, Angel Corella, Robert De Niro, Tina Fey, Foo Fighters, Morgan Freeman, Marcelo Gomes, David Hallberg, Beth Hart, Judith Jamison, Julie Kent, Kid Rock, Jimmy Kimmel, Lenny Kravitz, Laura Osnes, Veronika Part, Tiler Peck, Grace Ann Pierce, Bonnie Raitt, Ray Romano, Liev Schreiber, Jimmie Vaughan, Naomi Watts, Ann Wilson and Nancy Wilson.
Details of the evening, according to a previous statement from the Kennedy Center, follow:
*
President and Mrs. Barack Obama were seated with the honorees in the Presidential Box of the Opera House at the John F. Kennedy Center for the Performing Arts, after hosting the traditional White House reception for the honorees. Host Caroline Kennedy opened the festivities by quoting poet Ralph Waldo Emerson, who said, "Congratulate yourselves if you have done something strange and extravagant and broken the monotony of a decorous age." Kennedy then said, "Tonight we salute Honorees who, through their artistry and daring, have banished monotony and provided extravagant pleasure and joy to audiences the world over. On the signature wall behind me are the names of those who have gone before. To this splendid company we now add our Class of 2012."
She continued, "With primal sounds at once beautiful and dangerous, these English lads built a band that gave new dimension to rock, and earned from an admiring world a 'Whole Lotta Love'; a tall drink of water from Indiana who aspired to be Johnny, and earned a late night throne for a guy named Dave; a Louisiana sharecropper's son who made his way to 'Sweet Home Chicago' and became America's champion of the blues; a lithe beauty from St. Petersburg whose passion and elegance filled movement with meaning, giving new excitement to the words 'Prima Ballerina'; as a 'Graduate,' a 'Midnight Cowboy,' a 'Little Big Man,' a 'Rain Man' and even as a 'Tootsie,' this actor redefined the movies' idea of a leading man. These are our 2012 Kennedy Center Honorees."
Academy Award and Golden Globe Award-winning actor and 2009 Kennedy Center Honoree Robert De Niro began the tribute to his longtime friend, multiple Academy Award, Golden Globe and Emmy Award-winning actor Dustin Hoffman, stating, "Dustin Hoffman is a world-class, spectacular, colossal… pain in the ass. Before Dustin burst on the scene, it was pretty much okay for movie stars to show up, read their lines, and, if the director insisted, act a little. It worked. There were good movies and good performances; everyone was happy. Then Dustin came along and 'just had to get everything right.' He made a statement that what the actor does is important… and it was inspiring. It inspired me. It inspired me to become a pain in the ass, too. Suddenly, we all 'just had to get everything right.'"
De Niro continued, "What Dustin did – for all of us – was to make it okay to be a character actor and a movie star. He broke the mold of the movie star as the handsome leading man. Frankly, I would have preferred to make it as a handsome leading man. Damn you, Dustin Hoffman! …Dustin is one of the best character actors, best movie stars, best leading men to ever hit the stage or screen. That's good news for all of us, even if it depresses the hell out of him. Dustin, you make me proud to be an actor. And I'm proud to call you my friend."
Scottish comedian, musician and actor Billy Connolly, who starred in Dustin Hoffman's directorial debut, "Quartet," continued Hoffman's tribute. "In 'Tootsie,' Dustin Hoffman played a driven, meticulous actor. It is said that in looking for inspiration for that character, Dustin found it in… Dustin Hoffman. Dustin persuaded director Sidney Pollack to let him stage an improvised acting class taught by his character. In the scene, the perennially out-of-work actor conducts an acting class for other perennially out-of-work actors."
Tony Award-winning, Golden Globe and Emmy nominated actor Liev Schreiber, along with his wife, Academy Award-nominated actress Naomi Watts, then continued the tribute. Said Shreiber, "When Dustin and I first met on the set of Barry Levinson's 'Sphere' nearly 15 years ago, he told me that I had a big head. He went on to qualify this remark by saying 'It's a good thing… if only your nose weren't so large as well.' Really, Dustin? …Watching Dustin, I saw what acting could be. At its best. I'd never seen anyone create characters like that before – so incredibly life-like and detailed, yet still, somehow… something more than real. I had to do that. I had to act like Dustin Hoffman. Not just me. All of us. You… and Ratso Rizzo… and all those other dirty movies you made, redefined acting for a new generation… so thank you, Dustin. I love you very much."
Watts continued, "About 15 years ago, I got a call. I was invited to meet Dustin Hoffman for a film he was directing. I was not allowed to read the script in advance, so I felt completely unprepared to meet the master. The man I grew up watching, the giant, the real deal. I had a 30-minute slot, I was there for five hours. But that's Dustin. For the first hour all I did was worry – what did he want? What was the movie about? Was I right for the character? Would my car get towed? Finally, I settled down and quickly realized this was a rare and extraordinary opportunity. I read some scenes – as he hovered over me with his smoky voice and laser instincts… What I learned in those few hours with Dustin was more valuable to me than a lifetime of acting classes. In a sense, it was the most important audition of my life." The tribute then concluded with Tony-nominated singer Laura Osnes singing a special rendition of the classic song, "I've Grown Accustomed to Your Face."
Emmy Award-winning dancer and choreographer and 1999 Kennedy Center Honoree Judith Jamison, the Artistic Director for the Alvin Ailey American Dance Theater, paid tribute to the Russian-born, Tony Award-winning and Emmy-nominated prima ballerina Natalia Makarova, who performed with Jamison in the American Ballet Theatre. Jamison began, "'I responded to destiny.' That's what Natalia Makarova said in London just before her 30th birthday. She was touring with Russia's fabulous Kirov Ballet. She knew she needed new choreography to fulfill her promise as a dancer, so she made the brave decision to make a new life in the West, wondering how she would survive without her home and her language. On that day, Natalia Makarova started a journey that would introduce her to America, where she would thrill audiences and enhance and enrich the American Ballet Theatre. Banners would hang from the balconies of the Metropolitan Opera House saying, 'We Love You Natalia.' As a colleague and a great admirer, I'm so delighted that we honor her tonight."
Jamison continued, "Natalia is a rare story of life coming full circle. Twenty years after she made her painful decision to leave her native land, she returned to a changing Leningrad and to her beloved Kirov Theater, where she had studied and had become a star. There, at the Kirov, she gave her farewell performance, dancing on the stage where it had all begun for her – then taking curtain calls to thunderous cheers and cascades of flowers. Natalia, your passion and your artistry are loved around the world. On behalf of dancers everywhere, I salute you!" Jamison then introduced a beautiful dance tribute to Makarova, beginning with young dancer Grace Ann Pierce, from the American Ballet Theatre's Jacqueline Kennedy Onassis School, dancing to the Chopin Prelude in A Major, Op. 28 No. 7. This was followed by New York City Ballet principal dancer Tiler Peck, performing to Waltz, Op. 64, No. 3. Then, Royal Ballet of London principal dancer Alina Cojocaru and Angel Corella, the Artistic Director and principal dancer of the Barcelona Ballet, presented a pas de deux from the ballet "Giselle." Then, American Ballet Theatre principal dancers David Hallberg and Julie Kent continued the tribute with a moving rendition of the balcony pas de deux from the ballet, "Romeo and Juliet." Finally, the dancing concluded with an awe-inspiring rendition of "Black Swan," performed by American Ballet Theatre principal dancers Marcelo Gomes and Veronika Part.
Photo by Joseph Marzullo/WENN
Academy Award and Golden Globe Award-winning actor Morgan Freeman paid tribute to multiple Grammy Award-winning American blues guitarist and jazz singer Buddy Guy, who was inducted into the Rock and Roll Hall of Fame in 2005, stating, "I first heard the blues sitting on my grandmother's porch in Mississippi – we called it "gut bucket music. You mastered the soul of that gutbucket music and used that as your starting point. You found a new music in it that no one had ever seen before. And without the Internet, without YouTube, without even FM radio, you went viral. You went viral, Buddy Guy. And you made a bridge from roots to rock and roll." Freeman continued, "But there's Buddy. Sitting up there with the best – a pioneer, a Queen, a King and a President – the best rock and roll band, a pioneer of acting, a queen of dance, king of late night and the President of the United States. So when you hear the blues, you don't know if it's white, black, yellow, purple or blue. Buddy Guy, your blues brought us together. Now that's something to sing about."
The tribute to Buddy Guy commenced with a performance by the Rob Mathes Band of "Every Day I Have the Blues," which was quickly followed by a medley of "Things I Used to Do," "I'm Ready" and "Hoochie Coochie Man," performed by multiple Grammy Award-winning guitarist and singer Jimmie Vaughan, along with American guitarist Gary Clark, Jr. Next, multiple Grammy Award winner Tracy Chapman took the stage to perform "Hound Dog," followed by "I'd Rather Go Blind," performed by multiple Grammy Award winner Jeff Beck and American jazz and blues singer Beth Hart. The tribute concluded with an upbeat medley of "My Time After a While" and "Sweet Home Chicago," led by multiple Grammy Award-winning musician Bonnie Raitt.
Multiple Emmy and Golden Globe Award-winning actress and comedienne Tina Fey took the stage to talk about multiple Emmy Award winner David Letterman, remarking, "Mr. David Letterman, as I call him out of respect and fear, has unknowingly been a family friend of mine since I was 10 years old. My mom Jeanne and I spent every weekday morning of the summer of 1980 watching 'The David Letterman Show.' While some kids went canoeing and learned sailor knots at camp, I spent that summer drinking Pathmark instant iced tea and watching my mom laugh at Dave. I can't tell you how happy the show made her. It was like she couldn't believe what she was seeing. There was actually a daytime show that made her laugh. Amid a sea of saccharine talk shows and idiotic soap operas was this weirdly floating gem. Was this Dave Letterman guy a brilliant, subtle, passive-aggressive parody of a talk show host? Or just a Midwestern goon who was a little bit "off?" Well, here we are, 32 years later, and time has proven… that there's really no way of knowing."
Fey continued, "Dave is someone you watch not just because you like him, but also because you hope that he would like you. You think to yourself, 'Dave would like me. He'd be able to tell that I 'get it.' But it really is a crapshoot, because one of the most entertaining things about 'Late Night' and 'The Late Show' is that Mr. Letterman doesn't fake-like everyone. In fact, you could argue that Mr. Letterman is at his best when he's interviewing someone whom, maybe, he doesn't like at all. Whether it's calling Bill O'Reilly a bonehead, or asking Paris Hilton about eating hard-boiled eggs in jail…or just sitting back and letting Madonna be a high-status dumb-dumb. David Letterman is the professor emeritus at the 'Here's Some More Rope' Institute. Weirdly or not weirdly, Mr. Letterman is the closest thing we have to a present-day Walter Cronkite. His honesty and intelligence have shepherded us through national crises. Our concern for his health has been a national worry. Our imaginary friendship with him has been going on now for 32 years. Tonight, we declare it officially: my mom was right, David Letterman is an American treasure, like the Grand Canyon, or the Chicago skyline, or the top two Kardashians."
photo by Joseph Marzullo/WENN
Next, multiple Emmy and Golden Globe Award-winning actor Alec Baldwin said, "Watching the 'Late Show with David Letterman' is like being on a roller coaster. It's exhilarating. It's also dangerous, scary, and makes you sweat… and that's just the viewers. Imagine what it's like for those of us who are guests of the show. Dave's so clever, witty and powerful… how can you keep up with him? Why do we do it, then? Besides being artists with all the attendant self-loathing masochism, there's that movie or book or TV show we're promoting. Second, it's David Letterman! It's like the Kennedy Center Honors of late night TV. There's just no one better than Dave. There's never been anyone better. You just have to be around the guy. We know he has fun at our expense. We wanted to cook something up to turn the tables on him. Something that would get him out of his comfort zone. Something that would make him squirm… something he'd hate. So tonight we're giving him the Kennedy Center Honor. It's perfect. First, Dave, who can barely stand traveling from his home to the studio, will have to travel all the way from New York City to Washington, D.C. – a journey of over 200 miles in a private jet! Have him sit in a box and watch artists perform for two full hours! Put him in a big room full of people he doesn't know. Don't let him say anything! Make him wear a tux! With plain old black socks!" Then, Baldwin proceeded to present the hilarious list of "Top Ten Reasons That David Letterman Is Getting A Kennedy Center Honor."
Emmy Award-winning comedian Jimmy Kimmel next spoke of Letterman as one of his idols. "When I turned 16, I blew out the candles on a "Late Night with David Letterman" cake; my first car had a L8NITE vanity plate; I drew pictures of Dave on the cover of all of my textbooks; I started a 'Late Night with David Letterman' club in high school… to me, it wasn't just a TV show. …I don't remember the first time I watched Dave's show, but I do remember the feeling I got when I found it. It was as if someone was doing a show specifically for me. I had never seen anything like it. Dave was funny in a way I'd never seen anyone be funny before. I stayed up until 1:30 AM every single night to watch him. I wanted to be David Letterman. All my friends wanted to be David Letterman. Ironically, the only person who didn't want to be David Letterman – is David Letterman. And that's a shame because you, Dave, are the funniest, the smartest, the weirdest, the coolest, the best one ever. Not only did I learn how to do… everything from Dave – the reason I have a show of my own is because the executives at ABC saw me when I was a guest on his show."
Multiple Emmy Award winner and Golden Globe-nominated actor and comedian Ray Romano, who got his start as a comedian and actor through the help of David Letterman, said, "Being on Letterman was like winning the World Series. If you wanna win the World Series, do you quit if you lose the first game? No. You're down one game to zero you don't quit, you keep going. Do you quit when you're down 1-0 in debates? No. You keep going and you become the President of the United States," gesturing to President Obama. He then continued, "I remember the next morning, I was in my house with my wife in Queens, and I sat there at the breakfast table and I was like, 'That was… awesome. What do I do now?' …I sometimes wonder where I would be if I hadn't been on David Letterman's show. I would still be doing stand-up, because it's what I love. I'm sure I'd be on the road working. Every now and then I'd have to do Kimmel. It would be okay, I guess. But I know one thing; I'd still be trying to get on. I wouldn't give up. And that's what somebody as good as Dave does. In any profession, you need someone like Dave to make you want to be better."
Next, Golden Globe-nominated actor Jack Black introduced the tribute to multiple Grammy Award-winning, legendary rock band Led Zeppelin, saying, "Led Zeppelin… the greatest rock and roll band of all time… yeah, I said it. Better than the Beatles. Better than the Stones… even better than Tenacious D. That's not opinion… that's fact. If you don't agree with me, it's because you never did the Zeppelin marathon. That's when you sit your ass down and listen to all nine Zepp albums in a row… What makes them so special is the contrast of power and beauty. Heavenly melodies intermingled with hellish rifts of thunder. The first time I heard Zepp was in high school. My body was changing and my mind was opening to new possibilities when Derek Skanky made me a mix tape of his favorite Zepp jams. They quickly became my favorite band. Throughout the years, I've explored all kinds of genres and styles… but it's always come back to the Zepp."
Black continued, "Sometimes I worry that they might've been the last great chapter in rock. Who will pick up the torch and lead a new generation into heavy metal Valhalla? Sadly, no living rockers possess the alchemy and black magic required for such a task… Until then, we have the blessed gift of Led Zeppelin's box set to lift our spirits and soothe our souls. They say that Led Zeppelin sold their souls to Satan… come on guys, you know you did. There is no other way to explain your ungodly talent. I just want to say thank you… because while you suffer in the burning pit of Hell, the human race will cherish your heavenly jams till the end of time. A small price to pay. We love you. Best band ever."
The tribute to Led Zeppelin commenced with an exciting performance of "Moby Dick" by the Rob Mathes Band. Next, multiple Grammy Award winner Lenny Kravitz performed "Whole Lotta Love," followed by a medley of "Babe I'm Gonna Leave You" and "Ramble On," sung by five-time Grammy Award nominee Kid Rock. Then, multiple Grammy Award-winning rock band Foo Fighters took the stage to perform "Black Dog" and "Rock and Roll." Finally, Jason Bonham, the son of Led Zeppelin drummer John Bonham, along with Ann Wilson and Nancy Wilson from the rock band Heart, rocked the house with an amazing performance of "Stairway to Heaven" that brought the evening to its rousing conclusion.