"Joel is gay and plans to live openly as a gay man. Due to his family's strict stance on homosexuality they will not sign or cosign anything to help him get to college," read the Go Fund Me appeal launched by his close friend Lyndi Wright, one month ago.
"They believe that by signing the paperwork they are somehow endorsing Joel being gay and encouraging a lifestyle they do not agree with."
The son of evangelical missionaries, Joel was homeschooled since the fifth grade. He wasn't allowed to take dance classes until he could pay for them himself, which he started doing at age 15 and quickly grew passionate about. After only three years of dancing, he placed third runner-up for a national Dancer of the Year competition, beating dancers who have had 10-15 years of training. With the support of his dance teacher, he auditioned and was accepted into the prestigious dance program at OCU, whose alum include Kristin Chenoweth and Kelli O'Hara.
"This was the only college he was submitting an application to; he just wanted to follow his dreams of being on the stage, and OCU was where he set his sights on beginning that journey," the statement continued. He was accepted with numerous scholarships; however, he was still in need of financial aid.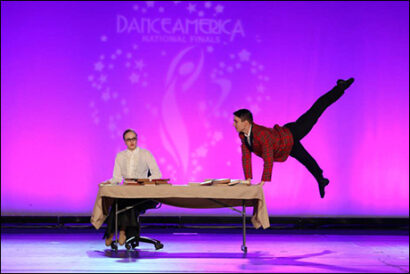 His parents had been laid off from their jobs during the recession and were working at a local church camp. While they had apparently initially agreed to help with his college finances, they later withdrew the offer as they honestly felt it would be supporting his being gay.
Wright, who is also the daughter of Joe's dance teacher, launched the campaign one month ago to help him raise the funds needed to attend the program and graduate. He was living away from his family — with one of his teachers and mentors — since he had announced that he was going to live an openly gay life during his senior year. The funding project caught the attention of the likes of Savage, who published an online article about it on TheStranger Sept. 10, as well as Rosie O'Donnell, who donated $5,000.
"It was around age 13 that Joel began to understand that he was gay," continued the statement. "This was a gut wrenching realization because of his family's belief that homosexuality is a sin - that it is a choice and a choice that is not to be tolerated. Because of this Joel asked his parents to sign him up for counseling to "pray the gay away." He felt torn between who he knew he was and who he thought he should be based on the beliefs of his family and others around him. The counselor would tell Joel how bad and wrong it was for feeling the way he felt. Most nights Joel would cry himself to sleep; he had an inner battle going on and didn't feel any support at home in terms of just being loved for being who he is, as he is."
During his senior year, Joel was able to come to terms with his sexuality, with the support of a boyfriend and his local LGBT group, he announced to his family that he would be living as an open gay man going forward.
The online campaign, which has now exceeded its target, continues. With any extra funds, Joel has announced that he will form a scholarship or donate to an existing scholarship for other college-bound LGBT students who may be facing obstacles to their dreams.