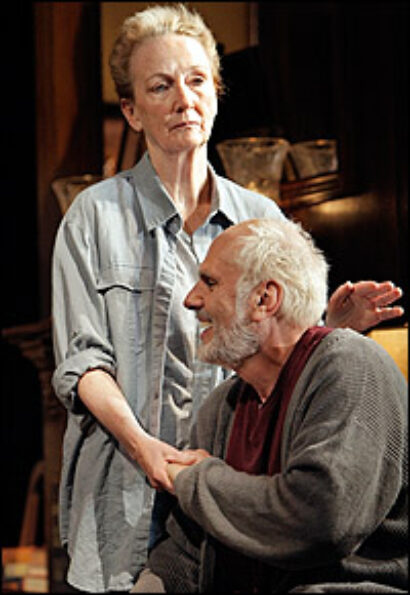 Previews began May 15 on the McGuire Proscenium Stage. Rent and Next to Normal's Michael Greif directs.
The title of Kushner's new play, according to the Guthrie, is inspired by two 19th-century thinkers and their works — George Bernard Shaw's The Intelligent Woman's Guide to Socialism and Capitalism and Mary Baker Eddie's Science and Health with Key to the Scriptures.
The play, according to press notes, "looks at the life of a 20th-century thinker, retired longshoreman Gus Marcantonio (filmmaker, actor and Pulitzer Prize-winning playwright Michael Cristofer), who's feeling confused and defeated by the 21st century. In summer 2007, he invites his sister and his three children (who in turn bring along spouses, ex-spouses, lovers and more) to a most unusual family reunion in their Brooklyn brownstone."
In addition to Cristofer, the Guthrie commission features original Angels in America cast members Kathleen Chalfant as Gus' sister Bennie and Stephen Spinella as his son Pill, alongside Homebody/Kabul original cast member Linda Emond as his daughter Empty, and Guthrie regular Ron Menzel as his son Vito. Broadway veteran Michael Potts portrays Pill's husband Paul Pierce, with Michael Esper playing Pill's paid lover Eli Wolcott. Guthrie regulars Mark Benninghofen, Charity Jones, Sun Mee Chomet and Michelle O'Neill are also be part of the cast.
The creative team also includes Mark Wendland (set designer), Clint Ramos (costume designer), Kevin Adams (lighting designer), Ken Travis (sound designer), Michael Friedman (music), Jo Holcomb (dramaturgy), Elisa Carlson (voice and dialect coach), Martha Kulig (stage manager), Chris A. Code (assistant stage manager), Justin Hossle (assistant stage manager) and David Alpert (assistant director). The production, part of the Guthrie's Kushner Celebration, will play through June 28.
Tickets are available by calling (612) 377-2224, or (877) 44-STAGE or by visiting www.guthrietheater.org.