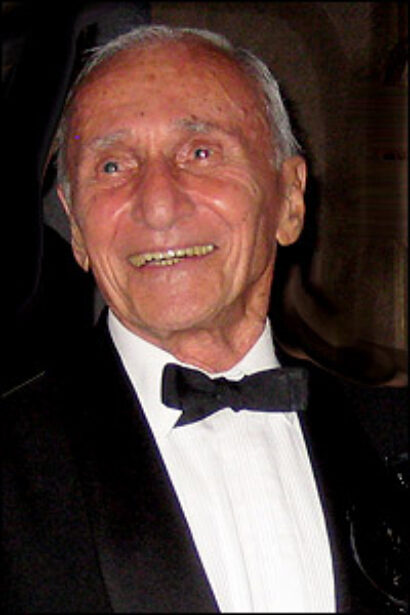 The schedule for the week of June 30-July 7 follows.
Center Stage
June 30: Arthur Laurents, the 91-year-old librettist of Broadway classics West Side Story and Gypsy and director of the last revivals of those two shows, visited the Playbill Radio studio for a far-ranging two-part interview in which he aired his opinions on sex, drugs, death, Patti LuPone, gays in theatre, his own 52-year relationship, foul language in the theatre, a highly-critical recent New York magazine profile; collaborators Jerry Herman, Stephen Sondheim, Jerome Robbins; plus the forthcoming revival of La Cage aux Folles (which he will not direct). His new memoir, "Mainly on Directing," focuses on his work on the 2008 revival of Gypsy and the current revival of West Side Story, which was nominated for a Tony Award as Best Revival of a Musical. For this week's part 2 of the interview, Laurents talks more about West Side Story, the upcoming revival of his Anyone Can Whistle and his plans for the future, including the name of the young composer with whom he'd like to write a new musical. But first, Laurents takes us back in time to the beginning of his career – in radio!
Each week's new "Center Stage" show debuts at 7 PM ET Tuesday, with repeats scheduled for (all times ET) 2 AM Wednesday, July 1; 11 PM Wednesday, July 1; 2 PM Thursday, July 2; 11 AM Saturday, July 4; and 4 PM Sunday, July 5.
Edited versions of the "Center Stage" programs are available as podcasts, including:
Arthur Laurents (Part 1)
Reasons To Be Pretty stars Marin Ireland and Thomas Sadoski
2009 Tony Awards Special
Composer Spotlight
July 2: A tour through the career of songwriter Noël Coward, composer of "Mad Dogs and Englishmen," "Mad About the Boy," "Don't Let's Be Beastly to the Germans" and other distinctive songs.
Each week's "Composer Spotlight" debuts at 7 PM (ET) Thursday, with repeats scheduled for: (all times are ET) 2 AM Friday, July 3; 11 PM Friday, July 3; 10 PM Sunday, July 5; and 2 PM Monday, July 6.
This weekend's programming features Arthur Laurents (Part 1) at 11 AM Saturday, June 27 and 4 PM Sunday, June 28; a salute to Jerome Kern at 8 PM Sunday, June 28 and 2 PM Monday, June 29; and "Theater Talk" at 7 PM Saturday, June 27, 11 PM Monday, June 29 and 2 PM Tuesday, June 30.