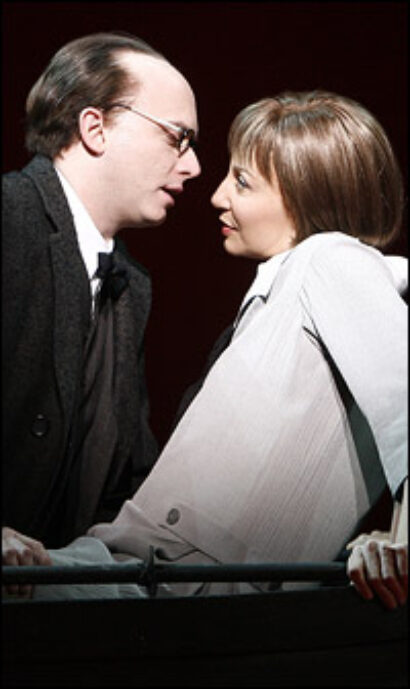 Tony Award-winning stars Michael Cerveris and Donna Murphy and the original Broadway cast recorded the score July 15. The score features the songs of Kurt Weill telling of the rocky relationship between Weill and Lotte Lenya.
The recording is produced by Joel Moss. Kurt Deutsch serves as executive producer. No release date has been announced. The producers previously indicated there is international interest in the property. A recording would seem to be a good marketing tool for a future life for the show.
Suggested by the letters of Kurt Weill and Lotte Lenya, LoveMusik features a book by Pulitzer and Tony Award-winner Alfred Uhry (Driving Miss Daisy, Parade). Musical staging was provided by Patricia Birch (A Little Night Music), and direction by 21-time Tony Award winner Harold Prince (The Phantom of the Opera, Cabaret and Sweeney Todd).
"LoveMusik follows the lives of the unlikeliest of lovers — the brilliant, intellectual German composer Kurt Weill (Michael Cerveris) and the woman who became his muse and star, Lotte Lenya (Donna Murphy)," according to MTC. "LoveMusik is an epic romance, set in Berlin, Paris, Broadway and Hollywood, spanning 25 years in the lives of this complicated couple."
Cerveris and Murphy both received Tony Award nominations for their performances in LoveMusik. The cast also featured Outer Critics Circle Award winner and Tony Award nominee David Pittu (as Bertolt Brecht) and John Scherer (as George Davis), with Judith Blazer, Edwin Cahill, Herndon Lackey, Erik Liberman, Ann Morrison, Graham Rowat, Rachel Ulanet and Jessica Wright.
LoveMusik features the lyrics of Maxwell Anderson, Bertolt Brecht, Howard Dietz, Roger Fernay, Ira Gershwin, Oscar Hammerstein II, Langston Hughes, Alan Jay Lerner, Maurice Magre, Ogden Nash, Elmer Rice and Kurt Weill. Orchestrations are by Jonathan Tunick, musical supervisor is Kristen Blodgette, music coordinator is Seymour Red Press, additional vocal arrangements are by Milton Granger and the conductor is Nicholas Archer.
LoveMusik was produced by Manhattan Theatre Club by special arrangement with Marty Bell, Aldo Scrofani, Boyett Ostar Productions, Tracy Aron, Roger Berlind/Debra Black, Chase Mishkin, and Ted Snowdon.
For more information, visit www.GhostlightRecords.com or www.sh-k-boom.com.