*
Bringing historical figures to life onstage is nothing new to Michael Cerveris, the stage and screen actor who added another Tony nomination to his collection (four nominations and one win) with his performance as Bruce in the acclaimed new musical Fun Home.
Adapted from Alison Bechdel's best-selling coming of age graphic memoir, Fun Home opened on Broadway following an acclaimed and extended Off-Broadway run at the Public Theater. The musical, by Jeanine Tesori and Lisa Kron, follows Alison's sexual awakening which coincides with the death of her father, a closeted homosexual who ran a funeral home while restoring their family house to its former grandeur. Alison is portrayed at three different ages — seven (by Sydney Lucas), 19 (Emily Skeggs) and 43 (Beth Malone). (Lucas, Skeggs and Malone all received Tony nominations for their performances, as did Judy Kuhn, who plays their mother.)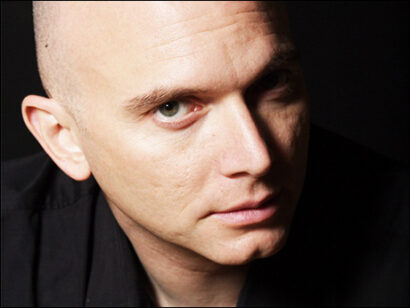 Bruce's relationship with Alison is fraught with tension. Prone to emotional outbursts as well as obsessive tendencies, at times he is aloof or distant, which sharply contrasts with his sometimes affectionate and playful nature.
Portraying inner turmoil is nothing new to Cerveris, who has given acclaimed performances as conflicted antiheroes John Wilkes Booth in Assassins, the title roles in Sweeny Todd and Hedwig and the Angry Inch, Kurt Weill in Lovemusik and Juan Peron in Evita, among others. Before playing Peron, Cerveris acquired numerous historical relics and as much information as possible for his performance. But for Fun Home, he chose to not research the character of Bruce. "It's funny because I played a lot of historical characters before, and I like to do tons of research and all kinds of background stuff. There wasn't as much of that available for Bruce because he wasn't a public figure," Cerveris said. He began reading the graphic novel but then stopped; rather than create his character based on Alison's point of view, he wanted to develop it from within.
"It was really a much more intuitive process than usual for me, and I think I drew more on life experiences," Cerveris said. "Even though my family didn't struggle with the kinds of secrets that Alison's did, every family has its disconnections and its struggles to figure out who everybody is. And then I also grew up in a similar time frame as Alison, so to go back to being a kid in the 70s and all that… I look at the costumes we're wearing, and I'm like, 'I know this really, really well.'"
Cerveris, who also heads the band Loose Cattle, credits the 70s — specifically "The Partridge Family" — with his decision to pursue music and play guitar.
"What I really wanted was for Susan Dey to be my girlfriend," he laughed. "She was my first serious crush."
Despite the lack of resources, the similarities between Cerveris' performance and the real Bruce has drawn commentary from friends of Bruce.
"People who actually knew Bruce and Helen and all the kids have said, 'It was like seeing him again. I'm so glad you captured his humor or this aspect or that aspect,'" he said. "Alison and Christian [Alison's brother], too, have said it's kind of uncanny. I don't know how to explain that. I never saw a video of him. I've seen photos of him and I've seen the book. I guess it was just really good casting on [director Sam Gold's] part." Eventually Cerveris did finish Bechdel's book and met with Alison and Christian Bechdel. Several cast members also traveled to Bechdel's hometown to see the titular house. The experience, Cerveris said, deepened his experience with the musical.
"We got to a certain place in performances, and then it became an entirely deeper thing when I met Alison and Christian. Then we went to Beech Creek to actually visit the house. It's continued to evolve and get deeper and richer as we've gone along. It doesn't feel like it's stopped yet. We're still learning about it."
The characters in Fun Home evolve emotionally as the adult Alison looks back on her life struggles to understand her father's death; Medium Alison comes to terms with her sexuality and her family's reaction to it; and Small Alison begins to understand her identity.
The impact of Fun Home is expansive and heightened by its opening at the time the Supreme Court is hearing arguments on marriage equality. Cerveris said Bruce's journey has spoken to many audience members, some who have reached out to Cerveris personally.
"I got a message on Facebook from somebody I don't know well who wrote a really personal note about what the show has meant to him since he saw it and that he hasn't been able to stop thinking about it. He's made the decision that he doesn't want his life to end up like Bruce's, and he's going to tell his family his secret. It's just an extraordinary thing to be part of something that is really affecting people's lives… We like to tell ourselves that doing theatre can change the world. It's amazing to actually be a part of something that proves that that's true. And this is a time when that's possible.
"A few years ago, [the musical] might not have been able to get this visibility," he continued. "Part of moving from downtown to uptown is now people will see it who might have thought this has nothing to say to them and will find that it does. It's not just about questions of gender ID and sexuality, though those are very much at the heart of it, but people who aren't struggling with those questions at all still have parts of themselves they can't accept and they struggle to understand… So people are kind of finding ways into that place."
(Carey Purcell is the Features Editor of Playbill.com. Her work appears in the news, feature and video sections of Playbill.com as well as in the pages of Playbill magazine. Follow her on Twitter @PlaybillCarey.)