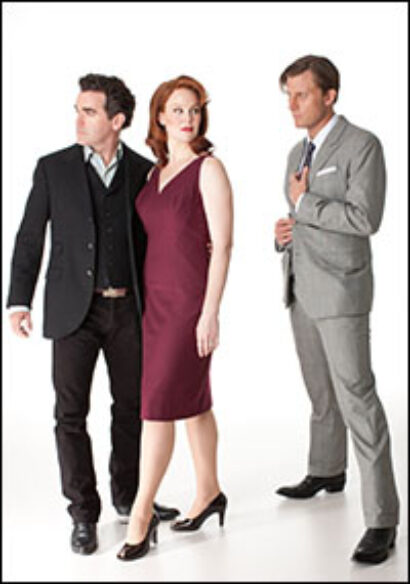 *
I spent June of 1955 tugging at my daddy's pant leg, trying to get him to take me to Marfa, Texas. From Dallas, it was a scant nine-hour drive down the scorching asphalt to sun-baked Southwest Texas, where director George Stevens had assembled Elizabeth Taylor, Rock Hudson and James Dean to film "Giant."
Alas, we never got out of the driveway, but the urgency of that fantasy is with me still. So, too, is the commotion that was caused when the film landed in theatres 20 months later and local denizens rushed forth to embrace it.
Given this drum roll, is it any wonder that Composer-lyricist Michael John LaChiusa looked around him last January at the Dallas Theatre Center, on the eve of launching his musical version of said "Giant," and realized that he was "in the belly of the beast"?
The eyes of Texas were indeed upon him, and he squirmed. "People hold that movie very near and dear, so I was quite nervous," he confesses, "but once I started talking to folks I relaxed. They understood, as Texans, when they were being critiqued as well as when they were being cherished." "Giant" never took baby steps. The 1956 movie weighed in at 201 minutes; the 1952 Edna Ferber best seller it's based on ran 416 pages. When it world-premiered as a musical in 2009 at the Signature Theatre in Arlington, VA, it tipped the scales at four hours — an hour more than will open Nov. 13 at the Public Theater in Manhattan.
Director Michael Greif, a specialist at musicals on family angst (Next to Normal) and alienated youth (Rent), thought the Dallas gig was great: "They recognized they were given a deeply considered version. You are playing to people who knew the material extremely well and cared deeply about it."
Surprisingly, LaChiusa and adapter Sybille Pearson came to Giant through the literary Route — via Julie Gilbert, Ferber's biographer and great-niece, who pitched the musical.
photo by Joseph Marzullo/WENN
"No," said LaChiusa on first read. "It's too big."
Too-big is not a Texas option, so when she came back two years later, it was yes. Ferber tended to spin the same tall tale in other states, as well. "Cimarron" (Oklahoma) and "Ice Palace" (Alaska) also have strong romantic triangles twirling about against the epic rumblings of a young state emerging.
"Giant" enjoys the natural Texas themes of oil-vs-cattle and Tex-Mex racial conflicts while trying to keep the marriage of cattle baron "Bick" Benedict and his bride Leslie together — despite running interferences from Jett Rink, a ranch hand who strikes oil the second he stakes his claim on Bick's land.
"The musical adaptation follows the novel closer than it follows the film," Greif stresses while still allowing that "it pushes the triangular relationship a bit and exploits the possibility of Jett Rink as a romantic alternative for Leslie."
Oil-rich and a diehard, Rink circles back around a generation later and riles the roost at the Benedicts' Reata Ranch by making a pass at a Benedict daughter. In the musical version at The Public Theater, Brian d'Arcy James, Kate Baldwin and P.J. Griffith are the trio we follow through three decades. Cluttering their way are Michele Pawk, John Dossett, Bobby Steggert, Miguel Cervantes, Mackenzie Mauzy, Natalie Cortez and Katie Thompson.
"Michael John and Sybille not only made a musical about this marriage, they made a musical about ownership of this land," says Greif. "Is this a cattle ranch or an oil field? Underneath that is a larger issue: Is this American land or Mexican land? Who deserves to be on it? Who gets to say they own this land?
"In a lot of ways, like the great Rodgers and Hammerstein musicals, Michael John and Sybille's musical is not only about very intense personal relationships, expressed beautifully in song, but also about how people live in communities, and have great heroic, history-changing effects on those communities, this musical is much like that."
(This feature appears in the November 2012 issue of Playbill magazine.)