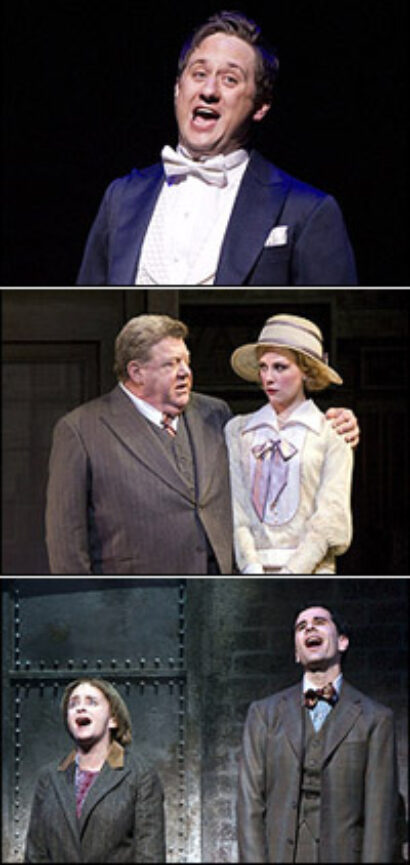 Tony Award nominee Christopher Fitzgerald, the original Igor of Young Frankenstein, plays the title role of Billy Minsky, the king of burlesque whose family's strip-tease-and-comedy palaces were raided by New York City cops in the first 30 years of the 20th century. The score is by Tony Award-winning composer Charles Strouse (Annie, Bye Bye Birdie) and Tony-nominated lyricist Susan Birkenhead (Jelly's Last Jam). The libretto is by Tony Award winner Bob Martin (The Drowsy Chaperone), whose tale barely resembles the movie that first inspired this stage musical — "The Night They Raided Minsky's."
Directing and choreographing Minsky's — a musical about pasties, performers and passing showbiz fads — is Tony nominee Casey Nicholaw (The Drowsy Chaperone, Spamalot).
The Broadway-aimed production produced by Center Theatre Group continues to March 1.
In the 1990s, Strouse and Birkenhead worked on a stage musical version of the M-G-M film comedy "The Night They Raided Minsky's," with Mike Ockrent as director, but the project shut down when Ockrent died suddenly. Under the title The Night They Raided Minsky's, the show was, in fact, announced for the Ahmanson season in 1999-00. Now resurrected, the show's plot, characters, title and songs have evolved under the guidance of new storytellers Martin and Nicholaw. Strouse told Playbill.com that some songs remain, but many with new lyrics to fit the new libretto. (The earlier libretto was by the late Evan Hunter, who gets a credit of "original book by.")
The varied cast includes performers from stage and screen: Rachel Dratch of "Saturday Light Live" and George Wendt of "Cheers" and Hairspray, plus Tony Award winner Beth Leavel, the original Drowsy Chaperone herself, are among players. *
Set in the summer of 1930, in and around the National Winter Garden Theatre, Minsky's is billed as "a big, racy, romantic musical comedy set in Depression Era New York City. The king of burlesque himself, Billy Minsky (Christopher Fitzgerald), reigns over the rollicking backstage world of Minsky's, where profit margins are as skimpy as the costumes. Billy knows that to keep the customers coming you have to give them legs, laughs and spectacle that pushes the limits, but even he's not prepared for the day he falls in love and the cops come banging on his door. This original musical brings back a golden era of theatre when audiences came to the theatre to laugh at the jokes, ogle the dancers and escape reality for a little while."



photo by Craig Schwartz
Billy Minsky and his brothers Abe and Morton operated a number of burlesque theatres in Manhattan, most notably a flagship house on Houston. The
Minsky's
cast features Christopher Fitzgerald (Billy Minsky), Katharine Leonard (Minsky's love interest Mary), Rachel Dratch, George Wendt, Tony winner Beth Leavel, Tony nominee John Cariani (
Almost, Maine, Fiddler on the Roof
), Gerry Vichi (
The Drowsy Chaperone, Curtains
), Kevin Cahoon (
Chitty Bang Bang, Hedwig
) and Paul Vogt. Ensemble members include Megan Nicole Arnoldy, Nathan Balser, Roxane Barlow, Jennifer Bowles, Kirsten Bracken, Jennifer Frankel, Linda Griffin, Blake Hammond, Philip Hoffman, Stacey Todd Holt, Marc Kessler, Sabra Lewis, Matt Loehr, Ariel Reid, Jeffrey Schecter, Angie Schworer, Sarrah Strimel, Charlie Sutton, Jennifer Werner and Patrick Wetzel.
Minsky's is Center Theatre Group's second collaboration with writer Bob Martin and director-choreographer Casey Nicholaw, who created The Drowsy Chaperone.
Presented by special arrangement with commercial producers Bob Boyett and Kevin McCollum, Minsky's features scenic design by Anna Louizos, costume design by Gregg Barnes, lighting design by Ken Billington, sound design by Acme Sound Partners and hair design by Josh Marquette.
The musical direction and vocal arrangements are by Phil Reno; orchestrations are by Doug Besterman; and music arrangements are by Glen Kelly. The technical supervisor is Peter Fulbright, and the production stage manager is Karen Moore. Casey Hushion is the associate director. Lee Wilkins is the associate choreographer.
Tickets for Minsky's start at $20 and are available by calling (213) 628-2772 or online at www.CenterTheatreGroup.org.