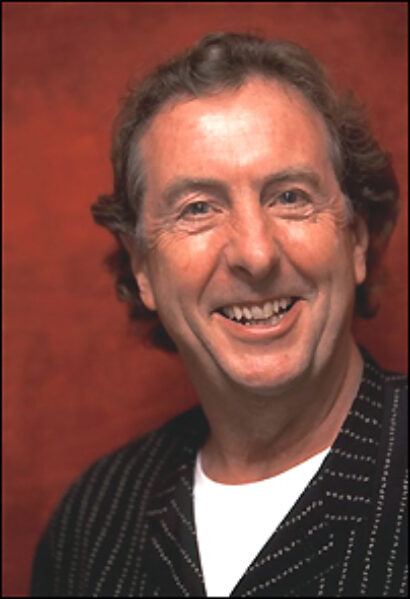 The series first aired on the BBC in October 1969, and was originally broadcast from 1969 to 1974. Conceived, written and performed by Graham Chapman, John Cleese, Terry Gilliam, Eric Idle, Terry Jones and Michael Palin, it was also subsequently spun into three films, stage tours, numerous albums, books and a stage musical, launching the members to individual stardom.
In Los Angeles and New York, a cast that comprises Hank Azaria, Jane Leeves, Alan Tudyk, Rick Holmes and Jim Piddock will star in An Evening Without Monty Python, described in press materials as "a paeanastic laudatory exaltation of the works of Graham Chapman, John Cleese, Terry Gilliam, Eric Idle, Terry Jones and Michael Palin celebrating 40 Years of 'Monty Python's Flying Circus.'" It will run at the Ricardo Montalbán Theatre, Hollywood (Sept. 23-Oct. 4), and then at New York's Town Hall (Oct. 6-10).
In London the Royal Albert Hall will see the European premiere of Eric Idle and John Du Prez's Not the Messiah (He's a Very Naughty Boy) for one night only on Oct. 23. Idle and Du Prez, who also previously created the Tony Award-winning Spamalot, premiered the work as part of Luminato, the Toronto Festival of Arts Culture and Creativity, in June 2007.
A "comedic oratorio" based on "Monty Python's Life of Brian," it is described in press materials as "a night of baroque 'n' roll on a grand scale, with a full orchestra, massed choir, bagpipers and classical soloists, all hosted by Michael Palin as Mrs. Betty Parkinson, with Eric Idle as a 'baritonish' soloist, reprising some of the best-loved roles from the film, including Mr. Cheeky and Stan the Revolutionary who wants to be called Loretta." There will be guest appearances from fellow Pythons Michael Palin, Terry Jones and Terry Gilliam, as well as Carol Cleveland and Neil Innes, William Ferguson (Brian), Shannon Mercer (Judith), Rosalind Plowright (Mandy), Christopher Purves (Reg) and the BBC Symphony Orchestra and Chorus, conducted by John Du Prez.
In a press statement, Idle said, "It is rare you get to be silly on a mass scale. This work was commissioned by the Toronto Luminato Festival in 2007 where it was conducted by my cousin Peter Oundjian with the Toronto Symphony Orchestra. It was performed later that year in Australia and New Zealand, including two sell-out nights at The Sydney Opera House, and last year at the Wolf Trap to 7,000 with the Washington Symphony, in Houston with the Houston Symphony, culminating in two nights at The Hollywood Bowl (to 19,000 people) with the LA Philharmonic and fireworks. It tells the tragic tale of Mandy, impregnated by a Roman soldier, giving birth to Brian, a reluctant revolutionary who falls in love with Judith, gets mistaken for a Messiah and is condemned to death. It ranges in reference from Handel, through a naughty Mozart duet, to the Festival of Nine Carols, Bob Dylan, and the classic finale Always Look On The Bright Side of Life." Due for publication in September from Hyperion Books in the U.S. and from Simon and Schuster in the U.K. Is "Monty Python Live!," the first Python book by all surviving members for over 20 years. According to Idle, the paperback original will feature "over 200 pages lavishly illustrated and lovingly hand crafted by ancient comedians in hand-tooled sentences," to provide "the final word on the five hundred years that these six men, one girl, half a musician and an elk toured the then-known world." In the seventies, as the Beatles of comedy, the Pythons toured the U.S., Canada, the U.K. and elsewhere, and "Monty Python Live!" is the account of those wild tours, with original material of the surviving Pythons recounting the inside story, plus a chronological oral history, and material from many of the routines - including some of their most famous - which they performed on the tour, and which have never before appeared in print. The book also features over 100 never-before-seen images and Python memorabilia, all in full color.
IFC and Eagle Rock Entertainment will also mark the 40th anniversary with a six-episode documentary, "Monty Python: Almost the Truth (The Lawyer's Cut)" that will premiere exclusively in the U.S. on IFC in October 2009, prior to a worldwide DVD release. The legendary British comedy troup will get in front of the camera one last time in an original documentary series that will retell the entire Python phenomenon from start to finish, featuring interviews with the surviving Python members John Cleese, Terry Gilliam, Eric Idle, Terry Jones and Michael Palin with archive representation for the late Graham Chapman. The Pythons will tell their life story and reveal deeper truths alongside the more tried and tested Python history lessons. Guest interviews will include Jimmy Fallon, Lorne Michaels, Hugh Hefner, Eddie Izzard, Olivia Harrison, Steven Merchant, Dan Aykroyd, Tim Roth and Seth Green, among many others.
For further details on An Evening Without Monty Python in L.A. and New York, visit www.aneveningwithout.com. To book tickets for Not the Messiah (He's a Very Naughty Boy, contact the box office at 020 7589 8212 or visit www.royalalberthall.com.