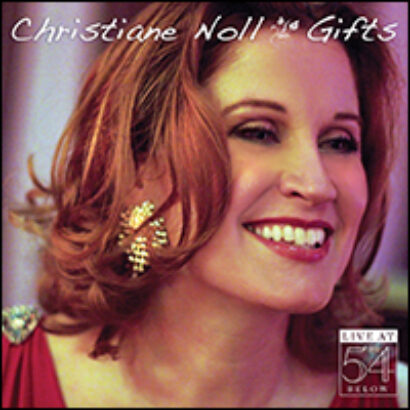 The recording can be purchased on Amazon.com; it will soon be available on iTunes.
"Christiane Noll Gifts" is produced by Aaron Ankrum and Noll and executive-produced by Van Dean and Kenny Howard, of The Broadway Consortium.
"The music is songs that I have sung and heard for a lifetime," Noll said in a statement. "This evening was a tribute to my unique upbringing and the passion and love it instilled in me. I now share with my own family."
The track listing follows:
1. Somewhere Out There
2. Growing Up Medley - Part 1
3. Growing Up Medley - Part 2
4. Waiting For Life
5. Maybe
6. "The Record Wall"
7. Museum Song
8. Some Enchanted Evening
9. "My Parents"
10. The Sound Of Music 11.
11. "Julie Andrews"
12. Audition Medley
13. How Lucky Can You Get/ Get Happy
14."The Tuxedo"
15. In His Eyes
16. I Want It All
17. "My Daughter"
18. Send In The Clowns
19."Mommy, Mum, Mother"
20. Back To Before
21. "Thank You"
22. The World Goes 'Round
23. "Encore"
24. Mr. Paganini
For more information visit www.BroadwayRecords.com.
*
PlaybillStore.com also offers numerous cast albums and theatre recordings.