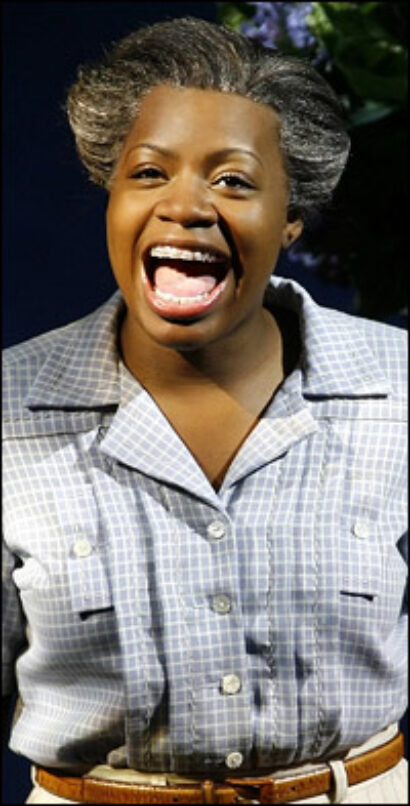 As is tradition, the awards will be bestowed upon the theatre newcomers by former award winners. The 63rd annual awards ceremony will be held at a by-invitation-only event at New World Stages.
Presenters include Michael Cerveris (The Who's Tommy, winner in 1993), Barbara Cook (Plain and Fancy, 1955), Jennifer Ehle (The Real Thing, 2000), Patricia Elliott (A Little Night Music, 1973), Raúl Esparza (The Rocky Horror Show, 2001), Boyd Gaines (A Month in the Country, 1980), Rosemary Harris (Climate of Eden, 1953) and John McMartin (Little Mary Sunshine, 1960).
Actors' Fund President and Theatre World Award winner Brian Stokes Mitchell (Mail, 1988) will accept a special award to be presented to The Actors' Fund in honor of its 125th anniversary.
The honors are awarded to those performers making their first major New York stage appearance (Broadway or Off-Broadway debuts).
The 2007 winners follow:
Fantasia Barrino, The Color Purple
Eve Best, A Moon for the Misbegotten
Mary Birdsong, Martin Short: Fame Becomes Me
Erin Davie, Grey Gardens
Xanthe Elbrick, Coram Boy
Johnny Galecki, The Little Dog Laughed
Jonathan Groff, Spring Awakening
Gavin Lee, Mary Poppins
Lin-Manuel Miranda, In the Heights
Bill Nighy, The Vertical Hour
Stark Sands, Journey's End
Nilaja Sun, No Child… Peter Filichia hosts the ceremony, which is being directed by Barry Keating. Kati Meister, Scott Denny and Erin Oestreich are the producers. Theatre World Awards founder John Willis will be in attendance.

First presented in 1945, the Theatre World Awards are among the oldest theatrical awards. Traditionally, a committee of theatre writers chooses six men and six women. On occasion, the awards bestow a Special Theatre World Award on "performers, casts or others who have made a particularly lasting impression on the New York theatre scene," as stated on the official Theatre World Awards website.

This year's honorees were chosen by the Theatre World Awards committee, comprised of Peter Filichia (Theatermania), Harry Haun (Playbill), Matthew Murray (Talkin' Broadway), Frank Scheck (New York Post), Michael Sommers (Newhouse Papers), Doug Watt (Critic Emeritus, New York Daily News) and Linda Winer (Newsday).

For further information, visit theatreworldawards.org.