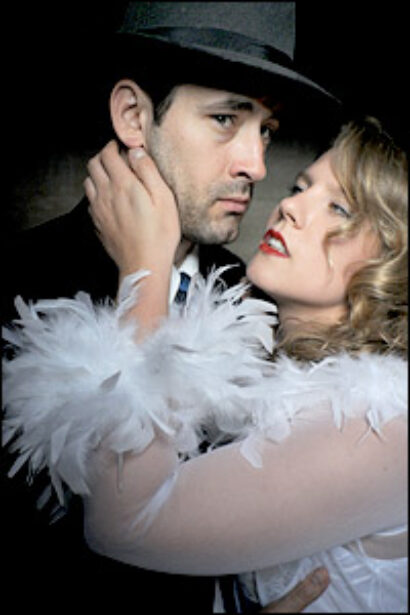 The plays are Marked for Love and Of Dicks and Dames. The evenings are hosted by "burlesque goddess" Honey Ima Home, whose burlesque routines will act as curtain-raisers.
"If one put 'The Big Sleep' and 'Airplane' into a blender and hit 'frappe,' Nights of Noir! is what you might get," writer Wilson stated. "My plays are a light-hearted romp following a private detective named Bolt into the mysterious, murky and extremely silly underbelly of the 1940s Los Angeles crime scene. The evening is the telling of two of Bolt's legendary cases."
The cast of Marked for Love includes Scott Gerard as Bolt; Mike Park as Hank Sergeant; Elizabeth V. Newman as Vivian; Rachel Kanouse as Magritte; Megan Evanich as Dottie; Drew Droege as Thin Guy; and John Szura as Johnny Mute.
The cast of Of Dicks and Dames includes Scott Gerard as Bolt; Lauren Leonelli as Missy Monkeysuncle; Mike Park at Hank Sergeant; Eric Charles Jorgenson as Albee A. Monkeysuncle; Amie Donegan as Ima Monkeysuncle; Jan Pessin as Viola Shylock; Megan Evanich as Tootie; Drew Droege as Bartholomew Slotz; and Elizabeth V. Newman as Vivian.
The production team includes Kasey Wilson (costume and set designer); Elizabeth V. Newman (choreographer); Bosco Flanagan (lighting designer); Travis Stanberry (stage manager); and Nicole Randall (fight choreographer). EVN Productions and Old Timey Productions, in association with The Attic Theatre and Film Center, present the plays Fridays and Saturdays at 8 PM at The Attic Theatre and Film Center, 5429 W. Washington Boulevard in L.A.
Tickets may be purchased online at www.plays411.com/nightsofnoir or by calling the box office at (323) 960-1055.
*
To learn more about EVN Productions, visit www.evnproductions.com.
Old Timey Productions is dedicated to "bringing the past to the present." The company's first production was staging a series of radio shows from the '40s.