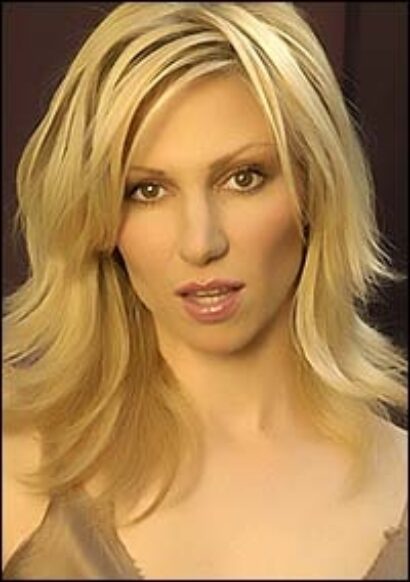 The 1966 John Kander-Fred Ebb-Joe Masteroff musical is the first show of NCT's 2006 mainstage season. In spring 2003, Gibson starred as Sally Bowles in the reimagined Broadway revival of Cabaret.
NCT will present the 1987 version of Cabaret, a rewrite overseen by Harold Prince for the 20th anniversary production. The NCT director is Connie Shafer and the choreographer is Jennifer Werner.
The cast includes Jeffrey Bateman (Bobby/Ensemble), Jenna Coker (Ensemble), Brian Duguay (Cliff), Ray Garcia (Ensemble), Vinny Genna (Ernst), Rebecca Hoodwin (Frau Schneider), Kolina Janneck (Ensemble), Megan Loomis (Ensemble), Erin Maquire (Fraulein Kost), Kenny Morris (Herr Schultz), Kilty Reidy (Ensemble), Christopher Sloan (Emcee), Katherine Tokarz (Ensemble), Charlie Williams (Ensemble), Dana Zihlman (Ensemble).
*
Before she became a theatre name, appearing on Broadway in Beauty and the Beast and Les Miserables, Gibson was known as a hot-selling pop singer — the youngest person ever to write, produce and perform a No. 1 single ("Foolish Beat"). She has sold more than 16 million albums worldwide. In October 2002, she starred as Velma Kelly in North Shore Music Theatre's production of Chicago.
Drawn from Christopher Isherwood's "Berlin Stories," and the play I Am a Camera, Cabaret is set in the late 1920s when the Nazis begin to take power in Berlin. Decadent singer Sally Bowles seduces American novelist Cliff Bradshaw in an atmosphere of jazz and social decay.
The score includes "Don't Tell Mama," "Wilkommen," "Tomorrow Belongs to Me" and more.
All performances will be held in Memorial Auditorium at the Progress Energy Center for the Performing Arts. For more information, call (919) 831-6950 or visit www.nctheatre.com.
*
North Carolina Theatre (NCT) is a non-profit, professional regional theatre company that has been producing musicals in Raleigh, NC since 1984. "Through NCT productions, local artists, musicians and theatre professionals are given the opportunity to work alongside the very best actors, designers and directors that Broadway has to offer," according to NCT. "At the heart of NCT's mission is a strong dedication to youth education, performance and outreach through its 'Kids on Broadway' program that includes the NCT Conservatory for the Performing Arts."