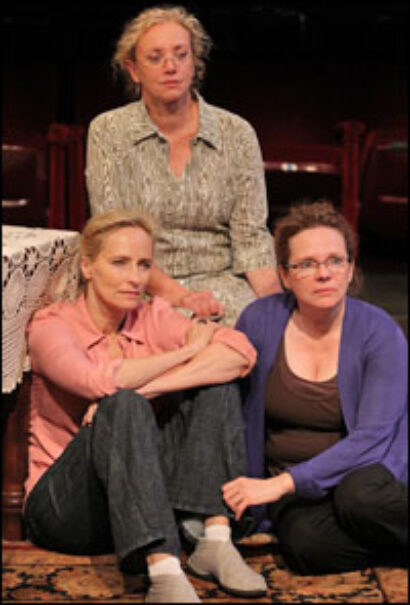 *
Editor's Note: The Off-Broadway universe — like the actual universe — is wide, unknowable and ever-expanding. No survey of the scene can even pretend to be exhaustive. Thus, this overview is not intended as comprehensive. Check out our Off-Broadway listings for more information throughout the season.
*
Richard Nelson's first time-specific play about the Apple family creeped in quietly in fall 2010. Called That Hopey Changey Thing, it had a grand cast — Shuler Hensley, Maryann Plunkett, Jon DeVries, Laila Robins, Jay O. Sanders and J. Smith-Cameron, but a low-key LAB production at the Public Theater. The work was experimental: Set in real time on election day, Nov. 2, 2010, it also opened on that date, lending an immediacy to the story. Reviews were good.
By the time Sweet and Sad came along in fall 2011, anticipation was greater. The second play revisited the Apples on the tenth anniversary of the Sept. 11 attacks, and the production opened on Sept. 11. Reviews were even better — among the best Nelson has ever received. This October, the final edition in the Apple Family Trilogy arrives at the Public with Sorry. The work will show the Apple family gathering for a meal on the morning of the day the country will choose the next president. Opening is Nov. 6. Our turbulent country's real drama, of course, will begin the day after.
Nelson's Apple plays have been, to date, pretty straightforward and sincere in their naturalism. Other playwrights whose work will bow Off-Broadway this fall, however, tackle the United States' myriad traumas — past and present — from a variety of artistic angles.
Photo by Joseph Marzullo/WENN
Dramatist
Douglas McGrath
looks at a speech that forever changed the character of American politics in
Checkers
, beginning at the
Vineyard Theatre
Oct. 10. "Checkers," of course, refers to the politically expedient and frankly manipulative 1952 television address Richard Nixon gave to save his vice-presidential bid from a potentially damaging accusation of financial impropriety.
Terry Kinney
directs. Casting of the latest stage incarnation of Tricky Dick (and there have been many over the years) is yet to be announced. Dramatist
Paula Vogel
looks even further back in American history for the inspiration of
A Civil War Christmas
, which begins in November at
New York Theatre Workshop
.
Tina Landau
directs the piece, in which Vogel uses the stories of historical and fictional characters to draw a picture of the nation on Christmas Eve 1864. (Not a terribly cheery yuletide, I'm thinking.)
Adam Rapp offers a jarring version of modern national catastrophe in Through the Yellow Door at Rattlestick Playwrights Theater. As the plot description goes, "The United States has been attacked. Men are being castrated, women enumerated. Ellen has been in hiding for 52 days, subsisting on very little, hoping against hope for her husband to return." Performances begin Sept. 13. Transport Group has landed a bit of coup in presenting the first-ever play by celebrated novelist Jonathan Franzen ("The Corrections," "Freedom"), to open at the Duke on 42 Street on Oct. 21. Though plot details are few, in the current national housing market no play called House for Sale can be considered a tranquil prospect. In Modern Terrorism, meanwhile, writer Jon Kern addresses one of the prime fears of our time by tracking the comic misadventures of a rogue group of 21st century terrorists. It's Durang-ian subtitle: Or Those Who Want to Kill Us and How We Learn to Love Them. Opening at Second Stage is Oct. 16.
Photo by Joan Marcus
Speaking of master satirist
Christopher Durang
, he is back
Vanya and Sonia and Masha and Spike
, a comedy at
Lincoln Center Theater
in which he throws a few Chekhov characters in a blender, along with a few other surprises. (Spike is movie star Masha's new boy toy.)
Sigourney Weaver, David Hyde Pierce
and
Kristine Nielsen
star in the
Nicholas Martin
-directed piece. It plays New Jersey's McCarter first.(Actual Chekhov can be found at
CSC
, which
Austin Pendleton
is directing
Ethan Hawke
in
Ivanov
, beginning Oct. 17.)
Vanya isn't the only person with family problems. In Simon Stephens' new Harper Regan, at the Atlantic Theater Company, a woman suddenly walks away from her husband, her daughter and her home, telling no one where she's going or whether she's ever coming back. Christopher Innvar, Jordan Lage, Madeleine Martin, Mary McCann, Mary Beth Peil and Gareth Saxe star. Opening is Oct. 10. In Daisy Foote's Him, at Primary Stages, two siblings struggling to keep the family store afloat. Previews begin Sept. 21. Bad Jews, part of the Roundabout Theatre Company's Underground series, opening Oct. 5, tells of two cousins fighting over their grandfather's Chai necklace. Daniel Aukin directs the world premiere of Joshua Elias Harmon's comedy.
An entire family is thrown into a tailspin when their estranged, drifter uncle arrives unannounced in Nick Payne's If There Is I Haven't Found It Yet, which gets its American premiere at the Roundabout on Sept. 20 (it's now in previews). Jake Gyllenhaal and Brían F. O'Byrne star. The lives of a father and his teenage daughter unravel in What Rhymes With America, the latest from that chronicler of under-directed lives, Melissa James Gibson. The work premieres at the Atlantic Theater Company on Dec. 12. And, in Wild With Happy, at the Public Theater, playwright Colman Domingo follows Gil, a young man (played by Domingo) who plans to scatter his mother's ashes in the place where she was most happy. Performances begin Oct. 9.
Photo by Joseph Marzullo/WENN
The prize for weirdest familial turmoil, however, goes to
Samuel D. Hunter
's
The Whale
, wherein a 600-pound recluse attempts to reconnect with his long-estranged daughter. (Tricky casting on that one, I bet. To say nothing of the costume designer's fabric bill.) Opening at
Playwrights Horizons
is Nov. 5.
The splashiest musical of the Off-Broadway fall season is Giant at the Public. Composer-lyricist Michael John LaChiusa and librettist Sybille Pearson have musicalized the sprawling Edna Ferber novel, which is still best known to the world as the 1955 film starring Elizabeth Taylor, Rock Hudson and James Dean. Michael Greif directs. The show premiered at Dallas Theater Center, which co-produces here. Opening is Nov. 13. No casting has been announced. Also due to sing this autumn is Bare, a new production of Jon Hartmere and Damon Intrabartolo's rock musical about teens coming of age in a Catholic boarding school; there have been revisions to script and score since regional productions, an earlier developmental run Off-Broadway and a studio cast album. Director Stafford Arima (Carrie, Altar Boyz) is its new steward. The show bows Dec. 9. Kirsten Holly Smith and Jonathan Vankin, meanwhile, have a musical about the life of singer Dusty Springfield, called Forever Dusty (starring Smith), opening Nov. 18 at New World Stages.
The starriest undertaking of the season may by Detroit, the long-awaited New York premiere of Lisa D'Amour's Pulitzer Prize finalist play about suburban anxiety. Anne Kauffman directs a cast that included John Cullum, Amy Ryan and David Schwimmer. Opening at Playwrights Horizons is Sept. 18. (It's now in previews.) Finally, the likeliest candidate for this autumn's most charming production is Ten Chimneys, a new play by Jeffrey Hatcher that imagines what life might have been like for the Fabulous Lunts at their famous home in Genesee Depot, Wisconsin. Byron Jennings and Carolyn McCormick play Alfred Lunt and Lynn Fontanne as they rehearse a new production of The Seagull with Sydney Greenstreet and a young Uta Hagen. Dan Wackerman directs the Peccadillo Theatre Company production at Theatre at St. Clements, opening Sept. 30.
Also in the wings for this autumn: The
Signature Theatre Company
kicks off its
David Henry Hwang
season with a new production of
Golden Child
, beginning Oct. 23, and a revival of
August Wilson
's
The Piano Lesson
begins Oct. 30;
Keen Company
will revive
Craig Lucas
and Norman René's musical tapestry of the songs of
Stephen Sondheim
,
Marry Me a Little
, opening Oct. 2;
Culture Project
brings back
The Exonerated
, its play about wrongly accused convicts, with a rotating cast, opening Sept. 19;
TACT/The Actors Company Theatre
offers a new production of
Brian Friel
's
Lovers
at The Beckett Theatre, opening Sept. 27;
Red Dog Howls
,
Alexander Dinelaris
' drama about a man who learns about a hidden family history from his father's pen pal, is at New York Theatre Workshop, opening Sept. 27;
Don't Go Gentle
, a new
Stephen Belber
play about a retired judge who volunteers to do pro bono legal work with an ex-con with a troubled teenage son, plays at
MCC Theater
, opening Oct. 15;
Disgraced
by
Ayad Akhtar
, the latest play in LCT's new Claire Tow Theater, about a dinner party hosted by a Pakistani-American lawyer and his white artist wife, will premiere Oct. 22; the Public Theater unveils
The Twenty-Seventh Man
, the world premiere of
Nathan Englander
's play, based on his short story of the same name, about a Soviet roundup of the giants of Yiddish literature in Russia, on Nov. 7; MTC continues its long relationship with
Terrence McNally
, by presenting the opera-themed
Golden Age
, starring
Bebe Neuwirth
and
Lorenzo Pisoni
, to be unveiled Dec. 4;
Francine Volpe
's psychological thriller about a single mother who is forced to face someone from her haunted past,
The Good Mother
, will open at
The New Group
on Nov. 15;
Amy Herzog
(
4,000 Miles
) brings her latest,
The Great God Pan
, about a journalist whose life it thrown off the rails, to Playwrights Horizons in November; and
LAByrinth Theater Company
brings in
Radiance
,
Cusi Cram
's play about a mysterious stranger whose arrival at a seedy bar turns its universe upside-down.