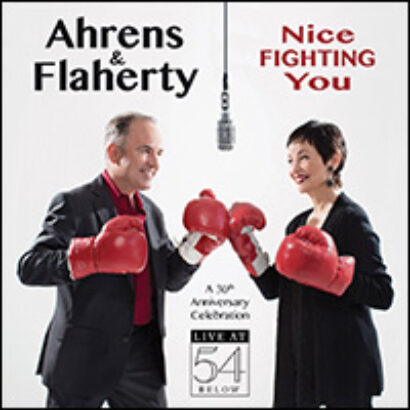 *
With the approach of their 30th anniversary as a songwriting team — and with two major, big-budget musicals scheduled for 2014 — Lynn Ahrens and Stephen Flaherty decided a celebration was in order, so they booked themselves into 54 Below for a weekend September 2013 and invited a few friends to drop by to sing assorted Ahrens and Flaherty songs.
This casual-sounding plan grew overstuffed; it turns out that Ahrens and Flaherty have an awful lot of friends, and they all were thrilled to get in on the party. The typical 54 Below act, booked in for a few nights, might include two or three singers and a dozen songs. Nice Fighting You (the title borrowed from a lyric in Lucky Stiff, the delicious Off-Broadway musical with which the pair marked their mainstream debut) played six performances over three nights. The guests ballooned to a total of 17, all but five with Tony nominations and/or wins. The bill also included the songwriters, who did some talking and a little singing, and a very busy band of five led by Ted Sperling. The talent was warehoused, if you will, with a different assortment at each sitting; some of the performers rushed over during four-show weekends for the 11 PM sets. Instead of a 12 or 14-song Ahrens and Flaherty sampler for this party, someone attending all six performances would have heard three dozen.
Nobody, one imagines, sat through all six sessions; I, myself, attended the second — which included Flaherty himself, singing and acting — and had a thoroughly enjoyable time. The good folks at Broadway Records, though, recorded the whole thing and collated it into two discs containing 48 tracks (introductions included). Nice Fighting You can be described as pure joy. I have appreciated the work of this pair since discovering Lucky Stiff; anyone who can write musical comedy songs like that is OK in my book. While I haven't been exactly enamored of every show they've written, I am highly appreciate of most of the scores. Listening to Nice Fighting You, you are likely to be surprised by the parade of wonderful numbers. You hear selections from Once on This Island or Seussical, say, and think: yes, these songs are good! The album starts off with a charming Ahrens and Flaherty welcome, after which Liz Callaway inaugurates this journey to the past with the Oscar-nominated "Journey to the Past," which she introduced in the animated 1997 film "Anastasia." On comes LaChanze, recreating "Waiting for Life" from Once on this Island.
This is followed by a second original cast performance, Kecia Lewis with "Mama Will Provide"; and then "Rain" from
Quentin Earl Darrington
, a Tony nominee for the revival of
Ragtime
. (
Once on This Island
has fallen out of the rotation on my personal jukebox, but after rehearing these songs I shall retrieve it from the upper shelf.) Next come three songs from
A Man of No Importance
:
Jessica Molaskey
doing a wonderful job with "Love Who You Love" (which was not one of her songs in the show) followed by
Sean McCourt
with "The Cuddles Mary Gave" and a rousing "Streets of Dublin." The latter is one of those songs that was a knockout in the original show, where it was sung by
Steven Pasquale
, and is altogether top-notch. Then come two songs from
Lucky Stiff
, with
Mary Testa
in perhaps her zaniest role. First is a "Rita's Confession," done as a duet with the droll composer; then comes "Fancy Meeting You Here." Three more selections from this score are heard later, including "Speaking French" from
Marin Mazzie
(of
Ragtime
) and "Times Like This" from Callaway.
We then get a brief preview from the two 2014 projects. Little Dancer is a new musical about the girl who modeled for Degas; it will premiere this fall at the Kennedy Center, with direction and choreography by Susan Stroman. Stephanie J. Block sings the lovely, lullaby-like "Ballerina," followed by Jeremy Jordan with "Dancing Still." Next comes "Raining" from Rocky, sung by Callaway (followed by a gag intro with Ahrens singing the German lyric) and making a far greater impact than it does at the Winter Garden. The first disc ends with "The Show Biz," a highly amusing duet from Kevin Chamberlin (of Seussical) and Lewis Grosso (of Newsies) that turns out to be a song written for Harry Houdini and Evelyn Nesbitt that was cut from Ragtime. Three fine songs from the ill-fated Seussical lead off the second disc: "Green Eggs and Ham" (from Lewis), "Alone in the Universe" (from Chamberlin and Grosso), and "Solla Sollew" (from Chamberlin). Then two songs from Bedazzled, an early musical that went unproduced because Ahrens and Flaherty neglected to get the rights. Callaway sings "Never Really Knew the Guy," followed by Annaleigh Ashford (from Kinky Boots) and Bobby Steggert (from the Ragtime revival) with "Close (But No Cigar)." Lewis returns with one of two original cast selections from Dessa Rose, "White Milk and Red Blood." (LaChanze returns later with "Something of My Own.") Steggert then gives us "Larger Than Life" from My Favorite Year, which — like quite a few of the selections — comes across much stronger than remembered from the show: a lovely, touching and accomplished song.
A second piece from that show, "Funny/The Duck Joke," is presented by Ashford and
Julie Halston
. (Somehow, this one has never worked for me — even when
Andrea Martin
was doing it — and still doesn't.) This is followed by
Rebecca Luker
singing "Something Beautiful" from
Legacy
, a future project.
And then comes Ragtime, led by Brian Stokes Mitchell and I don't know where you're likely to hear anything stronger and more convincing than Brian Stokes Mitchell singing Ragtime. He is joined by LaChanze for "Sarah Brown Eyes" and a stunning "Wheels of a Dream." On hand from the revival are Tony nominees Darrington (with "Make Them Hear You") and Steggert (with "The Night That Goldman Spoke at Union Square"). Mazzie also reminds us just how good she was in the original, with "Back to Before." In the recording's quietest and perhaps most touching moment, Flaherty sits at the piano and plays his instrumental title theme.
The recording ends with Mitchell singing a song he introduced (though not in the show) and frequently performs in concert, the actor's credo "I Was Here" from The Glorious Ones. Then on come the songwriters again, with a farewell combining "Nice" — as in "Nice Fighting You" — from Lucky Stiff with what might well be their own personal theme song, Seussical's "How Lucky You Are."
Songwriter "and-then-I-wrote" anthologies can be dull and unengaging — and there's nothing sadder than watching a tunesmith you admire lay a Horton-sized egg. Nice Fighting You — both in performance at 54 Below, and on the two-CD album from Broadway Records — is an exhilarating party that makes you cherish their work even more.
(Steven Suskin is author of "Show Tunes", "The Sound of Broadway Music: A Book of Orchestrators and Orchestrations," "Second Act Trouble," the "Broadway Yearbook" series and the "Opening Night on Broadway" books. He also writes the Aisle View blog at The Huffington Post. He can be reached at [email protected].)