*
Last spring saw not one but two exciting and promising musicals open Off-Broadway, The Scottsboro Boys and Bloody Bloody Andrew Jackson. Both of which held more interest than the 2009-2010 Broadway crop, which was headed by Memphis and The Addams Family. (Let it be added, lest we forget, that there were two other Off-Broadway musicals last season that deserve to be remembered, Yank! — which we still hope to see in a finished form — and The Kid.) The first mentioned pair, unusual and highly unconventional musicals with provocative subject matter, were quickly picked up for Broadway transfer. Before leaving the Astor Place/Union Square corridor, each went into the recording studio, allowing them to open on 45th Street with CDs in the lobby.
*
The Scottsboro Boys [Jay CDJay1421]
John Kander-Fred Ebb-Susan Stroman musicals don't come along every day. No, but they do come along. A 1987 Off-Broadway revisal of Flora, the Red Menace was only minimally interesting; the production team came up with a reduced version of the show which worked on a small scale but diminished a Broadway score that had sounded exuberant at the Alvin. (That's the Neil Simon, in another age.) The 1991 Off-Broadway revue And the World Goes 'Round was one of the best songwriter or jukebox revues we've seen, thanks to a refreshing point of view and dazzling choreography by the then-new and unheralded Ms. Stroman. This led to a big, original Kander-Ebb-Stroman Broadway musical in 1997, Steel Pier, which went down in the almost-but-not-quite column. One of those shows with an intriguing concept — the action placed within the context of a Depression-era Atlantic City dance marathon — which proved unworkable, especially when the leading lady's handsome and personable dance partner was an aviator who turned out to be dead the whole time. This despite the finest Kander & Ebb score since Chicago, back in 1975. Following Steel Pier, Ms. Stroman met Mel Brooks and The Producers, which launched her into an altogether different league.
What does not enter directly into the paragraph above is the 1996 revival of Chicago, a show which was ejected from the Richard Rodgers Theatre after three months to make room for the aforementioned Steel Pier. Causing Chicago to move from the Nederlanders to the Shuberts for some 5,700 additional performances (so far), while the Rodgers struggled through the next five years with four big flops. Oh, the perils of theatre booking!
photo by Paul Kolnik
The still-running Chicago does not have Stroman on its personnel list, but it does have a book adapted by David Thompson (co-creator of And the World Goes 'Round, librettist of Steel Pier and the cut-down Flora) and producers by the name of Weissler. So when the Kander-Ebb-Stroman-Thompson The Scottsboro Boys opened at Off-Broadway's Vineyard last March, Barry and Fran Weissler quickly determined to bring it to Broadway. This despite tough subject matter and a critical reception that, while generally favorable, did include some positive-but-qualified reactions in high places. The thinking of the Weisslers, I would expect, was that Scottsboro was so good — and so important, as these things go — that it demanded to be seen. And they had made so much money on Chicago — millions upon millions, really, a return that I expect has been topped only by the likes of Les Miserables and Phantom — that they owed it to Kander, Ebb, and the theatregoing community as well. The Weisslers are high among the most profit-conscious producers in the business, but my guess is that they went into Scottsboro hoping for the best but prepared to take a loss on this piece about nine Alabama boys falsely accused of raping two white women and all but lynched by the so-called Southern justice system. Not many chuckles here.
But yes, one of the finest scores by Kander & Ebb. After two viewings and a few hearings, I place Scottsboro up there with Cabaret and Chicago. (I am one of those people who are have never been able to appreciate Kiss of the Spider Woman; fans of that score might understandably include it on their short list.) I am not yet ready to decide the order in which I would place Cabaret, Chicago and Scottsboro. But let's just say that I think this new score is notable. Kander & Ebb have taken a decidedly difficult historical tale and used songs to make it work on many levels, and excitingly so.
If Chicago was a self-described "musical vaudeville," Scottsboro is a musical minstrel. As with the Roxie Hart show, Kander & Ebb had a strong choreographer-director who seemed willing and eager to sculpt the show musically; this in contrast to the usual method, in which the writers choose the song slots and write the show long before the director is selected. The result is a string of songs that are not only good in themselves but well-conceived musical numbers. "Electric Chair," for example, or "Make Friends with the Truth." We cannot tell from our theatre seat whether these two — the first accompanied by an electrified dance which joltingly punctuates the music, the second a "Saga of Jennie"-like tale with silhouetted dancers and shadow-puppets — were conceived with Ms. Stroman in the room. But on stage they come across as a close collaboration between composer, lyricist and choreographer. "Nothin'," too, seems to have input from Stroman; this is presumably a follow-up to Chicago's "Mr. Cellophane" but with a twist. (The Chicago song was patterned on Bert Williams' classic "Nobody," a pastiche written for a white shlub; here, Kander & Ebb give this to a character that we can more directly compare to Williams.)
Finest song of the show is "Go Back Home," with one of Kander's strongest and most lovely melodies. What a beauty!, and with a so very tender lyric. By Ebb? By Kander? It's impossible to tell with this score, as Kander finished the job following Ebb's death in 2004. When did Kander last write a song this good? Not long ago, as it happens; "Summer with You," a lilting, bittersweet waltz with music and lyrics by Kander turned up last fall on Rebecca Luker's CD "Greenwich Time." (Don't take my word for it; go download the song and listen.) But let's go back to "Go Back Home"; simply stunning. What's more, the Scottsboro CD includes an added bonus of Kander performing the song.
And let's have a word for the music department: music director/vocal arranger David Loud, arranger Glen Kelly, and orchestrator Larry Hochman. This is the best sounding Kander show in years; the band is small — only eight pieces — but Mr. Hochman has done a fine job of choosing his instruments and combining his colors. And the vocal work from Mr. Loud is strong, especially when he has his nine Scottsboro boys raise their collective voice.
The CD presents the show as performed at the Vineyard. Most of the cast made the transfer uptown, but several did not. Most critically, Brandon Victor Dixon — who plays Haywood, the lead among the Scottsboro boys — opted to take a different job. He was exceptionally good at the Vineyard and on the CD; fortunately for everyone, his Broadway replacement Joshua Henry does equally well. Central to the proceedings is John Cullum, as the minstrel show Interlocutor (along with the judge and the governor). Cullum here gives yet another in a long line of superb musical theatre performances going back to 1965. His solo, "It's Gonna Take Time," is included on the CD but was cut from the Broadway version. A loss, as the song has something to say.
Invaluable to the proceedings are Colman Domingo and Forrest McClendon as Tambo and Bones, the vile sheriffs, and the lynchpins of the trials; they have numerous assignments, including what might be the two most critical, and most difficult, songs ("That's Not the Way We Do Things" and "Financial Advice"). Also standing out among the universally excellent cast are Christian Dante White and Sean Bradford, offering high entertainment as the two prostitutes who falsely accuse the boys.
Will The Scottsboro Boys be able to build its way to a healthy run? Hopefully so. I remember asking the same question in this column several years back when discussing the original cast album of The Light in the Piazza, which in the weeks just after the opening was nervously struggling to find an audience. Things worked out well for Light in the Piazza, with the rewards garnered not only by the deserving authors but by the audiences and CD listeners who got to enjoy it. Let us hope that the same fate awaits The Scottsboro Boys.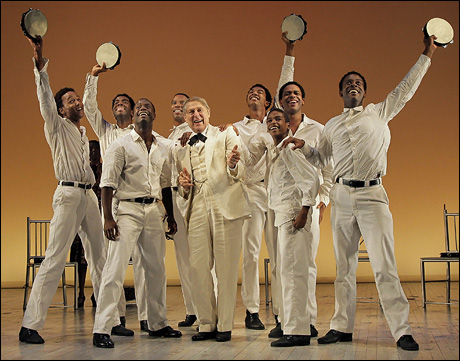 photo by Paul Kolnik
Bloody Bloody Andrew Jackson [Ghostlight 8-4443]
Bloody Bloody Andrew Jackson opened at the Public Theater just after The Scottsboro Boys premiered at the Vineyard, and opened uptown at the Jacobs just before the other. Both shows had similar critical and public receptions both off and on; the Off-Broadway runs were well attended, the Broadway runs have started out the opposite. Both are hard sells, with no stars and one-sentence synopses that don't exactly impel prospective audiences to Telecharge.com. "A hilarious musical about an unwed mother on a Greek island with a teenage daughter, three ex-boyfriends, and two dozen ABBA tunes" attracts a certain type of buyer. "A hilarious musical about President Andrew Jackson and his campaign to take back the guv'ment from the politicians and simultaneously eradicate the Injuns" is likely to appeal to a narrower swath.
Bloody Bloody Andrew Jackson is a wild and scabrous satire, it seems to me, but it has been dividing audiences uptown. So be it. It is written and directed by Alex Timbers, of the avant garde theatre company Les Freres Corbusier, and it features a star-making performance by Benjamin Walker. The score is by Michael Freidman, of the investigative theatre company The Civilians. He has come up with a wild and eclectic score, filled with an incisive imagination. Not especially melodic, at least for traditional theatregoers. This is emo music, we are told, which is shorthand for emotional hardcore. Is it good emo? I'm not the one to ask. Is it good theatre music? Yes, but more viscerally effective than admirably crafted. Listening to the CD with more attention than possible while watching the show, I find two songs that impress: the well-fashioned and very funny "Corrupt Bargain," which coherently skewers political kingmaking; and "Second Nature," which comes near the end of the show (and the CD) and is the one song that might be termed pretty. At least to non-emo attuned ears.
This is one of those scores which, for me, works far better in the theatre — where all hell is, sometimes literally, breaking loose — than on the CD. Note also that this Bloody Bloody Andrew Jackson CD clocks in at a mere 27 minutes. Which is about the same length as High Button Shoes.
Jerry Bock

photo by Aubrey Reuben
REMEMBERING JERRY BOCK
Jerry Bock, who died on Election Day, was one of our finest composers. He was also one of the loveliest people I've met in this business. There is no rule stating that a songwriter or director or producer has to be kind and patient and nice, of course. Those traits don't, I suppose make them a better or worser songwriter or director or producer. I admired Jerry's work long before I got to know him.
Bock and Harnick, as men, were two separate and very different people; they worked together for only a fraction of their adult lives, a mere 12 years. But Bock & Harnick, as a team, seemed to be not two writers but one inseparable talent. I can take the work of Rodgers & Hammerstein or Rodgers & Hart or Kander & Ebb or Comden-Green-Styne and discuss the contributions separately. Jerry's work and Sheldon's work don't separate; the music and lyrics of She Loves Me (their most glorious creation) or Fiddler on the Roof (their most renowned creation) are inseparable. I have often mused that Jerry's music was the spark that made Sheldon's lyrics possible, and Sheldon's lyrics sound so perfect because Jerry provided him with a magic carpet. Their songs — with the exception of a handful of those for their one international smash — don't stand alone, outside the theatre. There's a reason for this. They were basically dramatists, who wrote scenes with music. Scenes with music don't make, and aren't intended to make, pop hits. Fiddler, oddly enough, proves the point. Who could imagine popular success for a song like "If I Were a Rich Man," in which a poor milkman prays to God? Or a song about 19th-century matchmakers? Song hits, but in spite of themselves.
The first Bock & Harnick musical, The Body Beautiful, is on the novice side, as is Mr. Wonderful (which Jerry wrote prior to meeting Sheldon). Their work on the other six — Fiorello!, Tenderloin, She Loves Me, Fiddler, The Apple Tree, The Rothschilds — is as well-crafted as anything anyone was writing. A list of favorite Bock & Harnick songs? Impossible. A brief list? Okay: "When Did I Fall in Love?," "My Gentle Young Johnny," "She Loves Me," "Ice Cream," "Dear Friend," "A Trip to the Library," "Far from the Home I Love," "Sabbath Prayer," "Go to Sleep, Whatever You Are," "What Makes Me Love Him?" "Oh, To Be a Movie Star". . . . Wait. I'm leaving out too many.
My to-do list has a note to call Jerry to tell him that I've found a new Bock & Harnick song. Not a new song, of course; just new to me. "Buffalo Belle," it's called, written when the boys were doctoring Baker Street. I've had the published sheet music for years, but it is inconclusive; finding the orchestration recently, though, I realized that this honky tonk pastiche about a sharp-shooting Annie Oakley-type was conceived to be punctuated with war whoops, cowbells, and gun shots: "Buffalo Belle [bang!], Buffalo Belle [bang!], queen of the Wild Wild West [bang! bang! bang!]." Canny, clever, perfect for the intended use, and delightful.
Jerry always loved to hear things of the sort, especially about orphaned songs that nobody every complimented him on. (He was thrilled a few years back when I told him I'd found "I Put My IBM Card in that Ole Pianola and It Played out My Whole Life Song," from the Henry Fonda play Generation, which he had all but forgotten.) But this is a phone call I won't get to make. When you called Jerry, you'd get a machine with his cheery voice singing a little jingle: "Please leave a message, and we'll get Bock to you!" Jerry won't get Bock to you, not any more. But there's always a beam of sunshine when you listen to Bock & Harnick. The boys called their publishing company Sunbeam Music, and I just now realize why.
(Steven Suskin is author of the updated and expanded Fourth Edition of "Show Tunes" as well as "The Sound of Broadway Music: A Book of Orchestrators and Orchestrations," "Second Act Trouble" and the "Opening Night on Broadway" books. He can be reached at Ssuskin@aol.com.)
*
Visit PlaybillStore.com to view theatre-related recordings for sale.