*
You know what's fun? Writing this column every week. I get to relive all the fun moments from the past week and write them up in a creative way. You know what's not fun? Re-writing this column. What do I mean? How about the fact that writing this week's column took me a big chunk of Sunday afternoon (four hours!) and after saving it, it completely disappeared from my computer. Nothing.
Yes, I did all the search and recovery stuff you're supposed to do. After being in denial for an hour, I've accepted that it's gone, and it's time to start the whole thing over. Yay?
OK, here goes. Last Monday night, Andrea Martin invited James and me to see her perform at Carnegie Hall where the NY Pops was saluting the songs of Marc Shaiman and Scott Wittman. It was so fantastic, with amazing talent onstage, and the two of them have such an incredible body of work. Andrea performed "Blame Canada" from the film "South Park: Bigger, Longer, Uncut" and there is an Anne Murray reference in the song that reminded me of her hilarious Anne Murray imitation on "SCTV." Watch!
Patti LuPone was fantastic and belted so high in "Grin and Bear It," a sassy song from "Smash." I love it so much that I'm going to have her sing it at our Detroit show May 31. (Info/tix here.) Here's a video of Megan Hilty doing the song originally. Throughout the show, Martin Short made lots of appearances (a highlight was his rendition of "Simply Second Nature" from Charlie and The Chocolate Factory). At one point, he came out as Irving Cohen (the elderly Jewish composer) and was doing a string of vaudevile-style jokes that I loved! My fave was (said Irving Cohen style... very slow with an old-school Jewish accent) "Kim Kardashian is so dumb, she thinks soy milk... is Spanish... for 'I am milk.'" Suddenly, Capathia Jenkins stormed onstage and launched into "Stop The Show" which was written for Martin Short: Fame Becomes Me and highlights the trend on Broadway of large black women bringing down the house at the end of Act Two. My favorite lyric is "Now, if old Julie Andrews had a black maid in that play, well, then My Fair Lady would be still running today!" Her voice was incredible. She sustained an F that was clear as a bell and held forever! I deconstructed that song years ago because I'm obsessed.
As James and I left the concert, he asked me how I would have felt as a little boy on Long Island if I were told that one day I'd be at Carnegie Hall and know basically everyone on that stage. That leads me to right after the concert; we hightailed it to the Marriot because there was the Actors Fund annual fundraiser which, this year, was a salute to Disney's 20 years on Broadway. There was a show (put together by Thomas Schumacher) that featured hits from all Broadway Disney shows, including a reunion of the three Aida stars; Heather Headley, Sherie Rene Scott and Adam Pascal. We couldn't make the show because we were at Carnegie Hall but we wanted to be there for the after party where I ran into Adam. We chatted and we're both excited to do a show this summer together at the Art House in Provincetown.



Photo by Chris Cassidy
The last time we performed together in Santa Monica Adam told me about a hilarious/horrifying experience he had at a concert in Florida; years ago, he was touring by himself and singing his original songs. One night he was in Florida and performing for a typical Floridian audience (over 65 and Jewish). Around three quarters of the way into his show, he began to hear someone in the audience yelling out "Excuse me! Excuse me!" Turns out, it was an elderly Jewish man who wanted to say something to Adam. And by "say something" I, of course mean, "complain about something." The man said, "Listen, I'm sure your music is very nice, but we came here to hear some Broadway songs!" Adam explained that the show was advertised to feature his original music but the man wouldn't quiet down. "We want Broadway! We want
Broadway
!" Finally, when it looked the audience was on the verge of a revolt, Adam thanked everyone and said goodbye, cutting the last few songs in his set before a riot broke out. When he got backstage, the theatre owner apologized profusely. Adam assumed he shouldn't go to the reception, but the owner insisted and said it would be fine. When Adam showed up, another elderly man came over to say something, aka complain. "Listen, why did you run off the stage? You just left!" Adam explained that he didn't run off the stage. He had thanked everyone and said goodbye, and he felt it was appropriate because it seemed that people didn't want to hear the music he was performing. The man insisted he
did
want to hear Adam's original songs and he came there expecting to hear the whole concert. Suddenly, more and more people at the reception started joining in the yelling and saying the concert was too short. "We wanted more!" Finally, the theatre owner scurried over and whispered frantically to Adam. Turns out, after insisting that Adam should come to reception, he now told him that he, in fact, better get out of there ASAP!
That's right, Adam had to flee what was basically a retirement community before things turned ugly. He and I are both Jews from Long Island, and we know there is nothing more terrifying than altacockers who feel cheated. Just ask anyone in my mother's shul who's seen the crowd's reaction when someone's cut the line at the bagel Kiddush. Not since the film "Warriors."
At the Actors Fund post-show reception, James and I were seated with Michele Lee, who is so much fun. She played a dancer in Seesaw and I mentioned her great legs and how she wasn't showing them off in her current outfit. She told me she'd let me see them but she'd be subtle about it. She got up from the table, hiked up her pants an inch so I could see her ankle and then suddenly hiked them all the way up to expose the entire gam. Yowza! In conclusion, her legs are amazing and her version of subtle would play well in a stadium. At the end of the night, I took some pics of her and James but she kept checking them and telling me that James needed to learn the proper picture angle. She put both hands on his head and kept adjusting his hair and head angle. For ten minutes. It was adorable. As we left, I asked James the same type of question he asked me after Carnegie Hall; he grew up a major "Knots Landing" fan and I wondered what he would have felt as a young boy in Texas if he knew that one day he'd be sitting with Michele Lee and she'd be teaching him the art of the perfect head angle for a pic. In conclusion, being in show business and living in New York is amazing!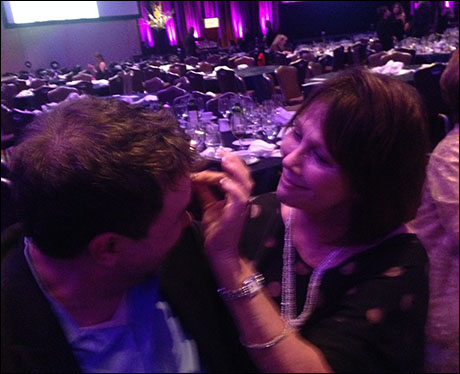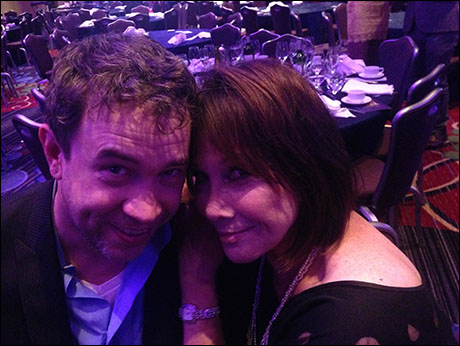 Speaking of James and show business, his play
Unbroken Circle
was just published! It's getting its regional debut at the Woodlawn Theater in San Antonio, TX this fall, but you can read the play and/or license it by going
here
. And speaking of
Unbroken Circle
, James and I were freaking out Tuesday morning when we heard that
Anika Larsen
got a Tony nomination! She played his sister at the St. Luke's Theatre and was cast in
Beautiful: The Carole King Musical
during the run of the show. This has been an amazing year for her:
Unbroken Circle
was the first straight play she was ever cast in,
Cynthia Weil
was the first featured role she ever originated on Broadway and now she has her first Tony nomination! We're so happy for her! Here's the
"Obsessed" video I did with her
where I highlight why I love her voice.
Speaking of voices, I saw Audra McDonald in Lady Day at Emerson's Bar and Grill. Not surprisingly, she was fantastic. We were texting afterwards and commenting that she did the most belting in that show that she's done since the Dreamgirls concert I put together for the Actors Fund in 2001. I just found this clip, and it's so fun to see where everyone from the Dreamgirls concert is today: Lillias White and I recently did the Playbill cruise and she just got a rave review in the NY Times for her show at 54 Below, Heather Headley's won a Grammy, Billy Porter won a Tony, Norm Lewis is starring as the Phantom and Audra is up for her 6th Tony award. Brava!
At "Seth's Broadway Chatterbox" I had Larry O'Keefe (the composer/co-lyricist of Heathers) and most of the Heathers cast. First of all, they wound up performing four songs (!) and were so great! The whole "Chatterbox" can be seen on SethTV.com, but here's my favorite part (besides the songs); I asked for a horrific audition story and Molly Hager raised her hand right away. A few years ago, she went into an audition and decided to be super-friendly and shake everyone's hand. Well, when she began to shake hands she completely regretted it because there were 12 people behind the table and it got awkward quickly.
A little while later, she got an audition for the Off-Broadway production of Dogfight and vowed she'd never make the same mistake again. No handshaking! Well, she walked in and Joe Mantello (the director of Wicked) came over to her. He introduced himself and held out his hand. Nothing. No movement on her part. That's right, Molly had so convinced herself to not shake hands that she could not, nay would not, lift her hand to shake Joe's. Literally arms immobile at her side. Joe's hand remained in the air and eventually he returned to his chair. Spoiler alert: She didn't get the job. I am so obsessed with that story. It shows what happens when you have one thing set in your mind and your body refuses to allow you to change it. Here's a live reenactment of a similar story in this Obsessed with Richard Roland.
This Saturday, I'm going to the Poconos to do a show with the great Andrea McArdle! Tix/info here, and deconstruction of her amazing voice here. And now, my re-writing is done. Peace out!
(Seth Rudetsky is the afternoon Broadway host on SiriusXM. He has played piano for over 15 Broadway shows, was Grammy-nominated for his concert CD of Hair and Emmy-nominated for being a comedy writer on "The Rosie O'Donnell Show." He has written two novels, "Broadway Nights" and "My Awesome/Awful Popularity Plan," which are also available at Audible.com. He recently launched SethTV.com, where you can contact him and view all of his videos and his sassy new reality show.)