I can't decide why I feel down. Because it's the closing weekend of [title of show]? Or because I'm literally weighed down because I just went out to dinner with my sister and ate non-stop starting with the bread basket? As my therapist loves saying, "Can't it be both?"
I have a good friend named Kali Rocha, and I once told her, "Never underestimate the closing of a show." AKA, it's always depressing. Especially when you love doing it. This show is so much fun; there are tons of laughs I get to play, great solos, beautiful harmonies, so many fun dance steps, and Tyler and I [AUDIO-LEFT]only leave the stage for three minutes! The thing that helps me not be depressed is remembering that after almost every show I've done I've thought, "I will never have a part again that is this much fun to do." And then, thankfully, I have. I literally remember leaving a benefit I put together at the Triad and thinking that it was the highlight of my career and I'll never top it… and that was 15 years ago! I've now realized that there's usually something great around the corner. Or, Judy Kuhn-style, just around the riverbend. Which reminds me…I know that Tyler is a great dancer, but I was curious whether he had sassy high kicks. Turns out, he used to have them, but he ripped his hamstring in college! How? Well, one of his signatures at CCM (Cincinnati Conservatory of Music) was doing all the role and lines in the whole final scene of Sunset Boulevard for his friends. Then he'd segue into "Just Around the Riverbend" from "Pocahontas." He'd go into a split, and his legs would represent the boat she paddles. Right before the end of the song, he went into a split, but prefaced it by doing a high kick, holding it in his arms and then dropping his crotch to the floor. And….rip. Literally tore his hamstring. I guess if you're gonna rip it, at least have a great story attached. Speaking of Tyler, we all just recorded our favorite Facebook Status video yet. Completely obsessed with all of it. Especially when we sing "But if you really hold me tight. All the way home, I'll be warm…." And Tyler adds, "ish!" Watch here: http://sethrudetsky.com/blog/2010/12/11/my-favorite-tyler-maynard-facebook-status-video/
My friend/comedy idol Andrea Martin came out to New Jersey with my oldest sister, Beth, for the Saturday matinee. Andrea could not look more stunning because she works out and eats incredibly well (remember the healthy part when you hear the rest of the story). She stopped by my apartment first because she had a housewarming gift for us. We were mortified because we totally haven't finished unpacking. Andrea loved the apartment and didn't comment on how messy it was…at first. She looked around and told us, "This place could be fabulous!" She then immediately leaned towards me and qualified it with, "It's not yet, but it could be." Then James and I felt like the worst parents; Juli wanted to do her signature line that she did in the reading of James' play. She remembered it word-for-word but did the whole thing while eating, making it pretty much unintelligible. Andrea told her that the number one rule for acting is, "Don't have food in your mouth." Then when Andrea asked what Juli was actually eating, Juli told her she was munching on a mouthful of organic carrots. Not. No, Juli actually told her that she had just gone into the kitchen and scooped up… a big spoonful of butter! Literally, butter. Andrea didn't believe her, so Juli, of course, had to take her into the kitchen and show her the stick of butter with a spoonful taken out. We were mortified. A mouthful of butter ruining a comedy line. Bad parents and bad stage parents. Speaking of Andrea, she's my guest star in my new talk/This is Your Life-type show on Monday, Dec. 20. I'll be interviewing her and asking her friends Debra Monk and Victor Garber for stories about her from their long friendships. Victor first met Andrea when they both starred in Godspell in Toronto in the early 70's! For reservations, go to http://www.triadnyc.com/ and watch this hilarious reel of some of Andrea's most hilarious performances: http://sethrudetsky.com/blog/2010/12/13/andrea-martins-best/
It was just my sister Beth's birthday, which brings me to one of the many bizarre things that always seems to happen to her. A few years ago, she was at a nail salon getting a manicure. The Korean owner and her were talking about birthdays, and she asked Beth how old she was. Beth said 45 and waited for the signature, "No! You look 30!" Well, she did get the "No!" But unfortunately, that wasn't all. First she got the, "NO!" Beth smiled. Then the nail salon owner added, "You're 60!" Wow. Maybe it was language barrier? Even though the owner had lived here for 30 years. I had Billy Porter at my Sirius/XM Live on Broadway this week, and he was promoting his fabulous new position on the board of the Empire State Pride Agenda, which is a NY-based gay rights organization. Billy is one of my favorite singers, but right now he's of the stars of the non-musical Angels in America. There's going to be a performance where all the money goes to the Empire State Pride Agenda (and you get to meet the cast). It's on Thursday, Jan. 6, and here's the link: http://www.prideagenda.org/FundraisingEvents/tabid/151/Default.aspx. When I asked Billy if he would sing a song at my radio show he said, "Well, it has to be low. I'm an actress now." Hilarious. I made him tell the story of his audition for the revival of Into the Woods. He auditioned for the role of the Baker for the director, James Lapine. After his audition, James told him that they were considering making the Witch a man! James asked Billy if he would mind going home and learning "The Last Midnight." Billy looked at him and said, "Learn it?" Then he looked at the pianist and said, "Hit it!" He then launched into the song by heart…in the original key! PS, The very first deconstruction I ever did online was of Billy. Watch his brilliance: http://sethrudetsky.com/blog/2008/01/22/daily-deconstruction-billy-porter/.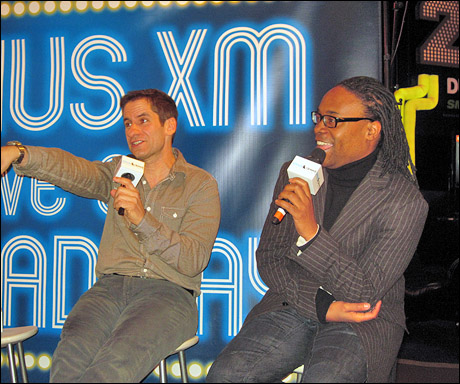 photo by Robb Johnston



photo by Krissie Fullerton
On Monday and Tuesday I hosted the Gypsy of the Year competition, which was thrilling and moving. It was an amazing feeling to stand in the wings and watch Carol Channing do the cakewalk from Hello, Dolly! I couldn't believe I was watching such an iconic moment re-created with the actual person who did it! However, she's about to turn 90, and a part of me was wondering how together she was. Was she just on automatic pilot and not fully mentally present? Cut to, after the number, Lee Roy Reams and Tyne Daly presented Carol with a 90th birthday cake. As Lee Roy was turned towards Carol and congratulating her, Carol was edging away from him. Hmm…was she confused? Hardly. After two minutes of her edging away and him talking to her while facing sideways, she finally said, exasperated; "Lee Roy! I'm trying to make you face downstage!" That's right. She's a sassy Broadway baby. Then, she walked to the audience and told everybody that she had advice" "Don't take cortisone! It ruins your bones!" she yelled. "I coulda been high-kickin' during this opening number, but instead I'm hobbling around here." Of course, cortisone is a steroid, and that's exactly what I was taking last week to help my voice. Great. Too little too late. Why couldn't she have warned me when she was 89? Selfish.
Playbill.com gave me a flip camera, and I had fun filming stuff from my backstage perspective. It was so fun seeing Molly Shannon do her "I'm fifty!" character while behind me I got Sean Hayes and Kristin Chenoweth cracking up. Also, I caught Lin-Manuel Miranda hiding backstage, waiting to surprise the cast of In the Heights. Watch here!
People kept commenting about the recording I played during my opening segment that featured me singing The Most Happy Fella when I was three years old, so I decided to post it here. It's from a deconstruction of Susan Johnson. Obsessed with her voice!
We had our [title of show] cast party at Lauren's apartment. My friend Jack Plotnick had everyone rapt as he was telling them his theory for dealing with auditions. He's so good at making people not want to vomit/void at auditions. His classes are happening all this week: Go to www.JackPlotnick.com for the schedule. Then we launched into theatre mishap stories. Alan Campbell (Lauren's husband) talked about doing Sunset Boulevard opposite Glenn Close. At the end of the show, Norma Desmond (Glenn) shoots Joe (Alan) three times, and he falls into the pool. Well, during an early preview, the gun didn't go off. Nor was there a sound effect that would make it sound like a gun going off. So how was the problem solved? Glenn pointed the gun and literally went, "Bang!" That's right. Followed by "Bang." Then he added a third "Bang." Jack was obsessed with the fact that she didn't make a sound like a gun going off, she literally said the word "bang." Then we all played a game Jack loves to play that he calls "Whole Movie," which we all decided is a horrible name. It's sort of like charades, but instead of acting out the words of the title of a movie, you instead silently act out classic scenes from the movie. Alan got up and wept on his knees as he started digging. He then started eating some root vegetable, and I realized it was "Gone With the Wind." Lauren did the ol' fake orgasm chestnut from "When Harry Met Sally," I did Madeline Kahn stumbling down the hill from "Paper Moon," and essentially we played for two hours. It was a great way to end a super fun period of my life, and I hope I get to work with the cast again on something else. And/or simply get another job. Anybody? Nobody. Peace out!
*
Seth Rudetsky has played piano in the pits of many Broadway shows including Ragtime, Grease and The Phantom of the Opera. He was the artistic producer/conductor for the first five Actors Fund concerts including Dreamgirls and Hair, which were both recorded. As a performer, he appeared on Broadway in The Ritz and on TV in "All My Children," "Law and Order C.I." and on MTV's "Made" and "Legally Blonde: The Search for the Next Elle Woods." He has written the books "The Q Guide to Broadway" and "Broadway Nights," which was recorded as an audio book on Audible.com. He is currently the afternoon Broadway host on Sirius/XM radio and tours the country doing his comedy show, "Deconstructing Broadway." He can be contacted at his website SethRudetsky.com, where he has posted many video deconstructions.)