OK…When I told my trainer I was about to open in [title of show] (where I open my shirt), he asked me if I wanted to take fat burners for the final stretch. I asked him what was in them and he shrugged and said, "I don't know." And, I'm out. However, ironically, for all my fear of fat burners, I've now gone on steroids. Not to improve my rack, but because my voice was clanking! At the beginning of last week, I began to feel like I did when I played Keyboard Two for [AUDIO-LEFT]Les Miz (incredibly sleepy), and I didn't know if it was because I went to bed late or because I was sick. Well, cut to Wednesday night: I'm in the middle of singing the opening number, and my voice decided not to make an appearance. It kept going in and out and finally, at the end of "Part of It All" when Tyler Maynard is on a crazy high sustained A and B flat, I "supported" him by not only hitting my F in a pathetically weak head voice, but by having to breath three (3!) times while he was holding the note. Devastating. I was relieved that after that, the only big exposed section I had to sing was in the finale. However, my relief was short-lived because a few songs later, Tyler started singing "Lots of things are happening after the festival," and I realized I had to then echo him on those same high notes. So within those eight words he sang, Lauren Kennedy and I were able to have an under-the-breath conversation in front of the audience.
SETH: (Whispered) Oh my God! I forgot I have to sing this!
LAUREN: (though side of mouth) Do you want me to sing it instead?
SETH: (hitting high note on a hum and then nodding) No. I think I have it.
Magically, I was able to hit it. But I knew my voice was on its last cord. The next day I had a meeting with the Actors Fund to discuss an upcoming concert that I can't yet discuss, but suffice it to say, will be AMAZING. I told Joe Benincasa (the head of the Fund) that my voice went on vacation, and he immediately called the Al Hirschfeld Free Health Clinic and told them to make me an appointment. I, of course, thought I was getting amazing special treatment but turns out, all you have to do is be involved in any aspect of the entertainment field and you can get seen. Delicious. I went in, was seen by the doctor right away and he told me I had a virus, AKA, antibiotics won't help. He said he would normally tell someone to just wait it out, but because I had to sing, he prescribed me prednisone. Well, the stage manager just told me I sound back to normal. YAY drugs! Now I know why my parents took me to see Hair as my first Broadway show. Speaking of Lauren Kennedy, watch the newest video I just made with her! http://www.playbill.com/multimedia/video/4447.html



photo by Lauren Kennedy
This week my friend Richard Roland came to the show with Paul Castree. We drove together and were reminiscing over our various shared stories. My favorite is when Richard was at Don't Tell Mama and was passing by a guy he had a crush on. He was so nervous that he mentally prepared what he would say if the guy spoke to him. Unfortunately, there was no room for variation in Richard's head, so the conversation went like this-
CUTE GUY (walking by): Hi, Richard.
RICHARD: (as prepared, with crazy fake smile) Fine.
It reminded us of when our mutual Forever Plaid friend, David Benoit, was getting off the phone and was looking at his appointment book at the same time. He made a mental note to himself that he had an appointment at three that afternoon. This is what the conversation should have sounded like: DAVID'S FRIEND: Talk to you later.
DAVID: (sing-song) Bye-e-e!!
But this is what came out:
DAVID'S FRIEND: Talk to you later.
DAVID: Three-ee-ee!
And, finally, my favorite. A great actress I know, let's call her Simcha, was in Orso's. She's slightly self-involved and was walking through the restaurant still in full stage make-up because she had just come from playing her role in a big hit. My friends were at a table as "Simcha" walked by, and this is what they said happened.
MY FRIENDS: Hi there, Simcha.
SIMCHA: (Smiling, but not making eye contact) Thank you…
I started last week at Ann Harada's hilariously written/performed Christmas Eve with Christmas Eve. She began (as her character from Avenue Q) by telling us that her Christmas wish was to sing songs with Broadway leading men. She went on to remind us the plot of Dallas when Bobby Ewing died but suddenly turned up in the shower a year later and the whole previous season was explained as a "bad dream." She then remarked that some of us might remember she did a show last year where her dream was to sing with Broadway leading men, and some songs and jokes featured tonight might be exactly the same. She then told us that whenever we felt that way we should remind ourselves it was all a "bad dream." The show, however, seemed completely new to me, and I was amazed that she was able to keep the comedy so consistent throughout the dialogue and the songs. I had so many favorite moments. For the first song, Jose Llana came out shirtless, "as instructed by the stage manager." Ann informed him that he was without a shirt because she wanted to sing a duet from Wicked as Fiyero. Jose told her that he saw the original cast, and Fiyero always had his shirt on. Ann remarked, "Perhaps that's why he didn't win the Tony." Good point. She also brought out Willy Falk, the original Chris from Miss Saigon. I'm obsessed with her spin on the lyrics from "The Last Night Of the World." That's the love song that Chris, an American GI, sings with Kim, the Vietnamese "dancer." The lyric goes "On the other side of the earth, there's a place where life still has worth, I will take you…" and then Kim sweetly sings, "I'll go with you." Of course, Ann hilariously played the real situation of the song, AKA Kim doesn't want to stay in horrible war-torn Vietnam. So when he sang, "I will take you," her simple melody was instead the sound of her yelling, "I'll go with you!!!" It was such a brava.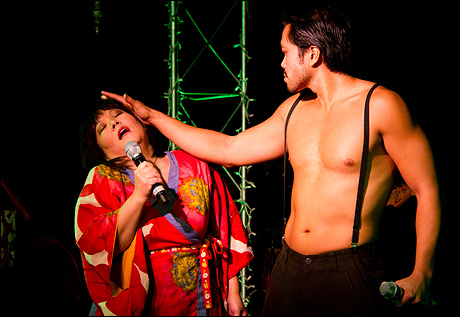 photo by Krissie Fullerton



photo by Carol Rosegg
The most thrilling part of the week happened at the Sunday matinee of [title of show] when the real Hunter, Jeff and Heidi came to the show. I was much more nervous than I was for opening night. I was literally shaking! But it was a good audience, thankfully, and I loved performing it in front of them. When Tyler and I got to "Part of It All," which is about being on the "inside" of the Broadway scene, I got so emotional that I was performing it in front of the real Hunter and Jeff that I started to cry. Then, I had to immediately shut down my emotion (which I perfected in my teens) or else I would have sounded pre-steroid. The same thing happened to Tyler a week before. The night that Susan Blackwell came, he was thinking about how he met her when he was a kid. They both knew each other from Ohio where Tyler's mom was Susan's teacher! Susan has actually known Tyler since he was eight. At the end of the show, Tyler was standing onstage and he realized that not only was Susan in the audience but his mom was there, too! Then the character of Susan onstage (Susie Mosher) was singing "I am eight years old in Ohio…" and Tyler had to make a conscious choice not to get emotional and steal all the focus from Susie. Audience: Why is that guy who's not even singing weeping on the side? Let's watch him instead.
Hunter and Jeff were so gracious and complimentary to us. I've been obsessed with this show since it was at NYMF, and it was so unbelievably exciting to be doing it in front of them. Jeff said he had a crazy moment in the audience because he remembered meeting me back in 1994 when I was playing piano for Grease. His friend Tom Schultheis had just joined the show and introduced me to Jeff on the subway. Jeff remembered thinking, "Wow! That's Seth Rudetsky. He plays piano on Broadway" and said it was bizarre that now he was watching me play him. They were both so funny in the talk back after the show. They began by addressing the issue of "Is the show too inside?" Essentially, it's people on in the inside who are always saying the show is too inside. How come no one asks if A Chorus Line is too inside? It's about an audition for a Broadway musical and what it's like growing up as a dancer. Cut! They were talking about how the show was specific and therefore universal. Because they both love Broadway, the opening scene is them talking about theatre. Hunter said that if they instead loved sports, the opening scene would have been them talking about baseball teams. And Jeff specified with, "The Jets!" Brava.
Today and tomorrow I'm hosting Gypsy of the Year, and I'm so looking forward to it! Get thee to BroadwayCares.org for tickets. The opening number features Carol Channing, and I saw the rehearsal of it featuring just the ensemble and I literally got tears in my eyes simply watching them do the back-up for Carol! I can't wait to see it fully realized.
And…I also have new shows coming up. I'm doing Deconstructing Broadway in Provincetown on New Year's Eve and New Year's Day! I'm being sponsored by Cape Air (meaning I'm getting a delicious flight directly to Provincetown) and the White Wind Inn (meaning I'm getting an amazing place to stay the whole week I'm there!). You can get tickets at https://www.ovationtix.com/trs/cal/1861/. Also, I'm starting a new series, which is like my signature talk show but it's combined with This Is Your Life, meaning I interview celebs and show sassy videos but I also bring up their friends/colleagues to tell funny (AKA dishy) stories about them as well! My first one is going to be Monday, Dec. 20 at 7 PM featuring Tony Award winner (and my comedy idol) Andrea Martin! So far I have two of her best friends coming to tell tales: Debra Monk and Victor Garber! You can get tix at http://www.triadnyc.com/ and it's called Seth's Big Fat Broadway Show. And, speaking of Andrea, she's going to be the featured performer in the Chelsea Symphony's Holiday concert this coming Friday, Dec. 10. She's the latest narrator for the fabulous "Night Before Christmas" that Aaron Dai wrote for a full orchestra and sassy narrator. The first year was Richard Kind, then David Hyde Pierce, then Ana Gasteyer, then Charles Busch and now Andrea. It's at 8 PM at the St. Paul's German Church in Chelsea, and more info is at ChelseaSymphony.org. And, on the subject of holiday concerts, let me say that the airwaves are filled with "holiday" songs which are all, of course, Christmas songs. There is a decided lack of Hanukkah songs and what few that exist are always overlooked. Recently, however, I saw a great version of one of the few "festival of lights" songs on Youtube. It was part of a "holiday medley" on a cruise, and though I'm sure even though all of the Christmas ones had a full band backing them up, the Hanukkah one was done completely a cappella. Typical. However, the singer (Amy Toporek) has excellent pitch and such a great voice that she makes it totally work. Listen to how fabulous she sounds! http://sethrudetsky.com/blog/2010/12/06/amy-toporek-sounding-great-for-hanukkah/. And, finally, I was obsessed reading the Michael Musto article in the Village Voice about Jackie Hoffman who's doing her new show at Joe's Pub. She was talking about the dichotomy of being in the critically panned but long-running Addams Family and told everyone, "The Addams Family is the most reviled, hated, loathed, sh**-upon, criticized, financially successful group of people since the Jews." She's still got it! Happy "Holidays," and peace out!
*
Seth Rudetsky has played piano in the pits of many Broadway shows including Ragtime, Grease and The Phantom of the Opera. He was the artistic producer/conductor for the first five Actors Fund concerts including Dreamgirls and Hair, which were both recorded. As a performer, he appeared on Broadway in The Ritz and on TV in "All My Children," "Law and Order C.I." and on MTV's "Made" and "Legally Blonde: The Search for the Next Elle Woods." He has written the books "The Q Guide to Broadway" and "Broadway Nights," which was recorded as an audio book on Audible.com. He is currently the afternoon Broadway host on Sirius/XM radio and tours the country doing his comedy show, "Deconstructing Broadway." He can be contacted at his website SethRudetsky.com, where he has posted many video deconstructions.)