*
I started the week in New Orleans. Before you get all jealous about the warm weather and amazing food, let me tell you what happened: I went there to do one of my Broadway @ series, this time with Sutton Foster.
The show was super fun, and Sutton did some of her signature songs ("I Get A Kick Out of You", "Gimme Gimme") and some that she never does ("I Still Believe In Love" from They're Playing Our Song and "Roll in the Hay" from Young Frankenstein). Speaking of "Roll in the Hay," she told us that she was asked during rehearsals whether she could yodel. She said yes (she could not) and then immediately got a CD called "You, Too Can Yodel" but sassily spelled "U 2 Can Yodel." She practiced and, turns out, she's now amazing at it. Watch!
Sutton also talked about her new TV show which is called "Younger" and was created by Darren Starr. It's about a 40-year-old divorcee who can't get a job... until she pretends to be 26! However, she said that the show has recently considered raising her character's age to 29. She paused and said she didn't know whether or not to be insulted.
Before I flew down to New Orleans, I had heard that there was going to be a winter storm in the South. I was nervous my Tuesday plane back home would be delayed but was relieved that it was scheduled for 6:15 AM (Sutton's was at 6 AM), and the storm wasn't supposed to hit until 10 AM. I knew I'd have a few hours leeway before it all began. On Monday night, I was having dinner before my show with Sutton when I got a phone call from Mark Cortale, the Broadway @ producer. He told me that Sutton's plane had been moved to 5:30 AM. Yowtch, that's early! I felt bad for her but then felt much worse when he told me that my plane wasn't moved earlier... it was simply cancelled! I assumed it was because the storm was supposed to hit a lot earlier. It wasn't. It was still not getting there until 10 AM. And, PS, the "storm" was supposed to dump a whole... wait for it... half an inch of snow. Apparently, they can't function in the snow because the planes have no de-icing machines and they can't de-ice the runways. I was in a full panic that I wasn't going to get a flight home and I'd miss Disaster! I immediately tried to get on Sutton's flight and was told it was sold out. What followed was hours of me, Mark and James trying to get me out of there. I even tried to get on an Amtrak train out of New Orleans to another city where I'd get a flight. Turns out, the only Amtrak that comes to New Orleans was scheduled for 7 AM the next day... and was already cancelled! I was having a breakdown.
Finally, Mark got me on a flight that left New Orleans at 6:45 and then went to Houston. The Houston flight would then get me in around 4:30 PM. Of course, James checked and found out that Houston was already being hit by the storm and everything was being cancelled. I knew I might not make it back to New York, but I didn't want to deal with it. I simply shut down emotionally (a wonderful tactic learned from a horrific childhood) and did Sutton's show. Then I decided I would go with Sutton to the airport the next morning and get on the waitlist for her flight. I got my wake-up call (at 3:30 AM!) and Sutton and I went to the airport. It was so early that we were both wearing the same amount of make-up (none). We got dropped off and I trepidatiously approached the counter. I took a deep breath and asked if I could get on the wait list.
What followed was a la a bad sitcom:
QUESTION: "How did you like the meal?"
ANSWER: "I didn't like it. (Pause) I loved it!"
I said, "Can I get on the stand-by list for the 5:30 AM flight?" The woman behind the counter said, "We don't do stand-by lists." (Pause) "However, there's a seat available." Why wasn't that said first?! Regardless, I got on the flight and was so happy to get home! And that night, Sutton came to the show! Sutton visited backstage with Stacey Oristano, who played Truly on "Bunheads." Sutton, of course, played Michele, and I appeared for a solid six minutes in the final episode. We took a photo of us, or as I call it, the three stars of "Bunheads."
Stacy Oristano,
Seth Rudetsky
and Sutton Foster.
Speaking of Sutton and Disaster!, I had Jennifer Simard on my SiriusXM radio show, "Seth Speaks," and she talked about being on the way home from the Seattle tryout of Shrek. Halfway through the flight, they had to make an emergency landing! It was the real deal; they skidded off the runway into the grass, blew a tire and there was a slew of emergency vehicles waiting. Jen said she was so relieved not to have died in a plane crash but more so not to have died on that particular plane because she knew the headlines would read "Sutton Foster and Others Perish." Jennifer wrote me a hilarious email saying that her concerns, in order of importance were: 1. Death 2. Billing. She claims that she got a rider in her Disaster! contract that if she should die during travel for company business, her name must be listed among the dead. Done!
On "Seth's Broadway Chatterbox," I had Jarrod Spector and Anika Larsen, who are both starring in Beautiful. A lot of Broadway shows do readings and workshops before they go to Broadway and sometimes it can pay off for the pre-Broadway actors and sometimes it can backfire. For instance, Carolee Carmello did all the workshops for The Scarlet Pimpernel, but when it went to Broadway, Christine Andreas got the part. Anyhoo, Anika did the first three workshops of Beautiful as Cynthia Weil and then another actress did the last one. Conversely, there was another actor playing Barry Mann in the first three workshops of Beautiful, and Jarrod just did the last one.
Both Jarrod and Anika had to audition for their roles and were invited to the final call back. Jarrod was excited to go, but Anika was incredibly anxious. She had two weeks of knowing she was going to the call back and all it did was make her more anxiety-ridden. When the audition finally happened, she left it completely depressed. She was sure she didn't get the gig and decided, after many years as an actress, that she was finally going to quit the business. She spent that night Googling other career opportunities and put show business and the audition out of her mind. She was so good at moving on that when her agent called her the next day to tell her she got it, she literally didn't know what job he was talking about! He told her it was Beautiful and she started crying. She then called her mother and father and told them she got it. However, she was sobbing hysterically, so each of them had to ask, "You got it? Wait... that's a good thing, right?" Anyhoo, she and Jarrod adore working together and I love these photos of them that are in her dressing room; they show the real Carole King, Cynthia Weil, Barry Mann and Gerry Goffin and then Jessie Mueller, Anika, Jarrod and Jake Epstein! So cool!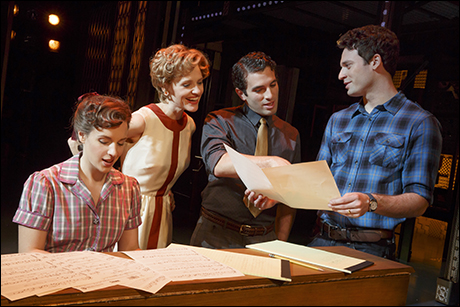 Bottom photo by Joan Marcus.
I had Jonathan Groff on "Seth Speaks" and we talked about the audio book we did together. It was my first novel "Broadway Nights," and I played the main character, Stephen, a music director, and he played Mason, a young director and possible love interest for Stephen. Anyhoo, Jonathan and I recorded it at the Audible.com studios when they were in Newark, NJ, and wasted a lot of time with bizarre fits of ye olde giggles. For some reason, he would read sections of the book while staring at me with a lazy eye. We then decided to redo the poster of his new HBO show, "Looking" but call it "Looking: Lazy Eye Edition." Take a gander!
P.S. Kristin Chenoweth, Andrea Martin, Richard Kind, the [title of show] cast and many more are on "Broadway Nights." Get it here!
Jonathan is a super Sutton Foster fan and while Sutton and I were in the cab home from the airport, she recorded a slew of questions to truly test his knowledge. I surprised Jonathan at "Seth Speaks," and he went into a panic because he so wanted to get every question correct. Watch the video!
All right, this week I have Tony Award winner Patina Miller at "Seth's Broadway Chatterbox"... and of course, Disaster! is happening all week despite the non-stop snow storms. Peace and stay dry!
(Seth Rudetsky is the afternoon Broadway host on SiriusXM. He has played piano for over 15 Broadway shows, was Grammy-nominated for his concert CD of Hair and Emmy-nominated for being a comedy writer on "The Rosie O'Donnell Show." He has written two novels, "Broadway Nights" and "My Awesome/Awful Popularity Plan," which are also available at Audible.com. He recently launched SethTV.com, where you can contact him and view all of his videos and his sassy new reality show.)