*
Welcome to June! We are getting so close to Tony Award time and, quite literally, the Tony Awards are so close to me. "Meaning what," you ask? Well, this year they're being held at the Beacon Theater which is down the block from my apartment! I literally walk my dog, Maggie, past where the red carpet will be. P.S., if Maggie had access to that red carpet it would soon have a lovely yellow tinge. That's right, there's nothing she loves more that peeing on any object on the street: plastic bags, scraps of fabric and, perhaps soon, right near the nicely polished shoes of a Tony nominee. I decided to go to [AUDIO-LEFT]youtube to see if they had the opening I wrote way back in 1998 and they did! Back then, I was working on "The Rosie O'Donnell Show" and when Rosie was asked to come back as the Tony Awards host and she asked me to write a song highlighting three divas. I remember she mentioned one "diva" who didn't belt above a B flat and I quickly put the kibosh on that idea. Instead, I picked my three of my faves and luckily she agreed: Patti LuPone, Jennifer Holliday and Betty Buckley. The revival of Chicago had opened two years before and Rosie was obsessed with it so I picked "Roxie" as the song to parody. I wrote one of my fave lyrics for Rosie which also re-claimed one of Rosie's bad educational experiences. Here are the opening lyrics (sung to the tune of "Roxie"):
The thing that actors all adore is simply the…Tony
But there's one thing that I want more than winning a …Tony
I wanna be a Diva, I wish there was someway I could learn.
I try to sing like Patti LuPone but I sound like Rhoda Morgenstern.
A., I love that I used Rhoda's full name…so awkward! And B., that line was influenced by the story Rosie tells about her early college theatre experience. After she read a scene in her theatre class, her professor commented, "Ms. O'Donnell, the role of Rhoda Morgenstern has already been cast." Ouch. Cut to, years later, it was used to get a laugh while hosting the Tony Awards. Delicious revenge served cold. All the ladies sounded so great on their songs and one of my favorite moments is Patti LuPone's enthusiastic but bizarre ad lib near the end when she shouts "Go, Tony!" Is the Tony Award a person? Is she sassing someone named Tony? I still don't know. What was so fun for me was experiencing my first time seeing the Tony Awards from the audience and having it be the time I wrote the opening number! So amazing! Watch.
photo by Robb Johnston
Speaking of Tony Awards, I had all four Tony-nominated Book of Mormon actors at my Sirius/XM "Live on Broadway" show: Andrew Rannells, Rory O'Malley, Josh Gad and Nikki M. James. They're all really funny and so excited about their show being such a hit. By the way, I feel so old-school because I keep calling it The Mormon Musical which is what it was called before people officially knew the name. It reminds me of right when I got out of college and Jerome Robbins' Broadway was running but I always called it The Robbins Project because that's what people called it when it first began rehearsals. As a matter of fact, I still think of "The Triad" as "Paulssons" which is what it was called when Forbidden Broadway was there in the '80s. In other words, I live in the past and I'm unyielding. Anyhoo, Rory told us that his role was literally ensemble but throughout the various readings and workshops he'd get more and more lines thrown his way. It wasn't considered a principal role 'til the Broadway contracts were signed. He told us that his mom was the first person he called when he found out he got a Tony nomination. Even though it was before 9 AM, she was already at work. When he told her he got a Tony nomination, the first thing she said, in a Midwest twang, was "Are you sure???" He told her that it had been announced on TV. Then she responded, nervously, "Well, somebody ought to double check!" She'll see proof soon enough because he's taking her to the Tony Awards! In the show, Nikki's character name is Nabalungi. In rehearsal, Josh started calling her by any other name that began with an N and now it's in the show. But nothing is actually set. He changes it all the time. He calls her Noxema, Nutrigena and lately he said he's made the name more season-appropriate because he's added Nasonex. He also gave a shout-out to fellow Broadway lovers when one night he called her Next to Normal. Hilarious. The creators usually let him go wherever he wants. Although, one night they ixnayed one of his name choices from being used again when, instead of calling her Nabalungi or a variant beginning with N, he called her "Sharon." Too far.
I asked the four actors if they were going to do a big group number on the Tony Awards, or a medley that featured their greatest hits, but turns out they're doing "I Believe," which is Andrew's big 11-o'clock number. I asked if that song was completely a solo and Nikki said, "Yes. We're all really happy about that." Brava on keeping the subtext sub. Brava to Andrew, though!!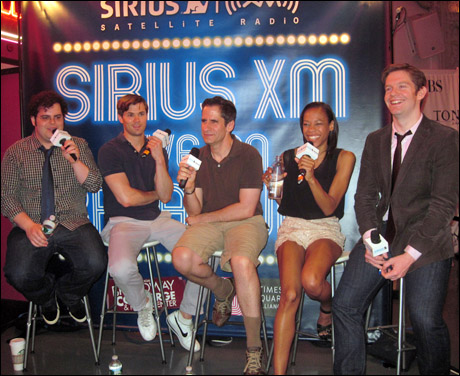 photo by Robb Johnston
photo by Carol Rosegg
On Friday I saw Lysistrata Jones, whose title I'm obsessed with. It's based on the fact that the opera Carmen was turned into a contemporary musical by changing the name to Carmen Jones. I love the implied theory that any old show from yesteryear can become contemporary by simply adding "Jones" to the leading person's last name. Hilarious. The title role was played by Patti Murin who was great. Really funny, sassy dancing and great high notes. As a matter of fact, Jack Cummings III who runs The Transport Group, told me I had to come because I'd be obsessed with the belting. Everyone knows that high notes are the carrot to dangle in front of my face to ensure my presence. The cast was so talented and they all did Dan Knechtges' choreography so well. I was super impressed that so many people nowadays are such triple threats. I used to love looking at cast lists from the 1950s: there was a "singing chorus" and a "dancing chorus." Nowadays, they've been combined and they're called "the ensemble." But, my questions is, what happened to the dismissive comment people used to rattle off about a certain type of guy: "He's just a chorus boy". Do they say, "He's just an ensemble boy"? It doesn't really sound insulting. Just blandly factual.
On June 6, my schedule included going to Birdland to see Show Some Beauty which is a concert featuring the songs of Steve Marzullo. Steve wrote "Some Days," that great song Audra McDonald performs all over the place. I played it for her at a marriage equality rally, the rFamily Vacation in Club Med Mexico and, tying back to my first paragraph, on "The Rosie O'Donnell Show." Here's one of her many performances of it.
The Birdland show celebrated Steve's first CD. Ann Harada, Michael Winther, Rachel Ulanet, Judy Blazer, Sally Wilfert, Stephanie Card, Andrea Burns, Ric Ryder, Terry Klausner and Heidi Blickenstaff sang.
The hilarious Nicole Parker was my guest on my Playbill Obsessed video. I first saw her do her Ellen DeGeneres imitation on "MadTV" and I asked her to incorporate it into her Broadway career. What follows is what would happen if Ellen played Elphaba. Translation: 90 percent chatter and 10 percent singing.
I had Tony Award nominee Brian Bedford on my new Sirius/XM talk show, "Seth Speaks," which airs every Sunday at 5 PM. He's so fantastic in The Importance of Being Ernest, but do you know where he's not fantastic? Playing "Celebrity." I play every week with my guest, and, after I explained the game to him, we put on the timer so he'd have a minute to guess as many celebrity names as he could. I pulled the first name out from the hat of names the audience had filled out before the show and said, "She's blonde, she starred in Wicked,, she's really short…" Silence. I continued, "Um..she won the Emmy for 'Pushing Daisies.'" Staring. Finally I got a response from him which was simply, "What?" "What" what? Could he not hear a certain word I said? A phrase? Was he actually questioning the whole concept of the game? I think the answer is yes to all of the above. I haven't seen that many layers of subtext in one word since he, as Lady Bracknell, intoned "Found????" You people who saw the show know what I mean. I decided to break down her name into syllables. "OK. On December 25th one says 'Merry' what?" Silence. "Um…what's the word after 'Merry'…?" Silence followed by an eyebrow raised to the audience. Shockingly a full minute went by. Buzzer. I haven't seen a game played like that since Martin Short, who only guessed five names in 60 seconds. Of course, when I confronted Marty with being terrible at "Celebrity" he countered with, "Well next time put some actual famous people in the hat." Ouch. And accurate.
O.K., this week I begin rehearsal for the official reading of Disaster! We're moving forward with the piece and almost the entire cast that performed it last time is able to do it again. It's very exciting. And by "exciting," I mean non-stop rewrites, phone calls, scheduling conflicts, re-casting the people that aren't available, finding a stage management team, getting flight preferences so Jack can fly in etc. Peace out til next week!
(Seth Rudetsky has played piano in the pits of many Broadway shows including Ragtime, Grease and The Phantom of the Opera. He was the artistic producer/conductor for the first five Actors Fund concerts including Dreamgirls and Hair, which were both recorded. As a performer, he appeared on Broadway in The Ritz and on TV in "All My Children," "Law and Order C.I." and on MTV's "Made" and "Legally Blonde: The Search for the Next Elle Woods." He has written the books "The Q Guide to Broadway" and "Broadway Nights," which was recorded as an audio book on Audible.com. He is currently the afternoon Broadway host on Sirius/XM radio and tours the country doing his comedy show, "Deconstructing Broadway." He can be contacted at his website SethRudetsky.com, where he has posted many video deconstructions.)