Greetings from 33,992 feet. According to the map on the TV set in front of me, we're going 529 miles and we're somewhere over Colorado. I'm on what appears to be a spaceship but is actually a Virgin America plane. Everything on the flight is made of space-age plastic, and the lights above the cabin are purple. Seriously. It's amazing and is helping me prepare for my Jetsons: The Musical audition. I'm joking but cut to a corporate producer just read that and is now inquiring about the rights.
[AUDIO-LEFT] I'm on part of a coast-to-coast Betty Buckley concert weekend. Last night was in Malibu, and tonight is on Long Island. This has been a week of crazily early plane trips. First, I flew to Toronto on Tuesday on a 7 AM flight. I did a really fun Master Class, tech and then Deconstructing Broadway, and the whole thing was presented by a young producer named Miranda Plant. She then sent me this review, and even though I try not to read reviews, it doesn't mean I can't post 'em in my column! http://www.twisitheatreblog.com/2010/10/reconstructing-seth-rudetsky.html
For dinner beforehand, I met up with Audra McDonald who was in Canada because her boyfriend, Will Swenson, is starring in Priscilla, Queen of the Desert. He couldn't meet with us because his tech rehearsal was scheduled well into the night, but Audra and I had delicious sushi. We were both miffed, though, when I got "read" by the waiter. Here's the deal: Whenever I order sushi in New York, I always get shumai (dumplings), but I guess the Japanese restaurant in my neighborhood is special because after I ordered my sushi in Toronto, I then asked for shumai, and a. first he made me repeat myself and b. he then said, in no uncertain terms, "This isn't a dim sum restaurant." That statement was followed by silence and glaring. Suffice it to say, it immediately put the kibosh on me wondering whether I should order won ton soup and an egg roll. Anybody? Nobody.
Well, I wrote that last paragraph yesterday and I'm very happy to be writing again today. Why? Because after I wrote that I left my laptop on the plane! I totally forgot to put it in my carry-on when I was deplaning (PS: obsessed with that verb), and I left it under my seat. Thankfully, JFK delivered it back to me last night. I wasn't as lucky with my Blackberry. That's right. This week I also lost my Blackberry. I had just decided to switch from AT&T to Credo because Credo donates part of your phone bill to progressive causes, and they also pay your cancellation fee. Delish. Well, as soon as I signed up and was told that I would have to wait three days for my new phone, I got into a cab and left my AT&T Blackberry in the back seat. I'm not saying that AT&T found out I was switching and used their psychic powers to punish me…well, I'm basically not saying it because I'm scared of what they'll do next if I do.
photo by Krissie Fullerton
On Wednesday, I had a special Sirius/XM Live On Broadway show celebrating the 20th anniversary of the "Beauty and the Beast" film. I had an amazing array of performers on the show: the film's Paige O'Hara (Belle) and Robbie Benson (The Beast), plus Broadway folk Terrence Mann (The Beast), Gary Beach (Lumiere), Marc Kudisch (who was a Gaston) and Andrea Burns (Belle understudy and full-time broom). Turns out, Robbie Benson is the sweetest person ever. I'd never met him and was so impressed with his gentle demeanor. Yet when I asked him how they manipulated his voice to do the Beast's roar, he told me that it was all him and then he demonstrated it. Terrifying. And phlegmy. Kudisch relayed the story about watching a Mrs. Potts, (the teapot) take a tumble during the show. Usually, when an actor falls during a show, they are mortified and then they pop right back up again. Well, unfortunately, the Tea Pot costume allows no leverage because one arm is a handle and one is a spout. So, all she could do once she was on the ground was roll back and forth. That's right, the audience got five minutes of a woman rolling around the stage. Well, at least the kids at that matinee got a sample of the kind of performance art I had to put with when I went to Oberlin.
Paige remembered performing on the Oscars the year the title song was nominated. She was backstage with Angela Lansbury who was going to introduce the song and right before, Angela told Paige that she was nervous. Paige was in shock that a woman with so many years in the business would be nervous. Angela then told her that because she had so many years in the business, she knew when you were supposed to be nervous, and now was one of the those times! But she followed that by telling Paige, "Although, if I had a voice like yours, I wouldn't be nervous at all." How sweet! And, speaking of Angela, Julie James (who produces the show) set up a "surprise" for me; a phone hook-up with Angela! She had hurt her foot so she couldn't be at the venue, but Julie arranged it so I could talk to her. It was so exciting! In theory. In actuality, this is pretty much what happened:
JULIE: Seth, you are now on the phone with Angela Lansbury!
SETH: Ah! So excited!
JULIE: Ms. Lansbury, is that you?
ANGELA LANSBURY: Yes!
Audience applauds
SETH: This is thrilling! I can't believe I'm actually on the phone with you!
Click Dial tone.
It was hi-larious. The phone connection cut out at the exact moment for full comedy. And it literally sounded like she hung up. Of course, I'm assuming it was "phone connection" problem. Hmm….The whole thing was actually filmed! Watch it here! http://www.youtube.com/watch?v=CG6v7U8pu6s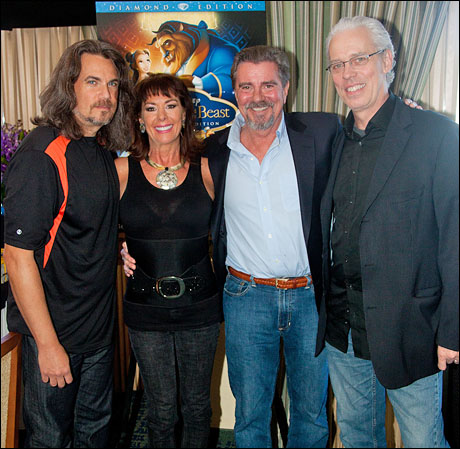 photo by Krissie Fullerton
Attention tele-prompters! I am now in a panic to memorize Rhapsody in Seth, which I have to do next week for the first time in years. Trying to learn that show again is bringing back memories of what it was like when it ran at the Actors Playhouse in the Village. I remember one time when I got up to the section of how kids in my junior high school would say my name when they wanted to make fun of me for being gay. It was essentially a sing-song "Se-eth." I would then tell the audience that it was always those notes and ask, "Why does adding that melody to someone's name make them gay?" I'd follow that by asking a woman in the front row her name; let's say it's "Susan," then I'd sing-song "Su-san" and say, "Now, you're a gay man! How does it feel?" Anyhoo, that particular performance, I asked a random woman in the front her name and she said, in a crazy Hungarian accent, "Ursheviad." Of course, I had to keep going so I sing-song'd "Ursheviad," said "Now you're a gay man," and the joke clanked because the audience was completely thrown by her name, accent and my version of both. For the whole rest of that show I was thinking, "Why did I have to pick the one woman in the whole audience with a cra-za-zy name?" After the show, I was collecting money for BC/EFA and the woman approached. I looked closer and realized that I actually knew her. She was an older woman who took piano lessons with my boyfriend. She smiled at me and said, with no accent whatsoever, except perhaps one from the Upper West Side, "Sorry! I was thrown when you asked me my name, so I said the first one I could think of." What? Why was "Ursheviad" the first name she could think of???? Why not Janet? Or Linda? Or her actual name, Barbara?!?!?!
Anyhoo, I'm doing Rhapsody in Seth next Monday, October 11 at the Triad (under the title Seth's Big Fat Broadway Show, info/tix at www.triadnyc.com) and then Thursday-Saturday in Red Deer, Canada. (info/tix at http://ignitiontheatre.ca/rhapsodyinseth.html).
And, finally, I also just got a really fun job! Sony Masterworks Broadway has a ton of Broadway CDs, and they hired me to do a deconstruction each week! I've already put two "in the can" as we say, and they start this Wednesday! It's very exciting because they actually have a real cameraman there and a sound person to edit, so the production values are so much better than my kitchen with a laptop. The Sony press release is here: http://www.masterworksbroadway.com/news/seth-rudetsky-joins-masterworksbroadwaycom. And, don't forget to watch the video I just did with Mandy Gonzales. Not only do we re-create a song from the short-lived Dance of the Vampires, but I force her to take the end of Wicked's "I'm Not That Girl" up two octaves. It's about time! http://www.playbill.com/multimedia/video/4367.html Have a great (finally feels like the) beginning of fall!
*
Seth Rudetsky has played piano in the pits of many Broadway shows including Ragtime, Grease and The Phantom of the Opera. He was the artistic producer/conductor for the first five Actors Fund concerts including Dreamgirls and Hair, which were both recorded. As a performer, he appeared on Broadway in The Ritz and on TV in "All My Children," "Law and Order C.I." and on MTV's "Made" and "Legally Blonde: The Search for the Next Elle Woods." He has written the books "The Q Guide to Broadway" and "Broadway Nights," which was recorded as an audio book on Audible.com. He is currently the afternoon Broadway host on Sirius/XM radio and tours the country doing his comedy show, "Deconstructing Broadway." He can be contacted at his website SethRudetsky.com, where he has posted many video deconstructions.)