Well, the fun part of this weekend was going to the Poconos with James and doing a show with Audra McDonald. The not fun part is that I'm writing this to you from the side of the road. Why? Because the Martz bus that James and I were taking broke down. We were then told another bus was coming to get us quickly. Around 30 minutes later, one finally came for us. Yay! We all got out... and then discovered that the new bus only had 15 available seats. The 15 lucky passengers got on and the other clunkers like myself went back to our old bus. Finally, another bus came to get us, and we noticed that it was leaning terrifyingly to the right side. Nonetheless, we got on and hoped for the best. Before we left, we were told that an airbag went off... and we'd have to wait for another bus.
James and I decided to wait on the old bus because we didn't want be on a bus that looked like it was about to tip into a ditch. Anyhoo, another bus just pulled up so I can finish this on the ride home. Let me start with last week's highlights...
First of all, Disaster! is getting a new cast member! The truly fun-nee Michele Ragusa got cast in a new Off-Broadway play so she's taken a leave for a few months. She's being replaced by the hilarious Mary Birdsong! Mary and I met back in the '80's when I was the music director at Surflight Summer Theater and she was a singing waitress next door at Showplace, the ice cream shop. I always thought she had a great voice and was super funny, and we've stayed friends throughout the years. I was thrilled when she became a regular on "Reno 911," excited when she got cast in Martin Short's Broadway show (where she did an amazing young Judy Garland and old Joan Rivers). Watch! And I was mind-bogglingly impressed when she threw away her comedy chops and hauled out the heavy drama for a big fat scene with George Clooney in "The Descendants" when she told him his wife was cheating on him. Watch!
Let me continue my being impressed with her because I just saw Mary tweet a sketch of herself in Disaster! that I thought a fan had drawn for her, but, turns out, she drew it herself! How dare she be so talented! She told me that drawing a selfie is better because you can draw yourself thinner. True 'dat. We've had a great time rehearsing together, and it's so fun for me because we play opposite each other! She's also very much like me; we were talking about our lack of cooking at home, and she said that she had to use a pan recently in her apartment, she had to dust it. Not rinse it off, she literally had to remove the dust that had settled on it. Brava Empire Schezuan!
A few days before Thursday, I got an email from Tina Fey which sent me into a fan frenzy. I've met her a few times (she asked me to coach her for her "Into the Woods" film audition) and she came to Unbroken Circle and Disaster! opening night, but I mainly know her from sitting at home with James and obsessively watching "30 Rock." Anyhoo, when I read the email, I freaked out because she invited us all over to watch The Sound Of Music Live! Me, James and Juli went over right after my "Chatterbox," and I was immediately thrilled because Tina said she would make brownies if I wanted. YES was my answer, and I spent the first hour of viewing obsessesing about when they'd be ready. PS, they were delish.
She and her husband Jeff are big Broadway fans (they just saw Kinky Boots) and I asked them about their new musical Mean Girls. They told me they've written some stuff already (Nell Benjamin is writing lyrics), and we got to talking about opening numbers. Jeff remembered that the opening number to Disaster! is Donna Summer's "Hot Stuff" and he asked me what other musicals besides Disaster! and Sweeney Todd have an opening number in a minor key. We thought of Fiddler on the Roof, A Chorus Line, Jesus Christ Superstar and In The Heights. Any others?
Of course, besides the brownies I still wanted more food, so I asked if we could order Chinese food. Tina showed me a way to order for delivery using a website, which I had never used. After I entered my order she checked, did some finagling and then we went back to the living room where she told Jeff and Robert Carlock (the "30 Rock" show runner) that I almost "Finkeled" it. They both said, "Oh no!" She then told me that one night they were having a late-night writer's meeting for 30 Rock. Everyone was starving and they all ordered food using that website. They waited and waited and didn't know why the food hadn't come. Finally, they checked their order and realized the one of the writers, Dave Finkel, never pushed "send". So they were waiting and waiting, knowing it would be there any minute, and the order had never actually left the computer. Tina said the writers' morale at that point plunged to all an all-time low. It was such a devastating/hilarious moment that it literally has earned the phrase "Finkeling it." Use it!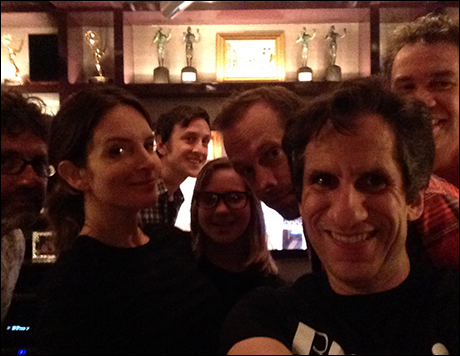 Speaking of The Sound of Music Live! I had a great time on Saturday with Audra McDonald. I first asked her if she auditioned to play Mother Abbess and she said that the producers (Craig Zadan and Neil Maron) knew her because they produced the TV versions of Annie and A Raisin In The Sun so they offered the role. However, when they first asked her to play it, she thought she wasn't old enough. Then she found out that original Mother Abbess was 41! She was also nervous that she didn't have the other worldy/pure goodness/angelicness of a nun. She accepted the role nonetheless and she and the other TV nuns went to visit the convent that Mary Martin went to when she was preparing to play Maria. First of all, Audra said the nuns all had great senses of humor. At one point, she noticed that they wore their ring on the same hand a married woman does. The nun held up her hand and said, "Well, 'Single Lady'-style, Jesus put a ring on it." That's right, a nun referenced Beyonce!
Then, when Audra met the mother superior, she was so nervous that she started babbling and asked "Um... Were you here when Mary Martin came to visit?" The Mother gave her a sassy look and asked, "Are you kidding me?" It was 1959! But, PS, there were a few elderly nuns who had been there when Mary Martin visited! How cool is that! I asked if it was scary to film it live, and she told us that her scariest moment happened at the beginning because she was wearing a long habit, had to keep her hands hidden (a la Franciscan nuns) and then had to take a step down while the camera was right in front of her. She kept moving her foot forward like a pony trying to find the step. (Check your DVRs to watch.)
She said it was filmed on Long Island in a former airplane hangar. They all had fancy shmancy trailers, but they couldn't open the doors to go outside after "places," so once the show began they all had to stay on set in little curtained off areas. I asked if they had individual bedpans, and she assured me there were bathrooms.
photo by Paul Drinkwater/NBC
Audra loved working with Carrie Underwood and said they really bonded. The hardest part for Audra was singing "Climb Ev'ry Mountain" because Carrie would get so emotional. Audra felt so motherly towards her that she would get teary looking at her but she had to separate herself so she could finish the song without the two of them having a crying jag. Audra wants all the people who were busting Carrie for not singing in soprano keys that the show was a TV version of the original stage play and Carrie was singing in the original Mary Martin keys. So, cut! Audra was also super impressed with Carrie because there was no intermission. Once the show started, Carrie had to be in every scene (except "Sixteen Going on Seventeen"). The scariest thing she told me was that the version we saw on TV was their first time running it without stopping! Brava!
Monday and Tuesday of this week is Gypsy of the Year! It's my sixth time hosting, and I also wrote the opening number! And! The Broadway Inspirational Voices is doing an online auction with some amazing items like VIP tickets to Pippin, The Book of Mormon and Kinky Boots (including visits with the stars!). And you can get VIP seats to my SiriusXM radio show and tickets to Disaster! Go and bid, ASAP!
We've been raising money over at Disaster! so I'm doing a sketch with my co-writer Jack Plotnick where we recreate the worst disaster we've ever been through... our childhoods. Speaking of Disaster!, we're adding Monday and Friday matinees during Christmas week and New Year's week... and doing a 6:30 PM show on New Year's Eve! To get ye olde tickets, go to DisasterMusical.com. And on that note, peace out!
(Seth Rudetsky is the afternoon Broadway host on SiriusXM. He has played piano for over 15 Broadway shows, was Grammy-nominated for his concert CD of Hair and Emmy-nominated for being a comedy writer on "The Rosie O'Donnell Show." He has written two novels, "Broadway Nights" and "My Awesome/Awful Popularity Plan," which are also available at Audible.com. He recently launched SethTV.com, where you can contact him and view all of his videos and his sassy new reality show.)
The Sound of Music Live!, Starring Carrie Underwood and Audra McDonald, Hits the Airwaves; Highlights from the Broadcast