T-minus two weeks until They're Playing Our Song.
First of all, for tickets call (212) 221-7300, ext. 133. Secondly, rehearsal began for real this week and, as the cynical ad agencies wrote to attract so-called urban people to McDonald's, "I'm lovin' it." First of all, Sutton Foster sounds so amazing on the songs. Secondly, she's f-u-n-n-y. And, she was a brava in Trust, which I saw on opening night. If you don't know, she plays a dominatrix in the show and [AUDIO-LEFT]looks stunning in the thigh-high leather boots. It actually was a tip o' the hat to the finale outfit she wore as Sandy in Grease on Broadway. Essentially, take the trampy black leather outfit Sandy hauls out to get Danny, extend the boots, add a whip and…Trust. Throughout the show, the audience was laughing up a storm, and I was very impressed with Zach Braff. He's so natural onstage and very funny. Right now at They're Playing Our Song rehearsal, Sutton and I are in the middle of staging the dance break for the title song, and I suggested she do the old chestnut of playing my butt like it was a pair of bongos. The director Denis Jones asked when that became an "old chestnut," and I decided to pick that moment to go on vocal rest.
This week my sister Nancy and her family visited. My youngest niece, Eliana, had her 13th birthday, and no matter how old she gets, her obsession with In the Heights remains steadfast. And the older she gets, the more her obsession with Chris Jackson grows. Naturally, we saw the show again, but the performance was laced with depression from Eliana because Chris is about to leave. The fun part was, he knew we were coming, so he added some extra amazing riffs for us — as did Eliseo Roman who plays the Piragua guy. No matter how many times I see the show (the last time was my tenth!), I absolutely love it and break into tears throughout it. Not because it's depressing, but because I'm so moved by the delicious theatricality of it — the score, the story, the cast — I am literally obsessed. And speaking of obsessed, that's the name of the video series that I do for Playbill.com. I just had a two-part episode featuring Jonathan Groff, and my friend from college, Ben Munisteri (whom I also just saw In the Heights with), emailed me right after the video went up: "Seth! Just saw the Jonathan Groff video. It's so good! And by 'It's' I mean 'He's,' and by 'good' I mean 'cute.'" Brava! To watch the Jonathan video (parts one and two), go to http://www.playbill.com/multimedia/video/4312.html. And watch my current one with Paul Castree where we re-create his many times onstage forgetting lyrics and how he covers up (horribly). http://www.playbill.com/multimedia/video/4322.html
On Tuesday night I took my sister and Eliana to see Memphis because that's the other show she's obsessed with. The audience was wild from the very beginning. As soon as intermission began, someone behind me said, "That's what you call a Tony-winning musical!" Unfortunately, as soon as Act Two began, I had to comment about someone else, "That's what you call an audience member who used their phone during intermission and forgot to turn it off."
On Wednesday I drove up to Pittsfield, MA, to play for Betty Buckley in her show, Broadway By Request. Terry Gabis, who has been her sound engineer and tour manager for 20 years, drove me and my mother. The good news is, we all chatted in the car. The bad news is, my mother is like an iPhone keypad. You know how when you type into an iPhone, if it doesn't understand a word you write, it will print what it thinks you wrote? Well, if my mother doesn't understand what you said, she'll just change the word to something she does understand, iPhone-style. In other words, Terry was driving a Prius, and he commented to my mom that he just saw three Priuses on the road. She then went into a long dialogue about how interesting is to see three priests traveling together. She's like the Emily Litella of Long Island. Betty was, of course, fabulous, and because Bill Finn was there (he's now the artistic director of Barrington Stage), she added "Infinite Joy" from Elegies, which she sang in the 2005 Lincoln Center Theater production. I haven't done that song before in the show, so my piano playing was less Infinite Joy and more Infinite Clams. Luckily, Pittsfield is in New England where they're a fan of the chowder.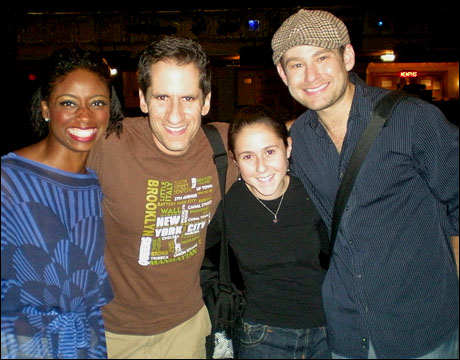 photo by Bruce Alan Johnson
On Thursday I did my Chatterbox with cast members from American Idiot. I was supposed to see the show during the time that press people come, but at the last minute I had to cancel my tickets and I still haven't gone! I wanted to keep that under wraps, but within two minutes the cast realized I hadn't seen it yet. It reminded me of when I first interviewed cast members from Avenue Q when the show was Off-Broadway and I, again, wanted to keep mum on the fact that I hadn't seen it yet. I asked Natalie Belcon (who played Gary Coleman) what it was like working a puppet in one hand, and she sassed me and said she didn't use one in the show. I then "covered up" by sassing her back, and told her I was actually directing the question towards Ann Harada. Of course, Ann then told me that she also didn't use a puppet. Silence. Speaking of Ann, she co-hosted with me on my Sirius/XM radio show, and I asked her about the song "The More You Ruv Someone." In the show, she starts out singing like her character, Christmas Eve, but by the second verse she is fully channeling Judy Garland. I asked her to explain how she justified that joke. She said, "Well, it's like the explanation for how musicals work. When the character can no longer express what she has to say in mere words, she breaks into song. And when Christmas Eve can no longer express what she has to say by merely singing, she starts singing like Judy Garland." Brava babbling! If you've never heard her do it, listen! http://www.youtube.com/watch?v=gIbiKkhwXtk
At the Chatterbox, I commented on that person I saw on the Tony Awards telecast hanging upside down in the American Idiot number, and turns out I was interviewing her! Christina Sajous said that she saw a picture of the set design and there was a drawing of someone hanging, and she told Michael Mayer that it had to be in the show. He gave her his blessing, and the rest is history. And by "history" I mean "Equity hazard pay and a lifetime supply of Dramamine." Speaking of the Tonys, I asked them what the finale of the telecast was like. If you don't remember, this year the Tonys decided to let the winning musical perform right after they won, but that meant that all four had to be ready. Ben Thompson said it was mortifying to be standing backstage in full costume waiting to go on and then not. And, it was even more embarrassing because in American Idiot, the whole cast plays guitar in their finale, so they were all standing backstage holding a guitar. It was very "what is the sound of one hand clapping?" AKA, "What is the sound of a guitar that is not played because you lost?" Ben told us that he had his flip camera, and when Memphis ran out to sing the finale, he filmed everybody else backstage (the cast of Fela! and Million Dollar Quartet) standing in full costume, and the only dialogue he added to the video was his voice saying, "…awk-ward…."
photo by Joseph Marzullo/WENN
I asked my signature "what was your worst audition" question, and Christina told us about her early New York auditions. She was 18, and her headshot hadn't been touched up, so there was a noticeable pimple on her forehead. And, her audition song was "Downtown" from Little Shop of Horrors, which is the opening number featuring the entire cast. She would always do it…as the entire cast….with full, broad character choices. First the back-up girls, then the bum, Mr. Mushnik, Audrey, etc. She said she usually got cut off when she launched into her Seymour ("Poor. All my life I've always been poor."). It wasn't until she went to Tara Rubin that someone there had the courtesy to sit her down and tell her "First of all, your headshot is crazy. Is that a pimple?" and that her audition song wasn't appropriate for any audition. Hmm…I guess if they ever need a swing for an entire cast of Little Shop. But until then Christina, keep "Downtown" on the down low (Clever wording! I still got it. *Silence*).
On Friday I saw See Rock City, which was put on by the Transport Group. I give them a delicious shout-out for putting on new work. (AKA, thank you for not doing the musical version of Eat, Pray, Love. PS, If I see one more ad, store tie-in, magazine cover, or interview about that movie, I'm going to have a bigger breakdown than the one Marin Mazzie is currently hauling out in Next to Normal.) Anyhoo, the score is great and the cast of the show was especially good. My only complaint is that, in the show, Sally Wilfert played a character who called her grandfather "Grampy." First of all, in my day, it was "Grandpa," and secondly she had to belt and hold a crazy high note on the second syllable of his name. AKA, instead of belting on the easy ah vowel of "Grandp-a-a-a-a-a," she had to hit her high note on the impossible e vowel of "Grampy-y-y-y-y-y-y." Why have a nickname that's going to cause vocal damage? Hmm….did Elaine Stritch call her Grandfather Grampy? Must investigate. OK, tonight is one week until my Seth's Big Fat Broadway Show at the Triad. I'm, of course, still in the process of writing it (adult ADD), but you can get tickets at www.triadNYC.com. Then a few days after that, I go to Provincetown to do Deconstructing Broadway and then on to Canada to do Andrea Martin: Final Days! Everything Must Go. And the day after I return is They're Playing Our Song. Yay. It's fun to have all of your events happen within the same two weeks. And then, once they're over and you have no more to look forward to, it's fun to be in a clinical depression. Peace out!
Seth Rudetsky has played piano in the pits of many Broadway shows including Ragtime, Grease and The Phantom of the Opera. He was the artistic producer/conductor for the first five Actors Fund concerts including Dreamgirls and Hair, which were both recorded. As a performer, he appeared on Broadway in The Ritz and on TV in "All My Children," "Law and Order C.I." and on MTV's "Made" and "Legally Blonde: The Search for the Next Elle Woods." He has written the books "The Q Guide to Broadway" and "Broadway Nights," which was recorded as an audio book on Audible.com. He is currently the afternoon Broadway host on Sirius/XM radio and tours the country doing his comedy show, "Deconstructing Broadway." He can be contacted at his website SethRudetsky.com, where he has posted many video deconstructions.