*
What an exciting week! Here goes: First, one of my favorite magazines, Entertainment Weekly, asked Amy Poehler and Tina Fey to take over as editors for the week to promote that they're hosting the Golden Globes again this year. Amy and Tina posted their choices for the "Must List" and their "must" theatre choice is Disaster! For real! We are freaking out at the theatre.
It's so exciting because we just opened and this is such an amazing endorsement. One of our cast members, Saum Eskandani, was thrilled because he said EW was his entertainment bible when he was a kid. A kid? I thought, "That's not possible because EW began in 1990 and I was already out of college by then." Then I remembered we have Disaster! cast members who are still in their twenties, and whatever excitement I felt about the "Must List" turned into a mental note to buy under-eye cream.
Regardless, look at the picture they put in Entertainment Weekly! It's the big number from Act Two ("A Fifth of Beethoven") featuring Mary Testa, who's standing in the middle. If you want to see that '70's song and many more, you can get tix at DisasterMusical.com, and you can also come to some of the special matinees we've added for the two December holiday weeks or our New Year's Eve show at 6:30 PM. It's a "must" (according to Amy Poehler, Tina Fey and Sally Rudetsky).
The next amazing thing that happened last week was Gypsy of the Year. That's the big celebration show that occurs after the six-week fundraising period for Broadway Cares/Equity Fights AIDS. This was my sixth year hosting (!), and I love it so much. What was extra cool is this year the original hosts were there, too! The very first Gypsy of the Year happened in 1989 at the St. James theatre where Gypsy was playing. Tyne Daly and Jonathan Hadary were the hosts and they did Gypsy of the Year just 12 days after their opening! It's so amazing they agreed to do it because there's so much stress before you open, and usually people need weeks to recuperate and not add anything new to their plates. They did it because they believed in BC/EFA, and they told the audience last week that they were so amazed when that first show raised $70,000. Tyne remembered telling that first audience she hoped it would become a yearly event. It certainly did, and it went from raising that initial $70,000 to last week's total... over $4,000,000! Unbelievable! And, if you don't know, the money doesn't fund research. It goes directly to help those affected by HIV/AIDS and pays for things like food, rent and medical bills. Plus it gives grants to The Actors Fund, The Phyllis Newman Women's Health Initiative and the Al Hirschfeld Free Health Clinic.
Tyne looked stunning and was wearing a necklace she admitted was first worn by Joan Collins during "Dynasty!" How did she get it? "My dresser stole it." Excellent!
This year is the last Gypsy of the Year that will be helmed by Michael Graziano because he's decided to leave BC/EFA. He requested that I write the opening number and that the great Devanand Janki and Robert Tatad direct and choreograph it. Dev's concept was to feature Ethel Merman (!) lecturing new gypsies on what it was like being a gypsy in the old days. First, I was overwhelmed and complaining non-stop... then I had a great time writing it. The great Klea Blackhurst played Ethel (fantastically). She's about to be featured on the upcoming Marvin Hamlisch documentary "What He Did For Love," which will be shown on PBS, because she was one of the stars of The Nutty Professor, his last show.
The song was sung to "You Gotta Get a Gimmick" and one of my favorite lyrics was about how lazy Ethel thinks current gypsies are: "You're all a bunch of babies/ I toured while I had rabies...". Then the current gypsies tell her how much harder it is nowadays:
CURRENT GYPSIES:
"Olden musicals would bore us
You had a singing chorus
The dancers were separate, that's fact!
Now we sing and do the dancing
Plus we also have to act!"
ETHEL (spoken): "What? I never had to act!"
Jack Plotnick, who wrote Disaster! with me (and directed it) and I did a comedy sketch to represent the show where we recreated two different childhood "disaster." Basically it was a theatrical version of two things that happened to us when we were kids. They were horrifyingly and oddly parallel. One was when my Dad didn't realize my dog was next to my pillow and when he bent down to kiss me goodnight, he thought her tongue was my tongue! And the other was when Jack's mother forced Jack to kiss his father goodnight so he could smell whether or not he'd been drinking. Like most traumatic events from the past, enough time had passed to be turned into so-called "comedy gold." It ended with me proclaiming, "In conclusion, I was accused of trying to make out with my father," and Jack saying, "And I actually did make out with my father!"
It was amazing doing that sketch with him on a Broadway stage and getting laughs from such an enormous theatre. (Disaster! seats less than 199 people, so the contrast was crazy!) The show was star-studded as usual and there were plenty of Brits this year. Stephen Fry did a hilarious reading of a letter about his visit to Dracula's castle and it was filled so much brilliant wordplay. When he arrives at the castle he read, "Prudence demanded that I leave her at home, so I was alone." And when Dracula's disfigured manservant opens the castle door, Stephen read, "Of all the hideous spectacles I've ever seen, the ones perched on the bridge of his nose remain forever etched in my memory." You can see him read it here.
Speaking of BCEFA, there are so many amazing holiday Broadway-themed gifts at BroadwayCares.org, including many CDs called "Carols For A Cure," where Broadway casts do beautiful or hilarious holiday songs. Here's a deconstruction of one of my absolute favorites; the Hairspray cast singing the "South Park" version of "Dreidel, Dreidel, Dreidel." Watch!
Another Brit we saw was the great Sir Ian McKellen. I know him because he's a great friend to Only Make Believe, a charity that brings theatre to hospitalized children and which I perform with a lot. Jack knows Ian because they did the film "Gods and Monsters" together. The scene with the two of them was shown at the Oscars when the film was nominated! I found the first scene that features Jack on YouTube... Watch!
Speaking of charity, I got an email from one I'd never heard of, but I think it's great! It's for very ill children who want to speak to their celebrity "hero" and instead of having to arrange a plane trip etc, the organization hooks up a Skype or Facetime phone call! I had a wonderful time talking to a 'tween in Texas named Zoe who listens to me on SiriusXM all the time. If you want to make a donation or find out more about it, go to Face2FaceFoundation.org. Tyne Daly didn't only make an appearance at Gypsy of the Year; she also was my guest at "Seth's Broadway Chatterbox!" And she brought along... Sharon Gless! Yes! I had Cagney and Lacey at my show. They were so much fun! Tyne remembered their first press tour for the TV show and shared a revealing story about Sharon. Turns out, there had been two TV movies about Cagney and Lacey before the TV show. Sharon wasn't cast until the series began and during the press tour, people kept mentioning Sharon's blonde hair. "Were you brought onto the show to lighten it up because you're a blonde?" "Does your blonde hair mean you're the happier of the two characters?"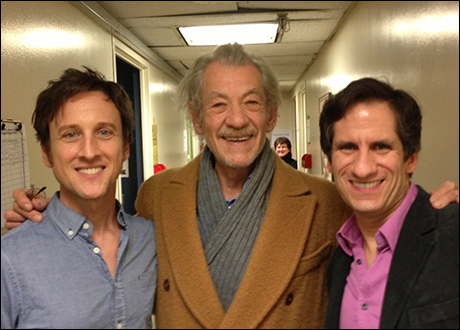 During a break, they both went to the ladies room, and Sharon was complaining about the non-stop blonde references. Tyne said that Sharon walked out of the stall and proclaimed "Enough with the blonde! I'll show them how blonde I actually am!" and literally pulled down her pants! That, of course, bonded them forever. That wasn't the only event on the press tour. When they got to their hotel, Tyne's room was on the 26th floor and Sharon's was on the third. Sharon knew that the higher the floor, the bigger the star (according to the network). She sniffed and said, "You'll envy how close I am to the lobby when the hotel catches fire!" After Tyne checked into her room, she came down to Sharon's room... and the hotel actually caught on fire! Tyne couldn't believe it! Sharon, however, laughed and said "Don't f*ck with me!"
I asked Tyne about how she got the role of Mama Rose in Gypsy. Turns out, she received a letter from the writing team telling her that there was no one else they'd like more to play the part. She was so flattered! She immediately called her agent to tell him she'd love to do it. He then called back and said, "Great! Your audition is in a month." What the - ? It went from a letter offering the role to an offer to audition. Nonetheless, she was happy to audition so she could prove she could do it. She came to New York, got onstage and started the show from the top. By the time she got to "Mr. Goldstone" she had the gig. But Jule Styne approached and told her to learn the music score more thoroughly. He said, "I think you should go out and find a man who knows the score." She replied, "I'm always trying to find a man who knows the score!" He loved the sass!
Over the weekend, I did a writing/theatre workshop with kids from Hudson, NY, who had read my book "My Awesome/Awful Popularity Plan." The kids were so great, and the workshop was awesome without the awful part. I asked them what they liked about my book, and they all said how realistic it was! I wasn't a kid in 1990, but I have a good memory. You can get all my books (autographed!) at sethtv.com/shop/books-audio-books and email me if you have a school group that wants to do a workshop. So fun! And on that note, peace out!
(Seth Rudetsky is the afternoon Broadway host on SiriusXM. He has played piano for over 15 Broadway shows, was Grammy-nominated for his concert CD of Hair and Emmy-nominated for being a comedy writer on "The Rosie O'Donnell Show." He has written two novels, "Broadway Nights" and "My Awesome/Awful Popularity Plan," which are also available at Audible.com. He recently launched SethTV.com, where you can contact him and view all of his videos and his sassy new reality show.)
Inside the 25th Annual Gypsy of the Year Competition
The 25th Gypsy of the Year, 2013