Get yer tickets! Only seven left! That's right, only seven performances left of Disaster! because we're closing the Off-Broadway run April 11. So, now's the time to come see the show for all of the people like me who put off things 'til the time is right (I'm seriously still waiting for the perfect moment to watch the David Geffen special I have saved on my DVR since last year). Be a cheapskate and go to BroadwayOffers.com and use the discount code is DiApril.
I'm going to pretend this is last Monday because that's when my column was due. In reality I am a week late. Why? Because I've been relaxing on the luxurious Playbill Cruise to Tahiti... And by "relaxing" I mean hauling out three shows a day. Not since vaudeville.
Let me start from the top, Me, Juli, James and his mom first flew to L.A. to get our flight to Tahiti. There was a six-hour layover so James decided to get a Zipcar and do something in L.A. First we went to a place James loves that serves authentic Mexican food but I was only able to eat the nachos because everything else there either consists of an animal or was cooked in animal oil. After the meal, which began with me saying I'd try a few chips and ended with me eating enough carbs to prep for the NYC marathon, we still had a few hours to kill. We drove around and finally passed a day spa. James said that I should get a fun treatment and he'd drive around and explore the neighborhood. He texted me after 40 minutes to see how it went. I told him that the place had very few people working there and I was still in the 'prep' stage.
At that point, we got a text from Playbill that the line was long for Air Tahiti and we should get ourselves to the airport. Yay! It was so worth getting a Zipcar. I got to experience an overload of carbs followed by sitting for 40 minutes with my feet in warm, soapy water. Anyhoo, we got on our overnight flight to Tahiti joined by Alice Ripley, Christine Pedi and Roger Bart... just a few of the performers scheduled for the cruise. On the last cruise, we arrived in Stockholm exhausted and I couldn't wait to sleep it off in my hotel room. When we arrived at that hotel, my room wasn't ready and I forced myself to stay awake for hours until it was. This time, we got to the hotel and were told that our room... wasn't ready. But, they said, it would be in a few minutes. Three hours later we got the key to our room.
When James and I got to the room, there was a "Do Not Disturb" sign on the door. Hm… we thought that was strange but decided to open the door. Maybe it was left by mistake. Apparently, it wasn't because the door was bolted from the inside. We quickly shut it and were horrified that we tried to barge into to someone else's room. When we told Roger Bart, he immediately started imitating what he assumed was happening inside. I won't give too many details, but he implied that the Playbill guests were "turned on" by all the Broadway folk around them and he then assumed a certain position and started rhythmically grunting "Bri-an Stokes Mit-chell!" followed by "Si-ri-us X-M!" Regardless, the hotel was stunning and so is all of Tahiti. That night, we had a welcome party, and I played for the lovely Liz Callaway and Stokes who both sang beautifully. Phil Birsh, who runs Playbill, introduced everyone who was there: Lewis Black, Tommy Tune, Roger Bart, Brian Stokes Mitchell, Howard McGillin, Judy Kuhn, Christine Pedi, Liz Callaway, Ana Gasteyer, Lillias White and Alice Ripley. Phil was telling everyone what an amazing line-up it was and as he began to list their impressive credits, he noted how cool it is to originate a role on Broadway. As soon as he said "originate", Ana muttered "I'm out!" She then formed a second row with Christine Pedi, which they claimed was the area for Broadway replacements. Brava on owning it!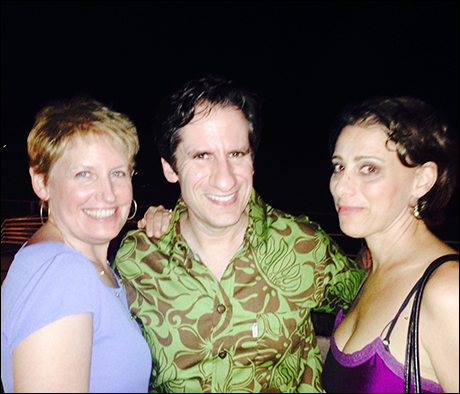 The next day, we all got on the boat and thus began my daily ritual: rehearsal in the morning for a few hours, lunch, sound check, 5:45 show, dinner, sound check, 9:45 show and then an 11 PM show. It was really fun but
exhausting
. I "kept my strength up" by buffet eating and ordering quadruple appetizers (not joking). The first show featured Lillias White, who did a salute to
Cy Coleman
called
My Guy, Cy
. Of course, it featured her signature song from
The Life
"The Oldest Profession." Here she is,
doing it on Broadway
!
It also featured lesser-known Coleman songs, including a fantastic one he wrote called "Those Hands" that ended with her belting an Eb! I loved the song but the title refers to the amazing hands of a pianist and I therefore had to play virtuostic piano solos throughout it. I was very relieved when it was over because it was a monster to play. The next night was Howard McGillin's show and Richard, his husband who's so funny, asked me in passing: "Did Howard tell you that his encore is "Those Hands"?" Hi-lar. It reminded me of when I was doing
The Ritz
at the Roundabout. There was an enormous chase scene at the beginning of Act Two. It was up and down the stairs of our enormous set and
Brooks Ashmanskas
and I would sit backstage and watch the various actors run past us, looking exhausted. One night,
Rosie Perez
ran by, panting in her high heels, and Brooks yelled, "We're extending!"
Right after Lillias' show, I did a Chatterbox with Brian Stokes Mitchell and, of course, we talked about Ragtime. He mentioned that Stephen Flaherty really wanted to write the score to Ragtime when he first heard about it, but he assumed Kander and Ebb would be offered the job. Then Stephen found out that the producer (Garth Drabinsky) would be having auditions for the composing team by asking different teams to submit four songs on spec. Steve was so excited and immediately started listening to Scott Joplin rags to get in the mood, especially his favorite one: A not well-known one called "Solace." Well, after he and Lynn wrote their songs they had to meet with Garth. There were lots of things that went wrong that day, including Steve going to the wrong locale. He thought for sure that he had blown getting the gig. When he finally got to the right building, he got into the elevator to go up to Garth's office, feeling defeated. Then he heard that song playing in the elevator. What was it? "Solace!" He knew it was a sign that he got the job. And he did! Watch their amazing opening number featuring Stokes (and a young Lea Michele):
The next day was Christine Pedi's show and, boy, did the crowd love her! She did the brilliant song parody Gerard Allesandrini wrote for Forbidden Broadway when there was a musical version of "Anna Karenina" playing on Broadway. It's supposed to be the finale (when Anna throws herself underneath a train) and it's sung to "The Atchison, Topeka and the Santa Fe" and starts with a Judy Garland-like Anna singing:
"Do you hear that train coming 'round the bend?
It means the tale of Anna is about to end.
As I'm ground into a bloody mess,
'neath the Ashkabland, Tblisi and Kiev express!"
So great! Then Christine talked about the opening of
Les Miz
which happened while we were on the cruise and she sang
her amazing medley
which consists of different celebs starring in the show. That 9:45 show that night featured the aforementioned Howard McGillin's and he did tons of beautiful songs, including a gorgeous one from the short-lived
High Fidelity
called "Laura, Laura." It's so pretty, and he sounded so good! Naturally, he ended the show with "Music of the Night" and everyone loved it. Especially, because he began it by telling of his bizarre Donald Trump experience featured
here
.
Right after his show, we did a "Chatterbox" together where he revealed that he was one of Hollywood's last contract players! Who was the last, you ask? Sharon Gless. He also talked about having to choose between two amazing roles: Billy Lawlor opposite Patti LuPone in Anything Goes (which he wound up taking) and one of the two princes in Into The Woods. He wound up never originating a Sondheim but I found this amazing video of him singing Sondheim where he looks so handsome and sounds amazing. It was filmed back in the '80's and he has his hair cut for the character he was playing at that time in The Mystery of Edwin Drood… yet it can also double as a mullet. There is so much more for me to write about, but I shall save it for my part two column mid-week!
(Seth Rudetsky is the afternoon Broadway host on SiriusXM. He has played piano for over 15 Broadway shows, was Grammy-nominated for his concert CD of Hair and Emmy-nominated for being a comedy writer on "The Rosie O'Donnell Show." He has written two novels, "Broadway Nights" and "My Awesome/Awful Popularity Plan," which are also available at Audible.com. He recently launched SethTV.com, where you can contact him and view all of his videos and his sassy new reality show.)