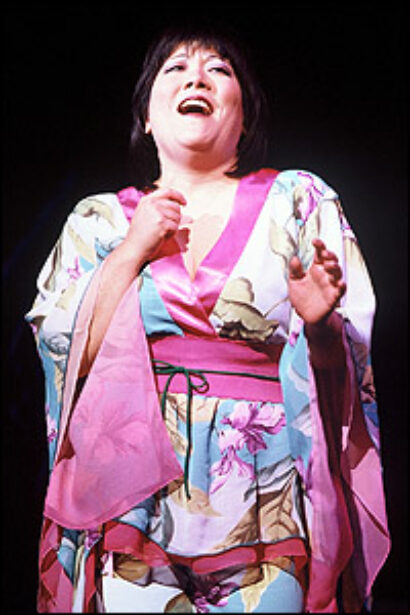 *
It's not even Christmas Eve yet, but I celebrated it with Ann Harada already. Last Monday was her third annual Christmas Eve with Christmas Eve. Yet again, the writing, performing and direction (by Alan Marouka) were amazing. It's so hard to do a one-night event and land every joke because you often need an audience to tell you what works and what doesn't, and yet every year her show never has a clunker. Brava! The concept is that Christmas Eve (the character Ann created for Avenue Q) has one wish for Christmas: to sing duets with Broadway leading men…and make them take off their shirts. This year, Santa gave her an option — have her wish come true or get two house seats to The Book of Mormon. She struggled with the decision, but decided to do the duets. The first man to come out was Norm Lewis who was in the middle of tech rehearsals for Porgy and Bess but was able to make it. Of course, Christmas Eve went crazy over his sexiness and then "accidentally" dropped her pen so Norm was forced to bend over to get it. Inappropriate ogling ensued. They then sang "Wheels of a Dream," the Coalhouse and Sarah duet from Ragtime. Norm sounded so fantastic and Ann pushed Christmas Eve's Japanese accent to new heights. When Coalhouse sings "We'll go down South and see your people…," Sarah responds, "See my folks!" Of course, when Christmas Eve heard that Coalhouse would take her down South to see her people, her Japanese accent made her enthusiastically respond, "See my forks!" I texted Ann after the show and she wrote back that she herself is still laughing about that line. There were so many other highlights but one that stands out in my mind was she and Marc Kudisch singing "Anything You Can Do" from Annie Get Your Gun. They changed the lyrics from time to time, and at one point he was towering over her and sang, "Anything you can be, I can be taller." Silence from her. One of my other favorite moments was when she and Daniel Jenkins sang a full medley from Big River together. I had never seen him play Huck Finn on Broadway, I had only heard the record, and it was so cool to see him looking like an adult, but still having the same voice. I, of course, had full tears in my eyes and soon as he hauled out "Look out for me…Oh, muddy water…." If you've never seen Ann in action, here's one of the Playbill Obsessed! videos I did with her!



photo by Robb Johnston
This week on "Seth Speaks" (Sundays at 5 PM, Tuesdays 11 AM-1 PM on SiriusXM 107), my guest was
Ana Gasteyer
, who is currently on the hit TV show, "Suburgatory." We were both, yet again, raging about auto-tuning. Where is the outrage? It's literally changing what people think is the sound of singing. AH! Of course, the more Ana rages, the more she said that she's come full circle and is now becoming her mother. If you don't know, her mother was a classical music snob. When Ana was a teen violinist, she was forced to spend her summer vacation at the Gettysburg Chamber Music Camp. She remarked that it was more boring than it sounds. According to her, they spent their time sweating in un-air-conditioned practice rooms doing chamber music or watching Civil War re-enactments. Her one highlight was that it was the summer she learned how to lipsynch. Specifically, "Funky Town." When they had parents' day, her classical-music friend's mom visited, and her friend said that Ana was extremely talented. Her friend's mother then asked Ana to play something, to which her friend responded, "Not at the
violin
, at lipsynching 'Funky Town'!" Ana spent many years doing
Wicked
, but before then people were always surprised she could sing. She claims that I'm the only one who wasn't surprised. That was because we both worked at "30 Rock." Not the show, the location. When she was on "Saturday Night Live," I was a comedy writer on "The Rosie O'Donnell Show." There were TV monitors in our offices and we'd get the live feed from "SNL" rehearsals. I heard Ana doing a
Celine Dion
sketch, and when I later saw her at the NBC gym, I told her that she was belting an F and it was a brava!
Watch her here
. Ana and I are performing New Year's weekend in Provincetown at The Art House.
Get tix and info here
.



photo by Robb Johnston
I also interviewed the hilarious
Jackie Hoffman
, who is starring in her own Jewish version of
A Christmas Carol
, called
A Chanukkah Charol
. I asked her to do one of my favorite bits about one of her old Hebrew school compatriots calling her when she got
The Addams Family
. He left her a message in a thick Yiddish accent on her cell phone: "Hi, Jackie, this is Chaim from yeshiva. I heard you're in a show. Good for you. Tell me when the show is and I'll come see it." She was raging. "In a show? I'm in a
Broadway musical
! I don't tell
you
when the show is, you call a stranger and pay lots of money to come see the Broadway musical!" She then remarked that she's positive
Bebe Neuwirth
doesn't get calls like that, but then she went into an imitation of Bebe's response: "Hi, Chaim. It's Bebe. My show runs Tuesdays through Saturday at 8 PM, with 2 PM matinees on Wednesday and Saturdays and Sunday matinees at 3 PM. Now, Chaim, I have to hang up. I have a
lot
more calls to make." The next performance of
Chanukkah Charol
is Jan. 2.
Get tix here
.
Then I had my sister Beth as a guest on "Seth Speaks" because I have recently become obsessed with a song she wrote a while ago. She composed it back when she was the singer/pianist at "Burt Bacharach's." Not his actual house, but the restaurant he owned! Of course, back then she didn't realize the "beauty" of the name Rudetsky and kept changing her name. At one point, she used her middle name as a last name and went by "Beth Diane," sounding like she was a soft porn star. Then she used my mom's maiden name and went by "Beth Sheerin," sounding like she was an Irish washerwoman. Regardless, I decided she's a quadruple threat because she writes the lyrics, music, sings and accompanies herself! The song is called "Empty Projector," and Beth said that she wrote it before people were taking Prozac, so one's only option was to write a downer song. Watch her here on my show.
Finally, I interviewed lots of cast members from Godspell for my SiriusXM "Live On Broadway" show, which is coming back this Friday night at 7 PM. Hunter Parrish plays Jesus and the cast recalled a recent show where the crucifix set piece didn't lower down to the stage, so Hunter had to do the whole last 15 minutes of the show with his arms out in a crucifixion position but with nothing supporting him. Ow! I then commended him for doing what everyone did in the '80s when we were doing Jane Fonda videos. Anybody remember those horrible arm exercises? Still hurts. Then I asked Hunter about his time in Spring Awakening, in which he had to expose his butt at the end of Act One. He remembered that Daniel Radcliffe, who was doing Equus at the time, came backstage and asked him how he keeps his butt so hairless! Apparently, Daniel had to wax what the Brits call his "arse." Depilatory-ous!
Seth Speaks now has its own Facebook page, and soon I'm going to have one for my new novel, "My Awesome/Awful Popularity Plan." But you can pre-order it on Amazon here. Happy Holidays everyone — and go see a show!
(Seth Rudetsky has played piano in the pits of many Broadway shows including Ragtime, Grease and The Phantom of the Opera. He was the artistic producer/conductor for the first five Actors Fund concerts including Dreamgirls and Hair, which were both recorded. As a performer, he appeared on Broadway in The Ritz and on TV in "All My Children," "Law and Order C.I." and on MTV's "Made" and "Legally Blonde: The Search for the Next Elle Woods." He has written the books "The Q Guide to Broadway" and "Broadway Nights," which was recorded as an audio book on Audible.com. He is currently the afternoon Broadway host on Sirius/XM radio and tours the country doing his comedy show, "Deconstructing Broadway." He can be contacted at his website SethRudetsky.com, where he has posted many video deconstructions.)